SurDel Inferno: Team News
Saturday, June 30
Great Season Comes to and End
Thanks everyone for a great season and for visiting our website. We have now moved over to Teampages so check us out there! Bye from the 2011/12 SurDel Inferno!

Great Job Inferno!
Sunday, April 1
INFERNO WINS COASTAL CLASSIC CUP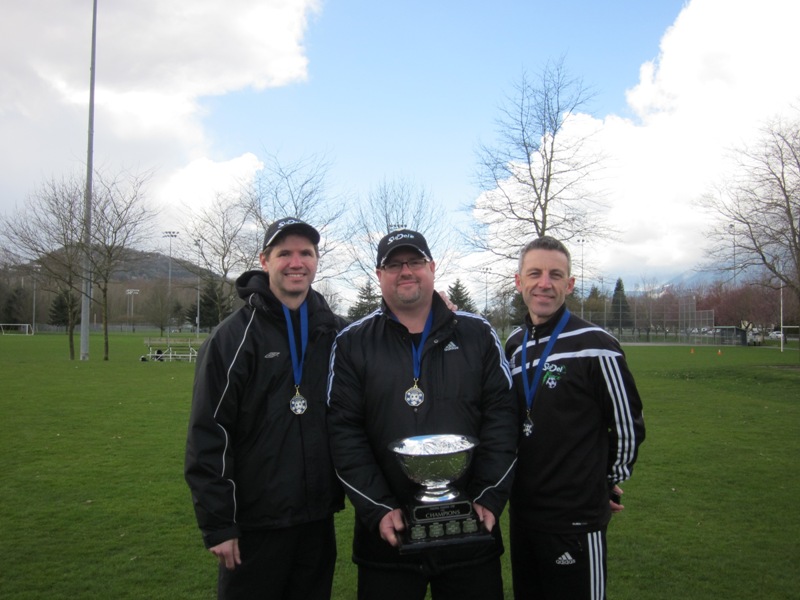 The Happy Coaches
The U15 Silver Inferno finished their season with a perfect record and claimed the Coastal Classic Cup on Sunday, April 1st with a close game against a strong opponent, the Aldergrove Ambush. After 80 minutes, the score was 0-0 thanks to the rock solid defensive performance of Sarah, Zoe, Hayley, Ashley and Leanne. At one point, a penalty shot on top of the 18 yard box looked like it might change the course of the game, but stretching her finger tips to the cross bar, Kira was able to make a beautiful save and stop the Ambush from scoring.
Moving the ball precisely and with finesse in the middle of the field were Alexa, Caralyn and Courtney making superb passes to the outside mid-fielders Claire, Shayla and Sarah who ran the ball deep into the Ambush zone. With constant pressure from our strikers Ashtyn, Courtney, Kelsey and Megan, the Ambush keeper was kept busy throughout the game with numerous shots.
After two 10 minute OT halves, the Inferno was able to score two goals in OT, both by Kelsey, to secure a 2-0 win and the Coastal Classic Cup.
Congratulations go out to the players including Taryn who could not make the final for a well deserved win, Kelsey for winning the MVP and a special thanks to our families and friends who supported us all season! Here we come Kamloops…
Coaches Patrick, Rick and Frank.
Sunday, March 4
Inferno advances to Classic Cup Finals!
Newsflash - SurDel Inferno show their grit with a win against Langley FC and advance to the Classic Cup Finals on April 1st.
Thursday, March 1
Inferno Finishes 1st in U15 Silver 1 Regular Season Play
Sunday, October 9
INFERNO WINS RICHMOND TOURNAMENT
Congratulations to the Inferno for taking first place at the Richmond Thanksgiving Weekend tournament. Three hard fought games put the Inferno in first place followed by a fiery finish in the final game against the GAC Eagles. Great job players, coaches and a warm thanks to the parents, grand-parents and friends for their support.
Saturday, November 12
Inferno ladies play in Remembrance Day mini-tourney
Some of the Inferno girls joined the Coquitlam Metro Ford Black Ice, Mission Magic and Aldergrove Ambush on Remembrance ...