Superior Spartans: Welcome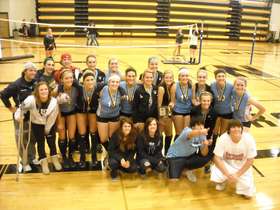 Spartans & Fans 2nd Place at Northwestern Tournament
Welcome to the Superior Spartans Volleyball Website
October 3, 2012
Attention Varsity, Junior Varsity and Freshman Volleyball Players and Coaches!!
You're invited!!
Monday, October 8th 6pm at the High School cafeteria
Supper hosted by the Freshman team
We will be serving walking tacos, beverages and desserts of course!
Come, Eat and Stay after for just a little while. See you then!
Upcoming Events:
Saturday October 6, 2012
"C" Team and JV @ Hibbing Invite
Monday October 8, 2012
"C" Team sponsored "all team" dinner
6:00pm
HS Cafeteria
Tuesday October 9, 2012
Superior Spartans @ Hermantown
"C" Team and JV @ 5:45pm
Varsity @ 7:00pm
Wednesday October 10, 2012
All three teams will be attending UWS Volleyball Match @ 7:00pm.
Players are to meet in UWS lobby at 6:30pm.
Thursdayday October 11, 2012
Ashland @ Superior Spartans
Parents Night & Senior Recognition Night
"C" Team and JV @ 5:45pm
Varsity @ 7:00pm
Saturday October 13, 2012
Varsity and JV @ Esko Tournament
9:00am Start Time
"C" Team @ Ashland Invite
Start time 9:30am
Tuesday October 6, 2012
Superior Spartans @ Duluth Denfeld
"C" Team and JV @ 5:45pm
Varsity @ 7:00pm