USA BASEBALL National Team Tryout Camps
SHOCKWAVE BASEBALL Staff is honored to lead the USA Baseball NTIS (National Team Identification Series) for the state of SC. There will be 4 One Day events held this summer SMC (Jun 13), CCU (Jun 19), CofC (Jun 27) & USC (Jul 5). These events will be Showcase Camp format and include Instruction and a Scrimmage. For more info: USA BASEBALL NTIS
SHOCKWAVE BASEBALL join "WORLD SCOUT LEAGUE"
The World Scout League makes it inagural debut this summer across the country. Only the best of the best national programs have been invited to participate in what will be a marked improvement in summer baseball for college prospects. For more info: World Scout League
NATIONAL RANKINGS are posted on PERFECT GAME:
Final Rankings for 2011 have been announced and SC ShockWave is the only "Nationally Ranked" Showcase Team program in South Carolina (15u, 16u 0r 17u). Preseason Rankings for 2012 TBA soon...
15u RANKINGS (ShockWave #12): http://www.perfectgame.org/Rankings/TravelTeams/15u/teams.aspx
16u RANKINGS (ShockWave #12): http://www.perfectgame.org/Rankings/TravelTeams/16u/teams.aspx

BASEBALLS LARGEST SCOUTING SERVICE
Thursday, December 1
WORLD SCOUT LEAGUE
Friday, July 22
NATIONAL CHAMPIONS!!!
Tuesday, July 26
Shockwave 13U USSSA Global World Series Runner Up
Tuesday, July 26
PG Article from Ft Myers, FL - "PERFECT GAME" 16U National Championship
Sunday, January 2
MERGER ANNOUNCEMENT
Tuesday, June 14
Perfect Game Invitational 16u Championship - ShockWave American
MISSION STATEMENT - SHOCKWAVE BASEBALL
Since the program was founded in 2005; the PLAYERS have always been our #1 PRIORITY. To accomplish that our coaching staff is made up of individuals not only once recognized for their ability to play the game exceptionally but more important the ability and passion to "teach" young players how to maximize their abilities and play the game at their highest level possible. Our mission is to consistently field teams limited to players with not only the baseball skills to play at the college or professional level but also that represent themselves, their families, their team, the organization and the great game of baseball with pride & dedication.
SHOCKWAVE Baseball actively promotes an atmosphere conducive to continuos improvement and enhancing the learning process while setting new standards for Character, Commitment and Work Ethic on and off the field and in the classroom. Learning to play the game the "right way" and living these principles at this level of baseball will significantly accelerate our players capability to not only reach the NEXT LEVEL but excel there whether it's College or Professionally.
The SHOCKWAVE Baseball Program is a non-profit corporation, independently operated organization. This unique structure allows us to focus our objectives on the players rather than the revenue.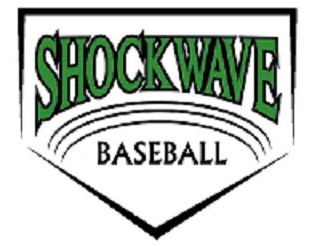 SHOCKWAVE Baseball
View Our Guestbook | Sign Our Guestbook
2 visitors have signed our guestbook.


"You have no control over what the other guy does. You only have control over what you do." - A.J. Kitt