: Welcome
Welcome to Summerville Little Leagues Website.
---
End of Season Tournament Results
Congratulations to the teams and players that won their end of season tournaments:
CPAA - Burgundy Team - Tommy Welch (Head Coach)
Minors - Yellow Team - Chris Hill (Head Coach)
Majors - Royal Blue Team - Dave Holt (Head Coach)
Seniors - Red Team - Jeff Kitchen (Head Coach)
---
"Summerville American Little League" is much more than Baseball
Summerville American Little League provides opportunities for over 350 area athletes (ages 4-16) to participate in America's favorite past time, Baseball! With Summerville American Little League, these young people learn the joy of playing baseball with their friends and they reap the benefits of increased physical activity. We teach these young athletes not only the game of baseball but also, teamwork, competitiveness, social skills, and leadership, all while developing lifelong friendships.
Summerville American Little League is a not-for-profit organization, which receives no public funds. All of our funds are generated through our parents, concessions sales, sponsorships from generous local businesses, and fundraisers, such as this one. The cost of equipment, insurance, uniforms, utilities, and facility upkeep is a huge burden for us. Even with the generous support of our parents and local businesses, we do not generate the funds necessary to upgrade our facilities and provide the best opportunities for our young athletes. We now have a way to help us meet our goals.
Summerville American Little League endorses Schwan's Cares and hopes that you will join us at the Dinner Table.
Simply, register on-line and purchase a $25 E-CERTIFICATE. You can then use this E-CERTIFICATE to choose from over 350 delicious food items to be delivered right to your front door. An amazing 40% of this $25 purchase is donated to Summerville American Little League. Additionally, we receive 5% of all Schwan's food purchases made by you during the year.
Visit Schwan's Cares website, https://www.schwans-cares.com/, click on "Find a Campaign" and then enter Summerville American Little League. Next, click on the "Fundraisers" tab, look for "Summerville American Little League" and then click SUPPORT. Your E-CERTIFICATE may be purchased September 10th through October 25th.
Summerville American Little League needs your appetite to support our athletes!
---
SLL would like to thank all our sponsors!!!
Please visit our Sponsors page and support those who support SLL.
---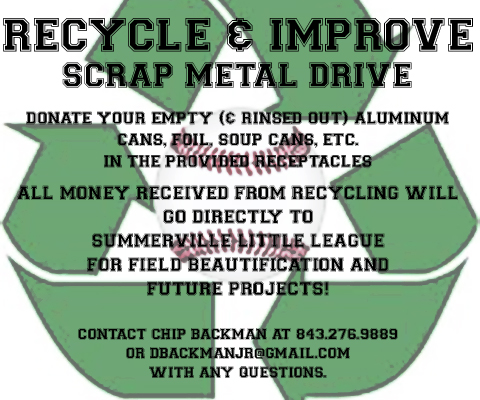 ---
Please sign up after registering your player to be alerted via text when there is a rainout please sign up.
One, Log on. Two, look up "Summerville". Three, select Summerville Little League. Four, enter your information and Five, confirm it via email.
---
Questions or Comments
Contact: Joe Costa - Information Officer SLL
coachjcosta@gmail.com
or Summerville Little League
(843) 725-8989
PO Box 50786
Summerville SC
29485