: Welcome
Welcome to Summerville Little Leagues Website
---
Registration for the Junior and Senior divisions (Ages 13-18) will continue until March 31st.
Games for the older divisions will start in mid-April.
All registrations will take place at the SLL complex- 600 W. Boundary Street Summerville, SC 29485
REGISTER EARLY AS THE NUMBER OF PLAYERS WILL BE LIMITED
Games for kids ages 4-12 will start on March 11th.
Cost is $85.00 for T-Ball and $95.00 for all other divisions.
Evaluations will be required for those Ages 7-10 playing in the Minors and Coach Pitch Divisions. They will be held on February 11th from 9am-Noon.
*Volunteer Fee – A volunteer fee of $25 per family will also be billed at the time of registration. If you complete 3 hours of volunteer service, either in the concession stand or on field maintenance, your fee will be refunded.
**Registration closes on February 4th for kids age 4-12; anyone registering after that date will be placed on a waiting list and only placed added to a team if space is available. A $10.00 late fee will also be applied.
The following forms will be needed: A copy of your child's Birth Certificate and 3 proofs of residency (Driver's License, Utility Bills, Car Registration,...).
---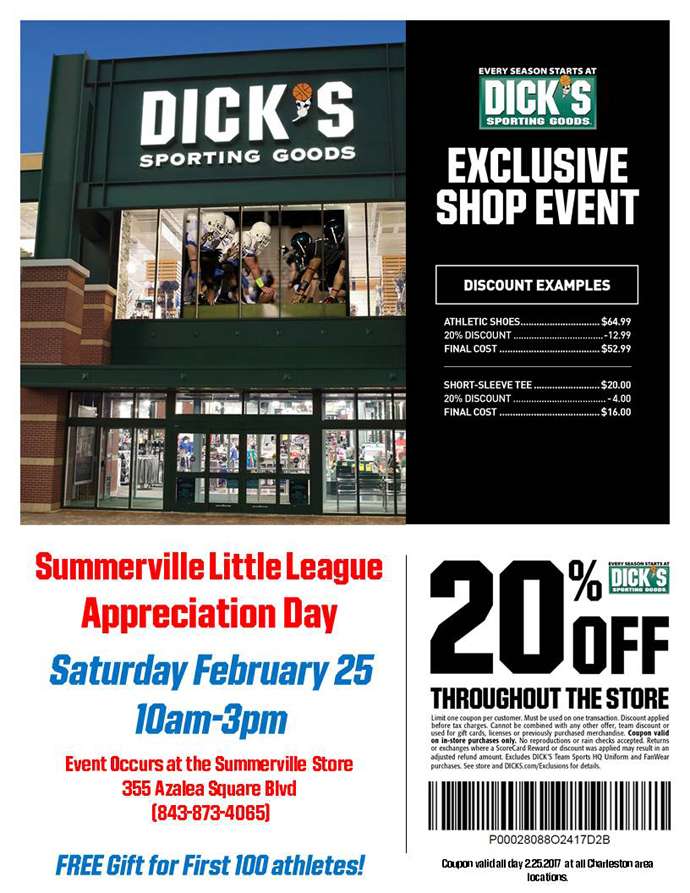 ---
Seasonal Concessions Help Wanted
Summerville Little League
600 W. Boundary Street
Positions Available:
· Front of House (food preparer/runner or register
· Back of House (food preparer or grill)
Days/Times Needed:
· Monday through Thursday 5:30 pm – 8:30 pm
· Saturday 9:00 am – 5:00 pm
Age Qualifications:
· 16+
Position Timeline:
· Beginning March 11th and ending approximately 12 weeks afterwards (June 10th)
For further information, please contact the Concessions Stand Manager
---
Sponsorship is a huge part of financing Summerville Little League. We need your support in finding sponsors. For any family that secures a sponsor that will provide $350, we will discount 1 child's registration by 50%. For any family that secures a sponsor that will provide $600, the family will recieve 1 complimentary registration. Please consider contacting your employers or any other business that you frequent. It will be available at registration or we can provide it via email.
Thanks for your support and we look forward to seeing you this season!
---
SLL is using SignUp.com to organize our upcoming season of volunteer sign-ups.
It's simple and easy to use, just click the following link to get started. http://signup.com/go/HZBJhK
Note: If you prefer not to use your email address,
please contact Miki (dr.miki.kitchen@gmail.com) and she will sign you up manually.
---
SLL would like to thank all our sponsors!!!
Please visit our Sponsors page and support those who support SLL.
---
Please sign up after registering your player to be alerted via text when there is a rainout please sign up.
One, Log on. Two, look up "Summerville". Three, select Summerville Little League. Four, enter your information and Five, confirm it via email.
---
Questions or Comments
Contact: Joe Costa - Information Officer SLL
coachjcosta@gmail.com
or Summerville Little League
(843) 725-8989
PO Box 50786
Summerville SC
29485