St. Rose CYO: Welcome
Wednesday, August 26
ST. ROSE C.Y.O. BASKETBALL 2015-2016
Welcome! You've reached
the web site for St. Rose Catholic Youth Organization
(CYO) Basketball
(Diocese of Santa Rosa, North Bay CYO).
Restricted registration for the 2016-2017 season opens 8/25/16.
Restricted registration is for returning players only, and runs 8/25/16 through 8/31/16. After August 31st, registration will open to all players, new and returning.
Welcome! Another season of CYO basketball is approaching. Sign-ups will be held online, beginning August 25th through September 18th or until full at http://www.sportability.com/strosecyo.
Returning players are encouraged to register early. We are using restricted registration, so returning players will select their name from the participant list, and all new players (or who didn't play last year) will need to join the wait list. New players who joined the wait list will be contacted to register as space allows. 3rd grade participants will be allowed open registration. Registration priority is returning players who register on time, parish members and others.
Returning players registration instructions: Click on restricted registration for your league (grade/gender). If you have saved your profile in the past, enter your email and password and continue. On the next screen, you will choose your child's name from the participant list and continue. When you get to the payment page, enter your payment information and continue. The last screen is confirming all your information is correct. Complete your registration. You should receive a confirmation email shortly from Sportability. If you have another child to register, you can do that next.
New players wait list instructions: Make sure you are joining the wait list for the correct league (grade/gender). Include your child's name and your email address. Also, let us know if you are a St. Rose parishioner or your child attends St. Rose School. No need to call or send additional emails.
The St. Rose CYO refund policy is:
Refunds requested prior to skill assessments will be subject to a $50 administrative fee.
No refunds after skill assessments, regardless of player's participation in skill assessments.
Skill assessments will be held in early October. The schedule will be posted on the St. Rose CYO website and emailed to registrants.
See the bottom of this page for Frequently Asked Questions.
Lost and Found... We accumulate multiple sweatshirts, whistles, watches, jewelry, and basketballs during the season. Make sure you label everything with your name and phone #. If you lost something, e-mail St. Rose CYO, or check the lost and found at the last known location. Please try to limit calls to the schools.
COMMUNICATION:
Coaches: those who didn't turn in your uniforms and equipment at the appreciation dinner should contact Aaron Locks to arrange their return.
An email will be sent out regarding new training. Information can be downloaded from the coaches handouts.
Got an issue with a game or coach? Wait 24 hours, then email us with the details. Please DO NOT try to contact another Athletic Director, CYO Leadership Team Member, or the Parish. There is a chain of communication that ALWAYS begins with your athletic director.
Newsletters are emailed to coaches and participants. You can see them by clicking on the My Site News tab, and download them from the Handouts tab.
Parents:
Please read and familiarize yourself with the Diocese of Santa Rosa policy on CYO events and driving, copied below.
CYO Policy for Driving to Events
It is the policy of the Diocese of Santa Rosa that parents be vigilant in their parental responsibility and that no adult who is acting on behalf of a parish or diocesan program be alone with a child who is not their own at any diocesan sponsored event.
Parents who drop off their child should make certain that the child is safely in the care of responsible adults at the intended location before leaving the premises. If parents are dropping off their child, they are expected to bring the child just before the event and pick up their child promptly when the event ends. Coaches and other adults are not baby sitters.
In the case of CYO, sometimes a coach or assistant coach is asked to transport a child other than their own child, to the practice or game. The coach or assistant coach is acting as an agent of the Diocese only at the time and location of the CYO event. During transport prior to the CYO event and once the event is ended, the coach or assistant who transports a child is acting as an agent of the parent and not as an agent of the Diocese.
Rev. 9-23-11 kd
Coaches:
Please read and familiarize yourself with the Diocese of Santa Rosa policy on CYO events and driving.
---
The CYO 2015-16 rules have been updated and have been posted. The coaches handout section has downloads of the 2016-17 rulebook. There is room in the back of your Roster Folder to place the current rulebook. We recommend you read and highlight the rulebook so you are very familiar wih it.
---
Safe Environment Training is changing! A new system has been set up, and coaches in the Shield the Vulnerable system have been migrated to the new system.
Now that the new system is set up, all coaches must complete the Catholic Mutual Group Smarter Adults Safer Children On-line Trainging. Returning coaches should have received an email from Catholic Mutual Group with instructions for logging in (in2vate.com) and completing training. This needs to be done right away.
The training is a 45 minute video with questions at the end. And there is a Code of Conduct of 12 pages with questions at the end. Once you have completed these 2 things, you will be compliant to coach at the end. The diocese is asking that everyone complete these trainings, by Feb. 13th.
---
All new coaches must:
register with the Santa Rosa Diocese and take the online training Instructions for this can be found in the coaches handouts.
undergo Live Scanning (fingerprints) for background checking. See the Coaches tab in the left margin.

Coaches, at the end of the season you must collect your uniforms and return them. Basket balls, practice jerseys, and first aide kits are also returned. See the coaches tab for more details.
A SPECIAL TIP:
Players should be shooting at least 50 shots a day, even on non practice days. Try 20 from under the basket on either side, and 10 free throws. This WILL help! And parents, if you rebound for them, it's valuable time you'll spend together. It only takes a few minutes...
---
COACHES:

See the
Coaches
tab in the left margin.
---
PARENTS:

See the
Parents
tab in the left margin.
---

PLAYERS:
See the Players tab in the left margin.
---
GENERAL INFO:

Go to the Links page (or click here) for the link to North Bay CYO, where you'll find more season information.
For more information contact St. Rose CYO. If you'd like to have your name added to the mailing list for next season, e-mail St. Rose CYO. Each year sign-up information is provided to the St. Rose Parish Bulletin and the St. Rose School weekly newsletter. You can also always find information here on the web site.

Tell other parents about this site!
Get Ticker Code for Amber Alerts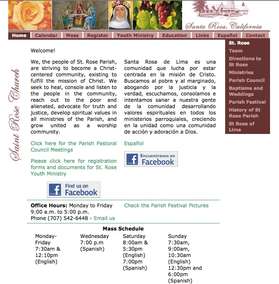 St. Rose Parish
Wednesday, February 18
St. Rose CYO Newsletter #5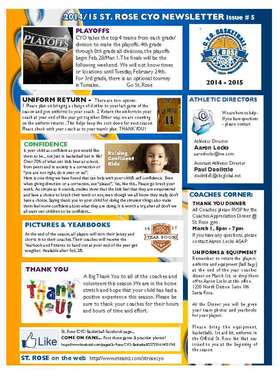 Newsletter #5