STPS Ponies 18u Fastpitch: Welcome
| | |
| --- | --- |
| | |
"Are you interested in becoming a PONY ? Scroll down or see 'My Site News' for Tryout information regarding the 2015-2016 team !"

For further team information email Ed Watson at mbducks2@aol.com

The 2015 Ponies are set for another season competing in the top 18U Tournaments in the Mid Atlantic region with our season wrpping up at ASA 18U Nationals in Spartanburgh, SC. Here are the 2015 STPS Ponies:

Alivia Clark Elmira Note Dame 2016

Rachel Gilmore Abington Heights 2015 Committed to University of New Haven

Alex Gockley Abington Heights 2015

Adrianna Harvey Union Endicott 2015 Committed to Alfred University

Alex Hein Johnson City 2017

Kasey Kozlowski Windsor 2016

Catey McAleer Elk Lake 2017

Sophia Pappas Susquehanna Valley 2018 Committed to Binghamton University

Alyssa Pochkar Maine Endwell 2016

Cassidy Smith Windsor 2016

Whitney Tyler Elk Lake 2017

Emily Vesely Johnson City 2016


Liz Wickizer Windsor 2016

2015 Schedule

2014 Fall Ball

New Jersey Pride Showcase: Wall/ Edison, NJ. September 20th & 21st

Deleware Fall Showcase: Wilmington, DE. October 18th & 19th

Frozen Ropes at The Rock: Chester, NY. November 1st & 2nd

2015 Summer Ball

3N2 Blue Chip Softball: Shamong, NJ June 6th & 7th

NJ Outlaws East Coast Showdown: West Deptford, NJ June 13th & 14th

"The Rock" Queens of the Diamonds: Chester, NY June 20th & 21st

PA Softball Firecracker Showcase: Mechanicsburg, PA June 26th, 27th & 28th

ASA New York State Tournament: Binghamton, NY July 4th & 5th

STOP-DWI Tournament of Champions: Binghamton, NY July 10th, 11th & 12th

Deleware Invitational Tournament: New Castle, DE July 17th, 18th & 19th

ASA "A" National Championships: Spartanburg, SC July 27th - August 2nd

"CONGRATULATIONS GIRLS, WE ARE LOOKING FORWARD TO ANOTHER GREAT YEAR !"
---

"PONIES FASTBALL...... KEEPING A PROUD TRADITION ALIVE"
Recognized by softball teams and coaches as one of the "teams to beat on the east coast," the PONIES accomplishment list include:

10 New York State Chamionships with an overall 73-13 record in state championship play
6 New York State runner-up finishes
3 Mid-Atlantic Regional Championships
19 Consecutive ASA National Championship appearances, including finishes of 9th, 13th, 17th and 25th place

We are very proud of our "Ponies Alumni", our players have gone on to play college softball at major universities such as Connecticutt, Massachusetts, Oklahoma State, Virginia, Virginia Tech, Temple, Purdue, Providence, Lafeyette, St. Bonaventure, Siena, St. Josephs, Lasalle, Drexel, LeMoyne, C.W. Post, Cornell, Canisius, Villanova, Marist, Colgate, Binghamton, Dartmouth College, Kutztown, Fairleigh Dickinson University, Mansfield University, Marywood, Buffalo, Fordham, University of Rochester, Cortland, Bentley, Utica College, Brockport, and Binghamton.

Our players have also gone on to coach at Fordham University, Cornell, Drexel, Lehigh, Iowa State, Maryland, Rochester, Cornell and Binghamton University.

_______________________________________________________________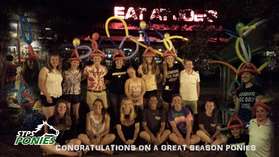 Thursday, July 23
PONIES FINISH STRONG, HEAD TO ASA NATIONALS
Great Season Girls! Good Luck at Nationals in South Carolina...
The STPS Ponies conclude their summer schedule by winning 11 games over the span of two weekends as they prepare to compete in the ASA 18U Nationals in Spartanburg, South Carolina.
The Ponies won 5 games, three in single elimination bracket in the STOP-DWI Tournament of Champions in Binghamton, NY on July 10th, 11th and 12th. The Ponies defeated the Pennsbury Gems, 4-3 and followed up with a 3-2 win over the East Coast Elite and a 5-4, come from behind victory over Top Gun to place in the top 8 of the Super 40 bracket.
At the Deleware Invitational Tournament in New Castle, DE the Ponies were a perfect 6-0 in pool play, before dropping a 1-0 decision to the eventual tournament champion runner-up Tsunami Gold.
The pitching combination of Sophia Pappas and Whitney Tyler produced three shutouts during the course of the three day tournament. Alivia Clark led the Ponies offensive attack going 8-17 and driving in 6 runs.
The Ponies Finished their regular season 26-9-1.
___________________________________________________________________________________________
Tuesday, July 14
Tryouts for 2015-2016 Team: Interested in becoming a PONY ?
If you are interested in Trying out for the 2015-2016 PONY 18U college Showcase team our tryout dates and information is below:
Tuesday August 4th from 5:00pm - 8:00pm
Thursday August 6th from 5:00pm - 8:00pm
Saturday August 8th from 10:00am - 12:00pm
All Tryouts will be held at the Johnson City High School ( 666 Reynolds Road, Johnson City, NY 13790) Softball Field located above the Baseball Field and down below the Middle School.
Any Questions or looking for additional information please contact Coach Chris Sinicki at: cmsinicki@gmail.com
"Come and be a part of a Tradition that has been developing Softball PLayers for the next level for the last 26 Years"
___________________________________________________________________________________________
Monday, July 13
PONIES Collect 750th Win as an Organization
Congratulations to Coach Sinicki and the entire PONIES organization for reaching a milestone of 750 wins as an organization. This is a great testament to the longevity and success of the PONIES organization.... Congratulations from all of the PONIES players and families that have contributed to the organization over the last 26 years !
___________________________________________________________________________________________
Wednesday, July 8
Congratulations to our Ponies that were Selected for the 2015 ALL-STATE Team
Congratulations to our PONY players that were selected by New York Sportswriters.org for the 2015 ALL-STATE teams for their outstanding contributions to their High School Teams this season:
Adrianna Harvey was selected for NYS Class A as Second Team, First Base
Sophia Pappas was selected for NYS Class B First Team, Pitcher
Alivia Clark was selected for NYS Class C First Team, Pitcher
Your entire PONIES family is Proud of you, Keep up the hard work !!
___________________________________________________________________________________________
Tuesday, June 30
PONIES off to Good Start for 2015
The STPS Ponies are off to a promising start to what is shaping up to be an exciting summer by posting winning records in each of the first three tournaments of 2015. The Ponies finished 2-1-1 in the Blue Chip Exposure Tournament in Shamong, NJ. Sophia Pappas and Whitney Tyler each earned victories on the mound with Pappas going 5-11 for the weekend at the plate to lead the offensive attack. The season thus far has been highlighted by winning the bracket championship in the NJ Outlaws College Showcase Showdown, including a 6-2 semifinal victory over the TC Tremors Gold. Whitney Tyler and Sophia Pappas combined to limit the Tremors to 4 hits and the Ponies offense pounded out 10 hits, including a solo home run by Kasey Kozlowski. This past weekend, the Ponies won two of three games at the rain shortened Queens of the Diamonds Showcase held at The Rock Sports Complex in Chester, NY. The Ponies got off to a quick start Saturday by defeating the Lady Rebels Gold, 6-1. Sophia Pappas held the Rebels in check, allowing just one run and 5 hits while striking out 10. Alivia Clark collected two extra base hits and Cassidy Smith also had a pair of hits to lead the Ponies' eight hit attack. The Ponies head to Mechanicsburg, PA the weekend of June 26th, 27th and 28th to compete in the PA Softball Firecracker Showcase one win shy of 750 wins as a softball program.
__________________________________________________________________________________________
Monday, May 11
Congratulations to our PONIES Alumni !!!
Congratulations and Good Luck to Coach Michelle Burrell (Binghamton University) and Coach Bridget (Baxter) Orchard (Fordham University) and Binghamton University standout outfielder Sydney Harbaugh as they prepare for the 2015 NCAA Women's College Softball Regionals held in Harrisonburg, Virginia on the campus of James Madison University.
We are proud of our PONIES Alumni !!!
__________________________________________________________________________________________
Wednesday, January 28
Congratulations To Sophia Pappas
Congratulations to Sophia Pappas on her Verbal Committement to attend and play Softball for Binghamton University ! Sophia is the youngest verbal Commit Binghamton University has ever had, She will join the the Bearcats in the fall of 2018 to begin her college career.
____________________________________________________________________________________________
Monday, December 1
PONIES Wrap-Up Fall Ball for the Season with a Strong Finish
The STPS Ponies finished their 2014 fall season winning 8 of their last 10 games, capping off their schedule with a tournament best 4-0-1 record at the Rock Sports Complex in Chester, NY. Two weeks prior, the Ponies finished 4-1 at the Deleware Fall Showcase in New Castle, Deleware. Showcasing a deep and talented stable of pitchers, an aggressive approach on the bases, solid defense and timely hitting - there is plenty to be excited about as off-season work outs approach in January. Pitchers Sophia Pappas, Whitney Tyler and Alivia Clark all showed great command and a competitive spirit every time they stepped into the circle. The offensive attack was led by Pappas, Clark, Adrianna Harvey, Alex Gockley, Rachel Gilmore and Alex Hein. The team's Summer schedule will be announced in the near future.
____________________________________________________________________________________________
Read more below from 2014 Summer Ball:
Wednesday, July 16
PONIES Celebrate Coach Sinicki's 25th Year and raise funds for Jack Sheridan
On July 9th the Ponies organization held a special event. The evening started with a Home Run Derby to benefit Jack Sheridan, the brother of Ponies Alumni Jordan Sheridan, who is battling Leukemia. Liz Wickizer emerged as the champion after a three way tie produced a hit-off to establish a winner.
The HR Derby was followed by an Alumni Game to honor Coach Sinicki's 25th year. The turnout was amazing! Attendees spanned a few decades and the game appropriately ended in a 5-5 tie. Following the game all of the players presented Coach Sinicki with a Plaque commemorating his 25 years of dedication to the PONIES.
It was a great evening, a fun evening and a proud evening for the Ponies organization as the current team and the Alumni showed their generosity while raising nearly $700 for Jack Sheridan.
----------------------------------------------------------------------------------------------------------------------------------------