STPS Ponies 18u Fastpitch: Welcome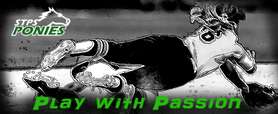 Introducing the 2017-18 STPS Ponies !

For further team information email Chris Sinicki at cmsinicki@gmail.com

The 2017-2018 Ponies are all set for another season competing in the top 18U Tournaments in the Mid Atlantic region. Congratulations to all the girls, We are looking forward to a great season!

Here are your 2017-2018 STPS Ponies:

Player: High School: Graduation Year:

Allison Beckwith Oxford Academy 2019

Alexis Burge Arcadia University

McKenzi Donahue Windsor 2018

Madalyn Dydynski Toiga 2018 Committed to University of Lock Haven

Katrina Fox Johnson City 2019

Danielle Goff Blue Ridge 2019

Hanna Hagerman Windsor 2021

Alex Hein Mansfield University

Sophia Pappas Susquehanna Valley 2018 Committed to Binghamton University

Laurel Pernesky-Currier Chenango Valley 2018

Kayli Rosenkrans Windsor 2020

Katie Ruoff Nazareth College

Allie Wandell Newark Valley 2021

Regan Ward Binghamton 2018

2017 Fall Ball Schedule:

Coming Soon


2018 Summer Tournament Schedule:

Coming soon

"CONGRATULATIONS GIRLS, WE ARE LOOKING FORWARD TO ANOTHER GREAT YEAR !"
"PONIES FASTBALL...... KEEPING A PROUD TRADITION ALIVE"
Recognized by softball teams and coaches as one of the "teams to beat on the east coast," the PONIES accomplishment list include:

10 New York State Chamionships with an overall 73-13 record in state championship play
6 New York State runner-up finishes
3 Mid-Atlantic Regional Championships
19 Consecutive ASA National Championship appearances, including finishes of 9th, 13th, 17th and 25th place

We are very proud of our "Ponies Alumni", our players have gone on to play college softball at major universities such as Connecticutt, Massachusetts, Oklahoma State, Virginia, Virginia Tech, Temple, Purdue, Providence, Lafeyette, St. Bonaventure, Siena, St. Josephs, Lasalle, Drexel, LeMoyne, C.W. Post, Cornell, Canisius, Villanova, Marist, Colgate, Binghamton, Dartmouth College, Kutztown, Fairleigh Dickinson University, Mansfield University, Marywood, Buffalo, Fordham, University of Rochester, Cortland, Bentley, Utica College, Brockport, and Binghamton.

Our players have also gone on to coach at Fordham University, Cornell, Drexel, Lehigh, Iowa State, Maryland, Rochester, Cornell and Binghamton University.

_______________________________________________________________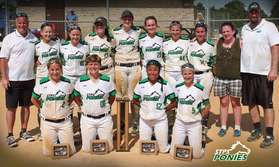 Wednesday, July 12
Tryouts for 2017-18 STPS Ponies, Join a proud tradition for 30 years
The STPS Ponies 18U girls Softball team will conduct tryouts for the 2017-18 Fall and Summer team on Tuesday, August 1st and Thursday, August 3rd from 6-8pm and Saturday, August 5th from 10am - Noon at the Johnson City High School Softball field. For additinal information or questions, contact Chris Sinicki at: cmsinicki@gmail.com or 761-7077.
The address for Johnson City High School is 666 Reynolds Road, Johnson City, NY 13790. The softball Field is located behind the high school on top of the hill, in front of the Middle School. The Middle School address is 601 Columbia Drive, Johnson City, NY 13790. Parking is available at the fiel.
################################################################################################################
Thursday, July 21
Tryouts for 2016-2017 Ponies
Are you interested in trying out for the 2016-2017 Ponies team:
The STPS Ponies 18U Travel Softball team will conduct tryouts for the 2016-2017 season on Monday, August 1st and Wednesday, August 3rd from 6pm-8pm and Saturday, August 6th from 10am-Noon at Johnson City High School Softball Field. Contact Head Coach Chris Sinicki at cmsinicki@gmail.com
#################################################################################################################
Wednesday, June 22
Keystone Cup Champions...
The STPS Ponies reeled off five straight wins, including a perfect 3-0 record on Sunday to claim the championship at the Keystone Cup in Hagerstown, Maryland. After losing game one on Sunday morning, 5-3 to the River City Rippers Gold, the Ponies defeated Triple Threat and MVSA by identical 10-0 scores. Connor Decker pitched a one-hit shutout, striking out eight and walking one to earn the win vs. Triple Threat. Alex Hein was 2-2 to lead the Ponies nine hit attack. The Saturday's Finale, Claire Loughlin tossed a four hit shutout, striking out three and walking two. Connor Decker had three hits and four RBI's and Alex Hein was 3-3 with 2 runs scored.
The Ponies came back twice on Sunday from Deficits to win their first two games. The Ponies scored four runs in the sixth inning to defeat the Blue Jays, 4-1. Sophia Pappas earned the victory, allowing one run, striking out nine and walking two. Pappas and Kacie Hubbard paced the Ponies offensive attack with two hits apiece. Connor Decker pitched five strong innings allowing one earned run and Sophia Pappas "Slammed" the door on the Conklin Raiders 16U, pitching one perfect inning propelling the Ponies to a 4-2 victory. Alex Hein collected two hits for the Ponies.
In the Final, Catey McAleer's three-run home run started the scoring en route to a 7-3 win over the Germantown, Maryland Titans. Sophia Pappas went the distance, scattering seven hits, striking out eight while walking just one. Kacie Hubbard led the Ponies nine hit attack, going 3-3 with an RBI. Pappas and Alex Hein each had two hits apiece.
Hein led the Ponies offensively for the weekend from the lead-off spot going 12-15. Kacie Hubbard collected 10 hits in 17 at bats and Connor Decker hit .400. Ponies Pitchers combined for a 5-1 record and a 1.96 ERA, Striking out 41 batters while walking just nine. The Ponies are currently 8-3-1, playing in the championship games of both of their first two tournaments.
_________________________________________________________________________________________
Monday, June 20
PONIES start 2016 Summer Season off strong
The STPS Ponies started their 2016 Summer Campaign finishing second in Championship bracket play on Sunday, June 12th at the NJ Outlaws East Coast Showdown in Voorhees, NJ.
The Ponies were 1-1-1 on Saturday, tying the Krunch Gold, 3-3. Kacie Hubbard was 2-3 and a run scored for the Ponies. The Ponies rebounded from a 6-0 loss at the hands of the NJ Outlaws Gold to beat the Outlaws Fastpitch Gold, 3-2 in the final game on Saturday. Sophia Pappas scattered six hits over six innings, striking out six and walking one to earn the victory.
The Ponies began single elimination play on Sunday with a 5-3 win over the South Jersey Mystics. Sophia Pappas picked up the win, striking out seven. Kylie Warner was 3-3 with three RBI's and Alexis Burge was 2-3 with two runs scored. The Ponies Scored four runs in the 5th to break a 1-1 tie to defeat the TC Tremors Gold, 5-2 in the semifinal. Sophia Pappas was 2-3 with an RBI. The Ponies lost to the Central Jersey Lightning Gold in the Championship, 5-4. Kacie Hubbard was 3-4 for the Ponies. Hubbard hit .412 for the weekend and Sophia Pappas picked up three victories on the mound striking out 28 while walking only 5.
---------------------------------------------------------------------------------------------------------------------------------------
Monday, July 13
PONIES Collect 750th Win as an Organization
Congratulations to Coach Sinicki and the entire PONIES organization for reaching a milestone of 750 wins as an organization. This is a great testament to the longevity and success of the PONIES organization.... Congratulations from all of the PONIES players and families that have contributed to the organization over the last 26 years !
___________________________________________________________________________________________
Wednesday, July 16
PONIES Celebrate Coach Sinicki's 25th Year and raise funds for Jack Sheridan
On July 9th the Ponies organization held a special event. The evening started with a Home Run Derby to benefit Jack Sheridan, the brother of Ponies Alumni Jordan Sheridan, who is battling Leukemia. Liz Wickizer emerged as the champion after a three way tie produced a hit-off to establish a winner.
The HR Derby was followed by an Alumni Game to honor Coach Sinicki's 25th year. The turnout was amazing! Attendees spanned a few decades and the game appropriately ended in a 5-5 tie. Following the game all of the players presented Coach Sinicki with a Plaque commemorating his 25 years of dedication to the PONIES.
It was a great evening, a fun evening and a proud evening for the Ponies organization as the current team and the Alumni showed their generosity while raising nearly $700 for Jack Sheridan.
----------------------------------------------------------------------------------------------------------------------------------------