St Peter Saints CYO: Team of the Week
4th Grade Girls Basketball (Coach VanDyke)
Team of the Week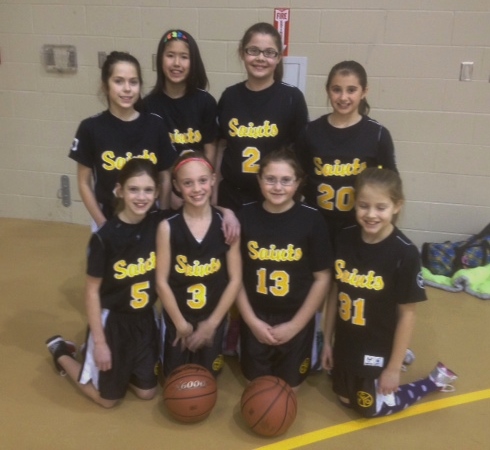 As the coach of the 4th Grade girls, I feel very fortunate to have such a group of girls who are talented and definitely work hard to excel. We have had a good season up to this point as we are over 500 in our record. In our first tournament we are in the semi finals which is very exciting for the girls. We have a few players that have played basketball before but for most of them this is their first time playing organized basketball.
We have 2 main point guards in Natalie Palese and Daylan Baker. Both of these girls have the ability to get up and down the court with the ball in order to set up the offense and make plays happen. Gemma Kilgore has played so hard this year she has improved tremendously since the beginning of the season she now has the ability to play any of the positions on the court. Emma Shupp, Kali Palco, and Gracie Hwang our our main girls that are always banging it down in the paint. These girls are learning to box out, post up and get a good position to put them into either a scoring position or so that they can get the rebound. Speaking of "Rebound" which is Ashley Garapic's nickname as once we started really practicing these drills she was unstoppable at getting the ball with her hustle and drive. Kayla Van Dyke is the last player on the team who plays a very intense defense. She has also been setting a great pick on the offense to free up the point guards for an easy lay up.
Thank you to Dave Baker for helping coach in the practices and during the games. We are looking to win a couple of the tournaments that we are in and we just want to thank the girls for working so hard and we hope that they stick together as they can get to be unstoppable.
- Coach VanDyke