Stoughton Youth Softball - Stoughton, WI: Welcome
2016 Season Important Information

Save the Date: Saturday, February 20, 2016 - PLAYER EVALUATIONS! 1:30 – 5:45 PM @ SHS Fieldhouse

Parents & Players – As Stoughton Youth Softball continues to build on its focus of creating positive softball experiences for all participants, we are looking forward to trying some new ideas in 2016. The goal is to try to match up players and skill levels with appropriate leagues. The board has been researching leagues within our region that will allow us to field multiple teams at the various age groups, give girls a chance to be competitive and strive to build skill and win games.

The idea is that we focus not on whether you are called Rec, Competitive, A or B squad, etc. But that we really work hard to group girls into teams of similar skill level, then place that team in a league that will fit where they are at competitively. Furthermore the goal is to have no Stoughton teams playing each other in league play.

To accomplish this, we will be moving our skills evaluation day up a couple of weeks. Evaluations will be held on Saturday, February 20, 2016 at the Stoughton High School Fieldhouse from 1:30 – 5:45 p.m. (Players will be given a time slot to show up for their age group.) PLEASE SAVE THE DATE NOW!

The evaluations for team assignments will be done by independent people, knowledgeable in softball, with no ties to our program or any of the players. The girls will be evaluated on different skills and given a total score. Based on this score, the girls will be placed on teams. The top 12 scoring girls in the age group will be placed on one team. The next 12 scoring girls will be placed on a second team and so on. Each team will then be assigned to play in a specific league that best matches the overall level of play.

If you are not able to attend the evaluation date, YOU ARE REQUIRED to make arrangements with SYS President Kristine Quam via email quamracing@gmail.com in order to have your child evaluated. Make up evaluations do not guarantee a player a spot on the top 12 team. Every player who wants to play softball will be given an opportunity to play in 2016!

The board is working hard to keep softball a positive experience for all – players, parents and coaches!
Please help support this effort! Save the date – Feb 20! And come out to the Skills & Drills nights listed below to get ready for the 2016 SYS Softball Season!
Thank you,
The Board of Stoughton Youth Softball
Kristine Quam, President Andrea Novotny, PR & Marketing Coordinator
Jeff Reuter, Vice president Keith Poirier, Umpire Coordinator
Jenney Rott, Secretary Jody Albers, Concessions Coordinator
Tammy Benoy, Treasurer Cassie Perkins, Syttende Mai Coordinator
Jason Rhyner, Program Director Lynn Poirier, Uniform/Apparel Coordinator
Bill Luebke, Safety & Equipment Director
The purpose of the Stoughton Youth Softball League is to provide Stoughton area youth with the opportunity to compete in softball leagues and tournaments and to challenge them to perform to the best of their abilities. To teach the game and the skills necessary to excel at this sport through camps or clinics when possible. To provide competent, knowledgeable and dedicated volunteer coaches along with adequate and safe equipment and fields. To provide league play for ASA Class B teams in support of improving our high school program.
---
MANY THANKS TO OUR GENEROUS SPONSORS!
Stoughton Youth Softball would not be possible without the selfless and generous support of a number of Stoughton-area businesses that offer their financial support to YOUR SYS! PLEASE patronize these businesses, and offer them your THANKS for their ongoing support of girls fastpitch softball in Stoughton!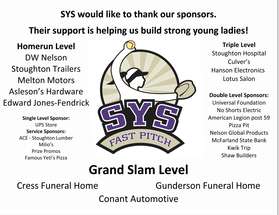 SYS Sponsors 2015
Monday, July 18
Fall Ball 2016
ATTENTION ALL SYS PLAYERS AND FAMILIES,
We will once again be offering the opportunity for girls to play in the GMFFL League this year. Cost will be $70 for the season payable to SYS.
Play will involve six consecutive Sundays starting September 11th ending October 16th. All dates are doubleheader matchups. *October 23rd will serve as rain makeup date, no playoffs.
Teams will be scheduled to play three home games and three games on the road.
***IMPORTANT NOTICE*** We will only register teams that have a full roster of 9 to 12 players at each age level. If there is not enough interest at a level we will not have a fall team at this level.
Signup sheets and additional information will be available at the Parents Meeting on Wednesday July 20th, 7pm at Viking Lanes.
Deadline for registration is August 8th.