Crusader Football Website: Welcome
St. Michael
Welcome to the Crusader Football Program Website.
Conditioning sessions will start on Tuesday July 24.
I encourage you to have your son attend as many of the sessions as possible. It will prepare your son for the upcoming football season.
The dates are:
Tuesday July 24 Conditioning Session # 1 7pm-8:30pm at Ritter Field
Thursday July 26 Conditioning Session # 2 7pm-8:30pm at Ritter Field
Tuesday July 31 Conditioning Session # 3 7pm-8:30pm at Ritter Field
Thursday August 2 Conditioning Session # 4 7pm-8:30pm at Ritter Field
Tuesday August 7 Conditioning Session # 5 7pm-8:30pm at Ritter Field
Thursday August 9 Conditioning Session #6 6pm-7:30 at Moreland Park
Coach Mike
St. Michael CYO Champions and Runner Up in the 2000's
2018 TBD
2017 Cadet AAA Runner Up
2016 Cadet AA Champion - 56 AAA Champion
2014 34 Grade Champion
2013 3rd Grade Runner up
2012 6th Grade Champion -34 Grade Champion
2011 5th Grade Champion
2010 5th Grade Champion-4th Grade Champion
2009 Cadet Champion-4th Grade Champion-3rd Grade Champion
2007 Cadet Runner up- 6th Grade Champion
2006 Cadet Runner up -5th Grade Champion
2005 6th Grade Runner up - 4th Grade Champion
2004 3rd Grade Runner up old playoff format
2003 4th Grade Champion old playoff format
2018 Registration Fee information
Click on link above to register for Football on the SMSG Booster Club website. You will be able to pay the $100 football fee at this site.
Registration is now open for all Boys from 3rd to 8th grade for the 2018 CYO Football Season at St. Michael St. Gabriel School. All SMSG students, members of St. Michael or St. Gabriel parish, or members of surrounding area schools that don't have a CYO Football Program are encouraged to join us.
This Year's fee is $100. Your son will get use of a helmet, shoulder pads, game jersey, practice jersey, and practice pants for the year. Anything else needed (mouthpiece, cleats, extra padding ,etc) will need to be purchased on your own and we encourage you to go to our team online store set up by Destination Athlete as a fundraiser for our program. There will be a late fee of $10.00 if you wait until after August 13th.
CYO Registration Link and Information
Every player must register on the CYO Sports website.
1. Create a family account or login with your current account with http://www.cyoarchindy.org/Athletics_ParticipantRegistration.aspx
St. Michael, Indy code is: 199SMIN-IN
You will need to register your son on the CYO website to be eligible to play CYO football with St. Michael. Click on link to register.
St. Christopher, St. Malachy, St. Monica, St. Susanna, and Ritter Jr. high students/parishioners will need to register under a dual account and put in the St. Michael code. St. Michael, Indy code is: 199SMIN-IN
2. Please register with Orgs Online for each individual sport. (Only create one family account)
3. Every player participating in a CYO sanctioned sport (grades 3-8) must complete a sport .*Physical Forms must be turned into the your coach or Mike Cmehil.
4. Every student athlete entering grades 6-8 must complete the IMPACT concussion baseline test before participation.
http://www.cyoarchindy.org/Docs/New%20Physician's%20Certificate%20Form%20June%202014.pdf
5. Registration must be completed by the given deadline. Late Registrants will not be guaranteed placement on a team.
2018 Crusader Football store
The Crusader Football Player Pack and Spirit Wear store IS NOW OPEN
Click on link above for store.
This store will be open for a limited time only - Saturday June 23 thru Thursday July 5th (shop til midnight).
Destination Athlete will donate 5% of all sales to the SMSG Booster Club, so get all your gear here that your son will need for the season or Spirit Wear for yourself, and it serves as a fundraiser for our school sports program at the same time!
Thanks to your purchases last year we were able to buy 2 additional brand new helmets for our kids. Nothing is mandatory to buy, but the socks are strongly suggested so our players will look consistent. As usual SMSG will provide all players with the use of a helmet, shoulder pads, jerseys (practice and game) and pants (practice and game) for the season, but we've also got highly rated helmets and shoulder pads on here if you want to own one yourself.
Link to the store is below
www.destinationathlete.com/teams/store.aspx?team=981&dept=988
Contact John DeFabis if any questions or if you need something a little different than what is showing....
johndefabis@destinationathlete.com or at 317-610-7062
2018 Physical Forms must be turned in before 1st Practice
Your son must have a physical to be eligible to play CYO football for the Crusaders. Please have your physical form in to your coach or myself. You will not be able to participate in a practice with pads without a physical
http://www.cyoarchindy.org/Docs/New%20Physician's%20Certificate%20Form%20June%202014.pdf
Click on link for CYO Physical Form
2018 Equipment Handout day
Football Equipment Handout Day We will have Football equipment handout in August Date TBD at The St. Michael Parish Life Center (gym). We will be handing out equipment during registration.
Football Registration Fee is $100 per player.No equipment will be handed out until the registration fee is paid. Parents will also have to register their son at both websites listed.
CYO website at cyoarchindy.org.
SMSG Booster Club website at http://orgsites.sportsoffice.com/index.php?level_id=0&org_id=72
2018 CYO Concussion Policy
click on link for CYO InfoParents please click on link for the CYO Concussion information. http://www.cyoarchindy.org/Athletics_ConcussionPolicyDocs.aspx
2018 CYO Mandatory Weigh ins
2018 CYO Football Weigh Ins-
Weigh ins are mandatory Mandatory CYO Weigh Ins are scheduled on Saturday August 18 at the CYO Offices Time TBD. We will meet at Ritter and then leave together to go to CYO Center. All teams will weigh in together at the same time.
We will need parents to help drive the teams down to the CYO Office. Please see your coach and let him know you can help. Every player must weigh in on Saturday to be eligible for the first CYO game.
CYO Office 580 East Stevens Street Indpls, IN 46203 632-9311 The teams will participate in a scrimmage after weigh ins. Contact your coach if you have any questions.
CYO has added a 2nd weigh in on Sept 25 for the players who weigh within 5 lbs of the required weight limits.
Cadet Crusaders fall short in bid for back to back championships.
Sunday's delay became Tuesday nights beauty. What a memorable and beautiful night to play football. The lights were shining and the crowd was buzzing as the undefeated Cardinals took the field to battle the defending city champions from St Michael's. Capacity crowd flocked to the bleachers and the fence was circled. The who is who of coaching stood in the end zone and the defending champs players stood behind the Crusaders. What a perfect setting for what would turn out to be an instant classic.
St Mike's took the ball first and went razzle/dazzle as Arteaga hit Browder who in turn hit Crooke with a 15 yard completion. (negated by flag number 1) The drive was stalled and SLDM went to work. 3 plays and 55 yards later #15 galloped into the end zone for a 6-0 SLDM lead. St Mike's was staggering but we all knew they wouldn't go down. SLDM and a couple more flags stopped drive #2 and SLDM took over in great field position again. But no no not this time! St Mike's D said not today. Huddy with a sack, Josh Noble with a big hit and Gavin Crooke with a perfect form tackle slowed the drive. Finally on 4th and 10 the QB hit his WR with a completion but Jake Dill to the rescue and stopped them 1 yard short. The offense started to click and drove the ball into SLDM territory but were stopped and we went to the half with a score of 6-0. The 2nd half was set up to be dramatic, and it was. St Mike's D played lights out again and they ball went back to the Crusaders. Browder rushed for 15 but a holding call brought it back. Then he ran for 21 but a block in the back was called. So he said let me try one more time, and he went 53 yards in a flash. Browder then added the extra point and the Crusaders took the lead 7-6 with 2:00 to go in the 3rd. The defense bent and SLDM got the ball to the 26 but were stopped 6 inches short and the Crusders took the ball and set out to kill the clock.
There were dramatic runs by Thunder and Lightning as the O-Line flexed their muscles. Both teams dug in deep and battled every play. On 4th and 2, just 2 yards separated the Crusaders from a city championship, SLDM came up with the play of the day (so far) and stopped the Big Red 2 yards short. 2:14 to go and SLDM ran up the middle but Crooke and Ronny Edwards laid the wood. Tick, tick, tick under 2 minutes the D brought a big rush and #7 stepped up in the pocket and found #8 and the rest played out in slow motion. #8 made his way towards the sidelines and dove into the end zone and the crowd was stunned. 12-7 SLDM. St Mike's played out the last 1:36 but nothing to be found as SLDM held on to win a fantastic game 12-7.
Emotions ran high and both teams shook hands with the greatest of respect. This group of incredible 8th graders did their best to hold their heads high. The had fought and they had given all they had this day. The kids gathered and the incredible parents of this group circled them to congratulate and to comfort them. St Mike's had completed a magical 9-2 season and had come inches or feet of an unprecedented back to back city championship. In a time of pain the coaches could not have been more proud.
Browder carried the ball 29 for 180 more yards to add on to his regular season record on 1180 yards rushing. Crooke added another 53 to finish his season with 854. Crooke, Edwards, Ramsey, Johnson, Eduardo, Browder, Miller, Noble and Dill all contributed 2 or more tackles for this outstanding Defense. Neither team turned the ball over and St Mike's finished the playoffs with just 1 turnover.
CRAZY NUMBERS: Thunder and Lightning become the first backfield to ever rush for 2000 yards as a duo. (2034) St Mike's rushed for 2,294 total yards for the season. Breaking last years record of 2,257. Raul Arteaga led team in passing with 248 yards and 3 touchdowns. St Mike's total yards 2,696. OPPONENTS 1357!! St Mike's total plays 459. OPPONENTS 297!! St Mike's 31 TD. Opponents 15. Only allowed 5 Extra points all year!! Josh Johnson (7th grader) led team in receiving. Only had 8 turnovers for the season..Forced 16. Crooke led the D with 56 tackles.Combined with last years (97.5 varsity tackles) Followed by Huddy with 36.5 and Browder 36.5 Josh Noble 27. Jake Dill (7th grader) led the team with 7 turnover. Followed by Ramsey (7th grader) 3 14 kids had carries in varsity games JV won every game played this year. resulting in a total of 14 wins for St mike's this year.
WHAT AN FANTASTIC SEASON FILLED WITH INCREDIBLE CHARACTERS AND PERSONALITIES. KIDS WHO WANTED TO IMPROVE AND THEY DID. ITS A LONG JOURNEY AND FROM PLAYER 1-25 WE HAD GREAT KIDS. THANK YOU PARENTS AND PLAYERS FOR LETTING ME TAKE THIS JOURNEY WITH YOU. I LOVE TO COACH AND I LOVE TO TEACH, AND I FIND THE MORE I TRY TO TEACH KIDS, THE MORE THEY TEACH ME!!!! THANK YOU ALL! ITS BEEN A HELL OF A RIDE FOR 14 SEASONS. COACH TIM
Crusaders Regular Season records
2017 Crusader Final Regular season records
3rd Grade 3-3
4th Grade 4-2
5th Grade 0-6
6th Grade 2-4
Cadet 6-1 7-1(Speedway)
Cadet JV 5-0
Overall 20-16
Time for the playoffs
Monday, October 9
Crusaders at the College Level.
Current Crusaders playing or who played College Sports.
Please let me know who I missed.
Ben Egenolf LB Indiana University D1
Henry Woodcock TE Indiana State D1
Bryce Geibel UIndy D2
Diomoni Small DB Marian NAIA
Seth Knutson Marian NAIA
Sean Bennett Wittenburg D3
Derrik Ozzubu Depauw D3
Kyle Price Manchester D3
Dillon Olenick Marian NAIA baseball
Miles Tracy Basketball
Josh Strati Volleyball
Alex Downard QB Manchester D3
Josh Majors DB Marian NAIA
Brian Milikin Wrestling D3
Jake Purichia QB University of Indianapolis D2
Jacob Hagan WR Depauw D3
Logan Beaman OF/P Eastern Illinois Baseball D1
Reggie Gaydon DL Ridgewater College JUCO
Jaylon Morales Chandler Marian University
Andre Guy RB University of Indianapolis
Riley Deckard LB Hanover D3
Zach Reichle DB Depauw D3
Matt Swintz DB Rose Hulmann D3
Eddie Cmehil DB Wabash D3
Anthony Corsaro TE Indiana University D1
Tyler Willis Uindy D2
Khary Ferguson RB St. Xavier/St. Thomas More D3
Ethan Buckles Ball State D1
Nick Purichia QB Franklin D3
Joey Anderson WR Marian NAIA
Catholic Sports Weekly makes a visit to St. Michael Football practice
Click on Link for Catholic Sports weekly visit to practice.
www.podbean.com/media/share/pb-p6b57-712482
Cadet St. Michael Crusaders 2016 CYO Champions
The 7-1 Cadet Crusaders defeated the 8-0 St. Pius X Panthers 15-6 at Roncalli High School. The Crusaders stopped the Panthers 32 game winning streak and attempt at winning their 4th straight CYO trophy. Since the new CYO playoff format 12 years ago, only 2 groups have won 4 CYO championships. Those 2 teams were both from St. Michael.
2016 St. Michael 56 team win in Overtime in CYO City Finals
The St. Michael 56 group fell behind 6-0 at the half against the St. Jude Raiders. The Crusaders came back to tie the game on a double pass from Jacob Dill to Josh Johnson. The Crusaders would win in overtime on another Josh Johnson td catch, this time from Aiden Arteaga. This was this groups 2nd CYO Championship.
2015-16 CYO Fee's
Attached are the CYO fee's that St. Michael must pay for each sport.
Handout:
2105 CYO Fees
Crusader Anthony Corsaro article in the IndyStar
BLOOMINGTON — It is almost laughable to consider where Indiana University's crew of tight ends was three years ago at this time. To characterize them as low-profile would be understatement:
• Anthony Corsaro, 6-3, 250, was coming off his senior season at Cathedral High School, awaiting offers from the Ivy League and weighing whether to walk on at IU, Ball State or Miami of Ohio.
• Jordan Fuchs, 6-6, 233, had never played football. He was a basketball player at Christ the King High School in Middle Village, N.Y.
• Michael Cooper, 6-5, 257, was a backup and special teams player at Arizona.
• Danny Friend, 6-5, 261, was preparing for track season at Morris (Ill.) High School. He was as touted as a defensive end as he was an offensive player.
• Sean Damaska, 6-7, 250, was a basketball player for Blessed Trinity Catholic in Roswell, Ga. He had never played football, either, but became an IU walk-on.
Now the Hoosiers are pondering during spring football how to capitalize on all that these tight ends can supply.
"I've seen a lot of growth in that position, if you will," offensive coordinator Kevin Johns said. "They look stronger, they look faster."
Take it from Corsaro himself: If he hadn't become stronger or faster, he wouldn't have survived.
He said he was late to mature physically, and he spoke freely about "getting my butt kicked" when he tried to block college players. He was uneasy around colleagues such as offensive tackle Jason Spriggs, too. Spriggs, 6-7, 305, is an NFL prospect, and he intimidated Corsaro from the beginning.
"I remember the first day, he was beating me in sprints, and he weighed 20 pounds more than me," Corsaro recalled. "I'm sitting here like, 'Oh my God, maybe I don't belong here. Maybe I need to go somewhere else.' "
He stayed. He worked. Really worked. He has gained only 10 pounds through IU's strength training program but transformed his body.
He was the Hoosiers' outstanding walk-on of 2012 and has been on the rise ever since. For instance, he was recently timed in 4.67 seconds in the 40-yard dash, faster even than Fuchs' 4.73.
Tight ends coach James Patton said, "I love him, the way he is." Corsaro sets the tone for the group, Patton added, and all he must do is stay healthy.
Corsaro was sidelined during the Hoosiers' 2014 preseason by a broken foot. He separated his shoulder in the Michigan State game but continued to play.
Friend endured a season-ending knee injury during preseason camp, and Fuchs was a new arrival. The tight ends were "just out of synch" with quarterback Nate Sudfeld from the start, Corsaro said. Then Sudfeld went down, too.
"We just never really got back into it," Corsaro said.
He and Sudfeld were roommates as freshmen, and they have continued to pitch-and-catch in spare moments. Indiana tight ends totaled only 10 catches last season, so it won't take much to improve on those numbers.
Fuchs looks like "a totally different player" from a year ago, Patton said. Fuchs joined the basketball team in February, playing eight minutes in three games. But his football workouts seemingly didn't suffer because Fuchs' lifts all increased by 20 to 30 pounds.
"He's practicing, really, with a different sense of urgency than he's ever had," Johns said.
The Hoosiers aren't necessarily going to duplicate the production of a Ted Bolser, who caught 35 passes for six touchdowns in 2013 and was drafted into the NFL. But they would benefit from inclusion of tight ends in a spread-the-ball-around spread offense.
Corsaro has shown he can be an effective offensive player, turning his 16 catches into eight touchdowns for Cathedral's Class 4A state champions in 2011.
"I like what those guys can give us," Johns said. "We've got to find a way to get more of those guys on the field."
Call Star reporter David Woods at (317) 444-6195. Follow him on Twitter at @DavidWoods007.
CYO Concussion Policy-Parents and Coaches Please read
Parents/Coaches
Please click on link for Important information on the CYO Concussion Policy. There is information to read as well as how to take the baseline concussion test. Contact me if you have any questions.
http://www.cyoarchindy.org/Athletics_ConcussionPolicyDocs.aspx
Jake Purichia has more TDs than any QB in Indiana history, but can't get a college scholarship
By Cameron Smith November 11, 2013 1:23 PM Prep Rally
There's something that doesn't check out for Jake Purichia. The senior at Cardinal Ritter High (Indianapolis, Ind.) has spent four years racking up astronomical stats, including one of the highest yardage totals in state history. On Friday, he set a new state record for career touchdown passes. There's only one thing missing from Purichia's resume: A Division I FBS scholarship. As noted by MaxPreps, Purichia broke the Indiana state record for most career touchdown passes in a 35-10, Indiana Class 2A state playoffs victory against Speedway (Indianapolis, Ind.). He now has 10,262 career passing yards and an incredible 131 touchdowns, with only 21 interceptions on the other side of the ledger. He has a career completion percentage of .661, and has been incredible consistent across his four years as a starter; his lowest completion percentage was .579 as a freshman.
All of these numbers would seem to make a strong case for Purichia as a legitimate college quarterback. For some reason, coaches don't seem to be quite as convinced. Purichia isn't even listed in the Rivals.com or Scout.com databases. The only recruiting service which does have a record for Purichia notes that he has received slight interest from Ball State and Illinois State, but categorizes their interest in the senior as "cool".
That's outright mystifying for a quarterback who has built up a stronger resume of efficient stats than any other in Indiana history. You can see some of Purichia's best moments in the video above and decide for yourself whether he's an overlooked teen passer like Joe Flacco or Ben Roethlisberger. Even if he isn't, it seems hard to believe that a quarterback who has thrown for 131 touchdowns and only 21 interceptions across four high school seasons isn't an upgrade for some squad in the bowl subdivision. Only time will tell if some school feels that way, too.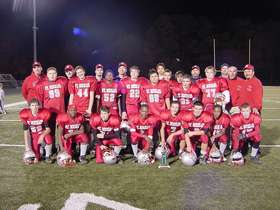 Anthony #44 or the Crusaders
Anthony Corsaro Crusader Class of 2008 now playing TE for the Hoosiers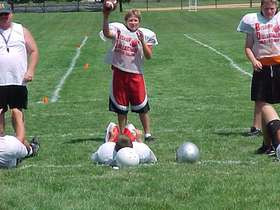 AC at Bishop Dullaghan Camp
Tight end Anthony Corsaro was named Indiana's 2012 Outstanding Walk-On Player of the Year as a true freshman. He appeared in four games and made his collegiate debut at Massachusetts
Five Questions for Anthony Corsaro






This is the next in our Five Questions for Indiana athletes segment. I asked Anthony who was the best player from Cathedral on the IU roster (there's five of them) and he didn't say it was himself.




You know their statistics. You know all the obvious things there are to know about your favorite Indiana athletes. Now here's a quick look at a few quick things you may not know in our Five Questions segment.

Today's Five Questions focuses on IU sophomore tight end Anthony Corsaro from Cathedral High School in Indianapolis.

1. Who was your favorite athlete growing up and why?

Probably Peyton or Reggie. I mean as an Indy kid growing up playing football, who else would it be except for Peyton Manning? I supposed it could be Reggie Miller, too, but it would have to be one of those two.

2. What's your favorite place to eat in Bloomington and what do you like to eat there?

That's a tough one. I'd probably say Bub's (Burgers). That's where I go usually. I have my picture up on the wall a couple of times I think for meeting their burger challenge. But I try not to eat that too much. I try to keep my girlish figure (he smiles). I usually just order the Big Ugly there. And they've got great milk shakes, too.

3. What's your favorite musical genre and artist?

I'd say rap. That's probably the favorite musical genre of our team. Just whatever is popular, whatever is going on right now is what it would be. Drake is probably my favorite artist.

4. What do you want to be when you grow up?

That's another tough one. I don't know. I'm in the Kelley School (of Business) right now but I haven't really figured that out. I'm going to major in entrepreneurship so hopefully something that makes a lot of money.

5. Of the five Cathedral guys on the team, who is the best?

The best player? Well, I guess you've got to say Kofi (Hughes) by default. I don't know. Everyone kind of knows their role. I just think the one thing we all have in common is that we're all trying to work hard and just help the team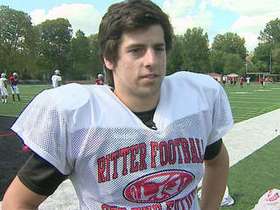 Jake Now
Crusader Jake Purichia is athlete of the week. The video also shows two of our current coaches in their glory days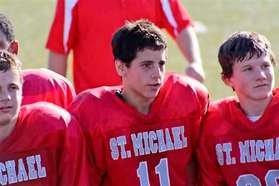 Jake a St. Michael Cadet
INDIANAPOLIS (WISH) - Cardinal Ritter quarterback Jake Purichia made history on Friday as he led his team to a 56-33 win over Chatard for the first time in 25 years.
"It's awesome," said Purichia. "All the coaches had been saying 'Hey, it's been 25 years since we've done it,' and just to be part of the team that did it, it's really great."
The Raiders couldn't have done it without Purichia; he dominated in all facets of the game. He passed for 311 yards and 3 touchdowns then ran for 126 yards and 4 touchdowns.
"He was on fire," said Ty Hunt, Cardinal Ritter Head coach. "Throw a little gasoline on him and it would've started. It was a good night for him."
The win also had extra special meaning for Purichia. That game 25 years ago when Ritter last beat Chatard, his dad Vince was the quarterback.
"Last year they were talking about it, like the last team to beat them was your dad, you need to go out and do it," said Purichia. "I mean it's awesome just having a relative being the last person to go beat them."
"I remember it like it was yesterday," added Jake's dad Vince Purichia. "It's tough on Fridays to approach it as a dad. I don't get the luxury to enjoy it like a fan, but I was definitely proud of him and all the guys the way we came out and played a great Chatard team."
CYO Football Spells Success
There may be no topic in Indiana high school sports that elicits a reaction like private school dominance in the football tournament.
The numbers weigh heavily in favor of non-public programs, which make up less than 10 percent of the teams. A record seven of the 10 entrants in the five state championship games this weekend are private schools, and some believe changes are needed to reverse the trend. A proposal is slowly moving its way through the system that would address the issue through socioeconomic and tradition factors.
But ask those who have been involved in Catholic school football programs and, to a large degree, they will point to a different reason for success: the stability and continuity of the Catholic Youth Organization (CYO) program.
"It contributes a lot (to later success)," said Cathedral sophomore Collin Barthel, who started playing in the CYO league in third grade, the first year football was offered at St. Simon. "There are a lot of good coaches who have been around it for a long time. They teach fundamental football. It's a big deal at those schools. There's a lot of bragging rights."
Though CYO success at schools that generally serve as feeder programs doesn't always directly correlate to high school success, there is compelling evidence of its impact. When Roncalli feeder schools won 10 of the 16 championships for fifth, sixth, seventh and eighth graders from 1994 to 2001, it led to a string of successful high school teams from 1998 to 2005. The Southside school didn't win another CYO title until 2005, and Roncalli is 33-31 in that stretch.
Bishop Chatard and Cathedral were successful in the late '90s but have taken it to another level since the Northside started dominating the CYO leagues with 14 of the 20 titles from 2001 to '07. Cathedral and Chatard have since combined for eight state title game appearances.
"Tradition is tradition, and the CYO program has a lot of tradition," said Bishop Chatard coach Vince Lorenzano, who played in the league through eighth grade at St. Bernadette. "Most of our coaching staff went through the CYO programs, as did the majority of our starters."
All but seven of Cathedral's starters played in the CYO league. For Bishop Chatard, it's 21 of 22 starters. For Scecina, which will play for the Class A championship against Lafayette Central Catholic at 3:30 p.m. today, the number is 25 of its 27 regulars, with kicker Ryan Frain not playing any football until he got to high school.
"CYO is incredibly important because they come in knowing what to expect," said Scecina coach Ott Hurrle, who graduated from the school in 1970 and has been coaching there for 20 years. "I think they come in knowing the demands are different. They'll be expected to work hard and hit. And not only do the kids have that background, the parents know what to expect. That's a big key. We go through cycles of talent like anywhere else, but they know what's expected."
Rick Streiff has coached 17 years at Cathedral sandwiched around a four-year stint at North Central. While there are public school programs that benefit from strong feeder systems -- Carmel and Warren Central, for example -- Streiff said the CYO program stacks up because of the coaching and generations of families.
"There's a mentality those CYO kids come in with," Streiff said. "We hang our hats on those guys."
Ed Tinder, 62, has been the CYO executive director since 1984 and with the organization for 31 years. Tinder graduated from Chartrand in 1967 and played football for Tony Hinkle at Butler but said his biggest coaching influence was Norb Mappes, his seventh- and eighth-grade CYO coach at Holy Name in Beech Grove.
"It's hard to put into words, but there's something about football where there's a tremendous amount of hard work and dedication to the team concept," Tinder said. "Goal setting and hard work are so much a part of football, and that really fits into CYO football. It creates something bigger than football, like a family atmosphere. It's bigger than what's happening on the playing field."
The Sports Chronicle visits St. Michael football
St. Michael Football article from the Chronicle 2 years ago. I have no doubt we have the most organized and fundamental football program in CYO. The Chronicle writer had nothing but good things to say about St. Michael.
| | | | |
| --- | --- | --- | --- |
| CYO Spot Lite Game of The Week | | | |
Written by Bob Kelly
Monday, 18 October 2010
By JD McTaylor
Today was another beautiful day for football and CYO competition. I traveled to
the westside core of CYO football, Reece Field at Ritter High School, home of
the St .Michael football program. Christ the King Cadets were the visitors with
a second consecutive

undefeated regular season

well under way. Always well
coached and talented CTK was an extremely tough opponent.
Christ The King Coasts To Win
St. Michael is the current defending Cadet AA city champions. They have lost
from that team some of the best freshmen in the city . Some of these fine young
players are starting on very good teams and doing very well. Today CTK had the
superior team. They led by a large margin at the half and coasted to an easy
win.

CYO Emphasizes Participation, Good Time
As I sat and enjoyed a wonderful pork sandwich from the snack bar, served to me
by a very friendly and lovely young woman, I was taken by what I saw around me.
This community of people are impressive. It is obvious that they are a diverse
group of proud folks who really care about each other and support the
participation of their families in CYO. I have always believed this is exactly
what CYO is supposed to look like. Everything is in perspective. The emphasis
is on participation and having a good time.

Today they lost badly but left the field with their heads high and happy to have
had the opportunity just to compete. Sure they would have preferred to have won.
They will regroup and come back next season with the same resolve and tradition
that makes them a CYO standard for toughness and resiliency.

Snack Bar Stands Out This Week
The snack bar gets a strong three and a half stars out of four for the special
of a pulled pork sandwich, chips and a soda for a modest price of $4.00.Well done
St. Mikes, not just the food but for the whole enjoyable experience.

Editor's Note: JD McTaylor writes a weekly column about the Indianapolis Catholic Youth Organization. Please email us if you want him to cover your game.