Stewarton Polo Club: Polo Holidays
Thursday, December 6
Play Polo in Argentina
Get away from the cold and wet of winter to a beautiful estancia in Argentina. The estancia is located not far from Buenos Aires and is run by former Stewarton instructor, Juan Martin Sarli. On every trip, Stewarton's Director of Polo will be in attendance to ensure your holiday runs smoothly and to show you the best places to go in Buenos Aires.
The estancia has fantastic facilities, with four polo fields, clubhouse with bar/restaurant, tabe tennis and pool. There are two swimming pools. Each guest will stay in a cabana at the estancia. There is only one guest to each cabana and each one has it's own living room.
Your day will start off with either lessons, wooden horse or stick and ball practice followed by lunch. The afternoon is, of course, siesta time or you may like to go shopping in Mercedes or lie lazily by the pool. In the evening you will take to the field to play some chukkas finishing up with a sumptuous dinner.
Not only will you get to play polo but you can visit Buenos Aires for shopping or the nightlife which is incredible. The city only wakes up at 12am so be prepared for a late night! Next door to the estancia is a Spa so if your aching muscles need some tender, loving care that is the place to go.
The trip is suitable for people without any riding experience as well as riders who just want to learn this incredible game.
This really is a wonderful holiday and something that you will be talking about for a long time. Not only that but you will be amazed at the improvement in your polo and like many people we will sure you will want to return again and again.
We will be going to Argentina from February 16th to March 1st 2012. Non-members are welcome to join us. If you email us we can arrange everything for you.
Call
07974 706045 or email stewartonpolo@btinternet.com for further details 07974 706045
Play Polo in Sotogrande
Not everyone can spare two weeks to go to Argentina to play polo so we have linked with a club in Sotogrande to offer you polo holidays closer to home. Sotogrande has been described as the Palm Beach of Europe where it is a place to see and be seen and remains an exclusive resort to visit.
It is only a couple of hours flight away from Britian making it perfect for a long weekend and with sun 360 days of the year, polo is played all year round. The nearest airports are Gibralta and Malaga.
The polo course is almost identical to those in Argentina with mornings for stick and ball and evenings for chukkas. The cost is 450 euros per day to stay at Polo Valley or you may prefer to rent our apartment and not just play polo but fit it in on the odd day.
We have a perfectly located 2 bed apartment to rent out which is 150 yards from the beach with it's sailing school and beach bars. On the beach you can also windsurf, kayak and take the catamaran. The tennis club is also a few hundreds yards walk from the apartment so even if you don't want to play polo there is plenty to do or it is ideal to leave the family at while you do! All the stylish bars and restaurants are within walking distance too and Santa Maria Polo Club is a 5 minute drive away.
The best time to go to Sotogrande is July/August when all the top players are in Sotogrande playing the Gold cup.
For further information on the apartment go to http://www.ownersdirect.co.uk/spain/S9966.htm
That apartment is available for rent all year whether you want to play polo or just have a lovely holiday or weekend break.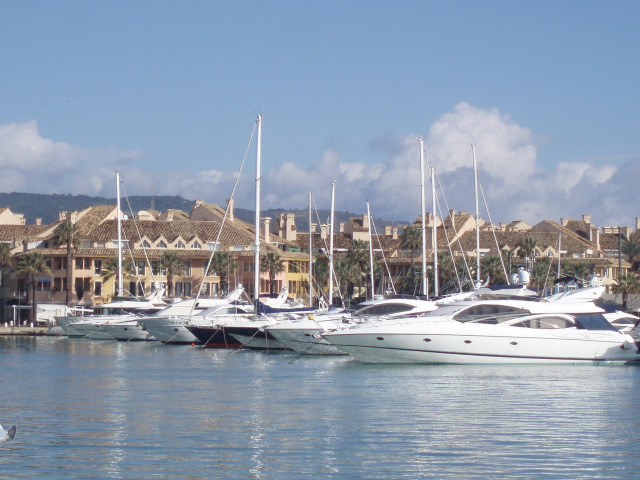 Sotogrande
Tuesday, March 1
Polo Everywhere Else
Although Argentina and Sotogrande are the main places to play Polo, we are always looking for new places to go. Some of the places we have considered trying out are Malta, Hungary and the Dominican Republic. If there is a place you would like to try Polo, just suggest it and we will see if any of the other members are interested.