SBA Steelhead Baseball Club: About
Our indoor practice facility
About Steelhead Baseball
Thank you for visiting our website and for taking a minute to learn more about the Steelhead Baseball Club's program. Steelhead Baseball Club is committed to providing players and families with a superior baseball development experience that sets new standards for any program of its kind in the area. Our goal is to help you realize your baseball aspirations and to achieve your potential both on and off the field. Our mission is to teach players the integrity of the game – to play the "right" way, and to respect the greatness of the game of baseball, while learning the life lessons that the game can teach us. Our program seeks to provide the best possible learning atmosphere, the most challenging competition, and the most fun the game of baseball can offer. When you play for the Steelhead you get:
Facilities for year-round training : We train at a state of the art baseball specific training facility that is unrivaled on the eastside. The program leverages everything that is available to help you improve - from speed and agility training, to video pitching and hitting analysis, to cage time, bullpen, and infield work. We start the process in October with an intense strength and conditioning program that is baseball specific, followed in Janury/Feb/March with specific baseball skills and fundamentals work, right up until our season starts.
Professional Coaches that are committed to your development: Our coaching staff is comprised of some of the finest coaches this area has to offer. You will be managed by a professional paid coach that will help you achieve your goals. Our coaches have years of experience and have typically played at the collegiate and professional level - and know what it takes to perform at the highest levels. Our coaches are truly passionate about the game and about developing young talent. Read coaches bios here
A challenging schedule designed to maximize your potential: Expect to play at the highest competitive league level offered for your respective age group, and expect to play in 5-6 tournaments (perhaps even 1-2 out of state) against strong competition. Our teams typically play a short season in the fall, beginning in September and ending in October. In October we begin our baseball specific training program, along with individualized and small group skill work focused on infield fundamentals, catching, pitching and hitting. For some teams, we will play a winter tournament out of state in January. Our 13U and 14U teams play their first tournaments in March and their regular season starts in April. Our 15U-18U teams break for High School baseball from March-Mid May and then their regular season and tournament season begins.
FAQ:
What will the program cost? Typically, expenses will range between $2,500 and $2,900 per family. In 2014, our average cost per family was about $2,600. Fundraising is not required - but is encouraged, and we have fundraising programs that have done very well in the past. A payment schedule is established with a deposit made upon commitment to the team. Included in those costs are uniforms (pants and jerseys), equipment (except personal bats, gloves, shoes, catchers gear, etc.), batting helmets, bat bags, practice t-shirts, tournament fees (except personal travel), league fees, field fees, training facility expenses, and umpire fees.
What about multiple sport kids? At the 13U and 14U levels, we support and encourage the multiple sport athlete and believe that it is beneficial to participate in sports other than baseball. Although we begin as early as October(speed/agility/conditioning) – we work to accommodate athletes that are participating in another sport's season. We do expect baseball to be the first priority from March to the end of the season in late July or early August. For players competing at the 16U and 18U levels the demands are much greater and it is assumed that baseball takes priority, however we continue to work to accomodate the schedules of the athlete playing an in-season sport such as football or basketball.
How many games will be played – and how long will the season last? A regular season schedule of approximately 25 games will be played. In addition our teams will play in 5-6 tournaments. The 16U-18U teams will typically play 1-2 tournaments out of state. The season will typically end the 3rd weekend in July for 13U-14U teams and the last week of July or first week of August from 16U-18U. This is a total schedule of approximately 45-65 games, depending on age group and tournament performance.
What is your home field? Our home games will typically be played at the following locations: Marymoor, "Big" Hartman, Redmond High School, Inglemoor High School, and Redmond Ridge. When not indoors at our training facility, practices will also be at these fields.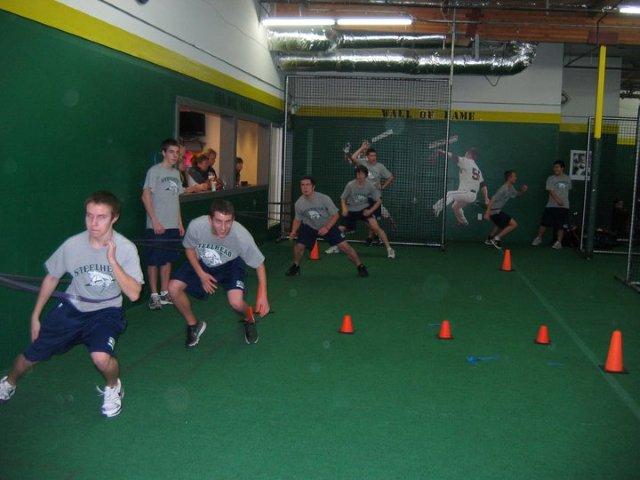 offseason conditioning