01 STEALTH: Welcome
Tuesday, December 3
01 Stealth
 Late Nights Pay off!
Back Row: Shannon, Leea, Lyndie, Alyssa
Front Row: Kayle, Haley, Jordan, Paige, Tabby, Italie, Kaya, Kylie
Congratulations to the 12U Stealth 01 for taking Second Place at the Inaugural Turkey Shootout.  The team fought hard while playing Late into the nights of Friday, Saturday and Sunday, November 15th - 17th.
---
Congratulations to the 01 Stealth, participating in the 11th Annual Harvest Bash.  Finishing in 5th place out of 21 Teams, It was a great weekend for competition.  November 8 - 9 - 10, 2013  
         Back Row: Shannon - Leea - Lyndie - Tabby - Paige - Kaya 

Middle Row: Italie - Hailey - Destiny - Jordan

Front Row: Kayle - Kylie   
 With outstanding team work, solid defense and strong batting, the 01 Stealth went 4 - 0 and finished in 1st place, playing in the Boo-Bash October 25th - 27th, 2013.  Although the tournament was called due to rain the 01 Stealth scored 33 runs while only surrendering four. 
---
CONGRATULATIONS 01' Stealth!
 The Stealth 01' placed 5th out of 35 teams playing in the Fall Classic September 15, 2013!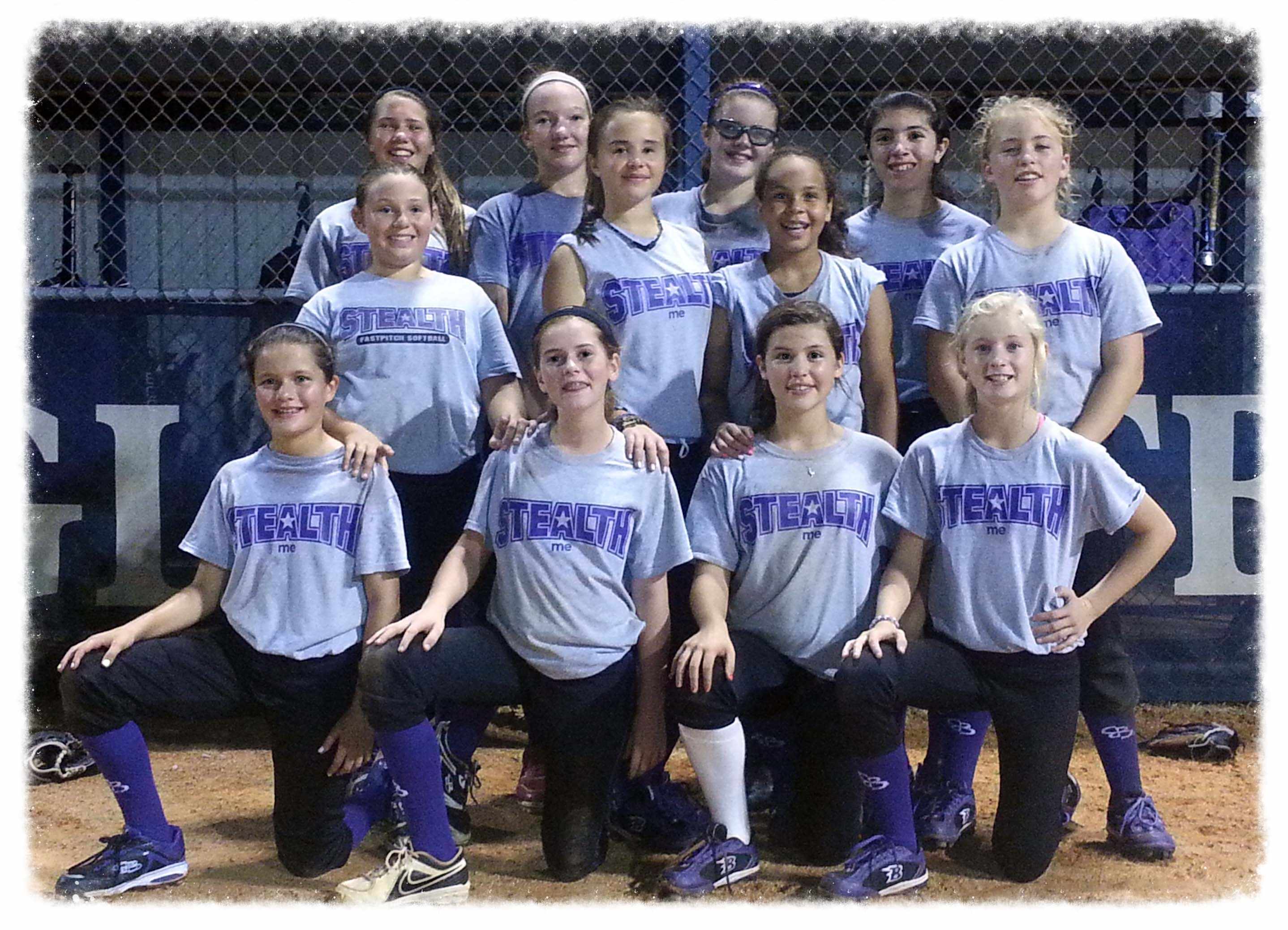 Back Row: Leea - Lyndie - Shannon - Tabby
Middle Row: Jordan - Italie - Destiny - Paige
Front Row: Hailey -  Kylie - Kaya - Kayle
---
Welcome to the 01 Stealth website.  Here you will find everything you need to know for the upcoming Fall/Spring/Summer season. 
 The 01 Stealth is a competitive girls fastpitch softball. The team travels almost every weekend. The girls are all very talented, committed, and they genuinely enjoy the game. Most of the girls have expectations and dreams of playing softball in college. With that said, it is very expensive to play and travel on a select tournament team. The parents and coaches are working hard to enable the 01 Stealth fastpitch softball team to compete at the highest possible level. In an effort to raise money for this team to compete against other great teams we will need to reach out to you for help. We are asking you to help by making a monetary contribution to the team! Every penny of your donation will be specifically for the 01 Stealth softball team. Please use the link in this email to donate online quickly & securely. You will receive an email confirmation of your donation and will be notified as soon as you make your donation. The Sugarland Girls Softball Association is totally non-profit, and donations are tax deductible to the extent of the law. I thank you in advance for your support, and the 01 Stealth really appreciates your generosity!!
http://www.active.com/donate/01stealth
To purchase team apparel and support the team through your purchase please go to the ad at the top of the page "my locker" and start shopping!  You may also support the team by purchasing magazine subscriptions.  Thank you we appreciate your support.
Monday, December 2
Stealth 01 Ice Breaker 2014
USFA State Qualifier Tournament
Then Click on "Tournaments" Then sort by "Jan 2014" (upper right)
*

Tournament Name:
01 Stealth Ice Breaker
Tournament Website:
http://www.usfastpitch.com/#
Minimum Games Guaranteed:
4

*

Game Format:
2 Pool 2 Double Elimination

*

Entry Fee

(whole dollar amounts only)

:
$150
Maximum number of teams accepted:
65

*

Check payable to:
01 Stealth

Mailing Address for Check

:

*

Street Address or PO Box:
3723 Westerdale Dr.

*

City:
Fulshear

*

State:
TX

*

Zip Code:
77441
Awards to be presented:
Trophies
Other:
Awards to be presented:
1-3rd (team), 1-2nd (indiv)
(ex. 1st, 2nd, 3rd, 4th, or All)
Fields and Complexes:
Imperial Park
Directions to Field:
226 Matlage Way, Sugarland Tx
Tournament Headquarters/
Check-In Location:
by concession stand
Contact sugarlandstealth@gmail.com with any questions.
All Teams that enter this tournament will have a chance to win a BowNet.
*Each teams name will be placed in the drawing for a chance to win. One BowNet will be up for Grabs!
Monday, December 2
Stealth Ice Breaker ~ 2014 ~ USFA State Qualifier Tournament
Click above. Please Register at http://www.usfastpitch.com