St. Clairsville Area Soccer Association: Welcome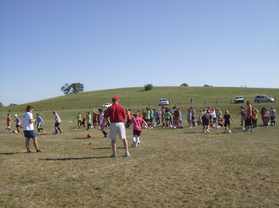 Spring Opening Day
Wednesday, February 13
Welcome To SCASA Web Page
Registration is now open for Spring This is a continuation of the 2018-2019 playing Season.
Site to Register: http://stclairsville.ohionorthsoccerlive.org/home
Please note the addition of the backslash and word home is a change for registration site
Birth Certificates
We have always obtained a paper copy of the birth certificate but new system requires scan in of birth certificate before we can roster. We will clarify this in the Spring registration. Once in they are good for the next season.
We must have all birth certificate copies in the system to provide a roster for travel coaches If Kristina has contacted you requesting a copy please upload or email her a copy immediately or your child cannot be rostered for play. Thank you. kristinak4202@gmail.com or call 740 381 4202 after 5 pm.
Rotary Pavilion at Capstone Rentals Contact Rick Ferrell 740-312-5895 to schedule your event.
We are now accepting reservations for 2019. The pavilion is ideal for family gatherings, birthdays, graduations, or wedding receptions. Roll down doors are in place to make inclement weather a non issue. The inside pavilion seats 100 and the patio has room for an addtional 40. Rental for Saturday & Sunday is $300 and weekday is $245. Please contact Rick Ferrell at 740-312-5895 for rental information.
All soccer links on left are live.
Note to coaches, If you are new to coaching or did not complete registration in the fall, you will need to register the Risk and make sure Concussion is up to date.
We have a new requirement for coaches and parents to view a video and sign a form noting that you are aware of sudden cardiac arrest. The State Legislature has passed what is called Lindsey's Law. . There is a video to view and a required signature. See registration page for more info but here is a link to the video for parents
Click Player information on left for more season information . Coaches will be calling players the week of Opening Day which is April 13th. Opening day for Travel teams will be Sat 4/13 at 9 am. Opening Day for pre travel will be 4/16 at 530 for U6 and 645 for U8. Calls will be made just before opening day. Pre travel coaches will meet prior to opening either 4/14 or 4/15.
We need volunteer coaches for all age groups except U14. and U12 girls. Call Dave Hahn if interested or email dbhahn45@aol.com
Spring Coaches to be determined. Here are the Fall Coaches
U10 Girls , Albert Russell Jay Morgan ,Ben McFarland
U10 Boys Shaun Roe , Will Perry, Robert Becerra
U12 Girls Iggi Padilla, Jay Morgan, Becky Lednick
U12 Boys Will Perry Steve Harris, JP Dutton
U14 Boys/Girls Joe Schmidt, Brian Kralovic,
Pre Travel U6
Jeff Robert scoordinator
Pre Travel U8
Pam Smutney, coordinator
Coaches registration and completion of Background Check and Concussion Training Required before they can be put on roster. Coaches who were registered with the Risk program in the Fall need not re-register for Spring. All New Coaches need to do Risk Certification for Spring Season and if they have not done Concussion in last 4 seasons will need to do the Concussion Training and upload the certificate into the Risk registration.
Children should be born between 2005 and 2014. Pre travel players will have birthdates in 2014,2013,2012, and 2011 .
Travel soccer begins for players who are born in 2010. We take 8th graders who are 15 but do not allow high school players on the U15 rec teams.
Welcome
The St Clairsville Area Soccer Association welcomes you to the Capstone Soccer Complex. We welcome you to the Capstone Soccer Complex. We have two U 14 fields, 2 U10, 2 U12 , 2 bangboards, practice areas and a pre travel field that has 6 to 10 fields as needed.. All of our fields will be repaired over the next year due to the undermining. Please bear with us as these repairs are made. We have placed gravel on the road next to field one to facilitate parking.
We are looking for new referees, volunteers, coaches for u6 and u8. Call Kate Banks, Rick Ferrell or Dave Hahn at 740 695 4207 if interested.
We have Capstone window stickers. They are still 4inch by 4 inch designed as window stickers. If you ordered with Registration they will be mailed to you or if you see Dave Hahn ask him for yours We will also have SCASA Capstone Ball Caps available.
Kate Banks is the Referee Assignor for Fall and beyond . She will be asking who will be refereeing this Fall.
Location and Directions
We are located off Interstate 70, Flushing 213 exit off of RT 70 W, and turn south on Airport Rd (County Road 82). The complex is 2 and 1/4 miles south from Route 40 on the right side. The physical address is 66056 Airport Rd., St. Clairsville. The mailing address is 121 Beckett Ct. St. Clairsville,oh 43950
If this is your first time at our website, please sign in on our guest board. If you want more information about soccer click on the link section on the left for playing information or soccer organization and have fun playing soccer!
Final Countdown