St. Albans Little League: Welcome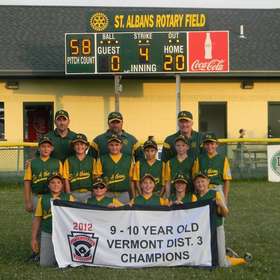 2012 9-10 District III Champions
Tuesday, April 2

ST. ALBANS
LITTLE LEAGUE
WELCOME TO
WILLIAM G. CIOFFI PARK
THE HOME OF
ST. ALBANS LITTLE LEAGUE
2012 DISTRICT III CHAMPIONS
ST. ALBANS 9-10

CONGRATULATIONS TO THE ST. ALBANS 9-10 BASEBALL ALL-STARS FOR A CONVINCING 20-0 WIN OVER YOUTH OF GRAND ISLE IN THE DISTRICT III CHAMPIONSHIP GAME. CONNOR WOOD PITCHED A GEM, A PERFECT GAME WITH 11 STRIKEOUTS AND 1 PITCHER TO FIRST PUTOUT. ST. ALBANS STARTED OUT STRONG WITH 10 HITS AND 10 RUNS IN THE FIRST INNING. GREAT JOB BY ALL THE 9-10 ALL STARS AND THE COACHES. A SPECIAL THANK YOU TO ALL THE VOLUNTEERS THAT MADE THE WHOLE TOURNAMENT POSSIBLE.

THE 11-12'S HAD A GREAT RUN IN THE PLAYOFFS, UNFORTUNATELY AFTER DEFEATING ESSEX TOWN 6-5 ON SUNDAY, THEY LOST A RAIN SHORTENED GAME TO ESSEX TOWN 7-2 AND LOST AGAIN IN THE FINAL GAME ON WEDNESDAY IN A CLOSE ONE 6-5. IT WAS STILL A GREAT SHOWING BY THE ST. ALBANS ALL STARS, WHOSE ONLY LOSSES WERE TO ESSEX TOWN.
Anyone interested in sponsoring a team or having a advertising sign on the fence or posting advertising on this website please click the sponsor form link above.
Wednesday, February 1
St Albans Little League