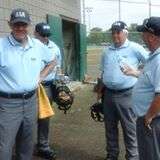 Follow us on Facebook
Thursday, October 8
WELCOME!
MARK YOUR CALENDAR ...
Nov. 7 (a Saturday), SSUA Awards Banquet, Northside Eagles Lodge, 6410 N. Lidgerwood St., 6 pm social hour, 7 pm dinner and awards, catered by Mamma Mia's.
-(o)-
YOUR NEW BOARD ...
President: Steve Quaid
Vice President: Chuck DeBruin
Secretary: Tammy Doffek
Youth Director: Carl Durr
At-Large (1st- or 2nd-year member): Megan Madsen
Appeals Board
Chuck Stewart, Kathleen Burns, Randy Harnasch, Brian Hall, Dennis Keys. Alternates: John Isles, Craig Adams
-(0)-
New Board members and the Appeals Board take office on December 1. Gary Kuck, Adult Director, is a holdover Board member, and outgoing President Ron Snyder will assume the Past President's position. A special thanks to outgoing Board members - Ron Snyder, President; Scott Hofstee, Vice President; Bobby Kuck, Youth Director; Brian Hall, Secretary; Mike McCaslin, At-Large member; and Dallas Williams, Past President - for your service to SSUA. Thanks, also, to everyone who attended the General Membership meeting on Wednesday, October 7, and exercised their right to vote. One amendment to the By-Laws was approved: Dallas Williams' proposal that director positions be renamed and all positions except the at-large position be for two years and elected in alternating years to maintain continuity on the board.
-(O)-
COUNTY TIME LIMITS and OTHER STUFF
We're back to "normal" County rules ... i.e., no more 5 innings or 1 hour for games for the rest of the year. (See County rules in "Rules, Documents & Materials.") The County is playing week-night games on City fields - Franklin and Dwight Merkel. Make sure to check your schedule to see if you're working a City or County game; their rules are different!
-
Also, let's stay vigilant on bat-checks in all programs.
-(0)-
SSUA Umpires in ASA NationalS
Congratulations SSUA umpires who worked ASA national championship tournaments …
Jeff Camp, ASA/USA 16U Gold in Salem, Oregon
Bryan Raschka, ASA/USA 14U A Western National in Boise
Bob Baugh, Marty Boles, Mike Carlson, Dennis Keys, Mike McCaskill, Steve Quaid and Spokane ASA Umpire in Chief Ken Mathia, the Umpire Coordinator, in the ASA 16U B & 18U B Western Nationals at the Dwight Merkel Sports Complex
-(0)-
Umpiring in Pictures
In Photo Albums, check out the slideshow shot by Jeff Camp at the 2015 Fourth of July Shootout Umpires Memorial Tournament.
-(0)-
Metal Cleats!
As of May 25, City allows metal cleats in all programs EXCEPT Coed and Seniors ... same as the ASA rule ... if players don't want to take them off, they don't play, simple as that!
Metal cleats are NOT allowed in any County division!
-(0)-
Find it now on the SSUA website ...
in the members-only Board Minutes site:
• SSUA Board Meeting minutes
• 2015 Payroll FAQs from Treasurer Rich Hobson
in Rules, Documents & Materials:
• 2015 Area Middle School Leagues Rules
• Updated Sept. 16 - 2015 GSL Slowpitch Rules with Non-Approved Bats list
• 2015 City Rules, including Bat Testing Policy
• 2015 County Rules & Bat Policy with sticker
• 2015 CAA Special Game Rules & Full Expanded Rules
• 2015 Spokane Girls Fastpitch Special Rules
• 1-Page color pictures of ASA Non-Approved Bats
• 2015 List of ASA Non-Approved Bats with new County Sticker
• Rules Differences between ASA SlowPitch & FastPitch
• Rules Differences between ASA, National Federation (School) and NCAA
Links
• Google Maps to help you find a school or a park
• National Federation softball
• National Federation officials articles
• National Federation dumb things smart officials believe
• ASA rules clarification and plays
• ASA/USA 2015 Official Softball Rules available to purchase for Apple and Android devices
• A YouTube tutorial on dealing with the DP/Flex compiled by Mark McCarney, son of Idaho ASA UIC Gary McCarney. It was done in 2012 utilizing the National Federation rule, but the rule and its application for school and ASA ball are unchanged. Know the rule inside and out ... you will be tested regularly on the field! Video also on the SSUA Facebook page under a March 11 post by Dallas Williams.
-(0)-
Congratulations to SSUA State High School Tournament Umpires
State 4A, Spokane
Kathleen Burns, UIC
Marty Boles
Bryan Raschka
State 3A, Lacey
Jeff Olson
State 2A, Selah
Brian Hall
State 1A, Richland
Chuck DeBruin
State 1B/2B, Yakima
Tammy Doffek
.
Rain, rain go away … but if it doesn't …
check the status of your game
on the SSUA Weather Hotline, 509-723-4511
Games canceled or postponed by weather, or other unforeseen circumstances, by 12 noon will be posted to the Weather Hotline. … Umpires will be called regarding cancellations or postponements that occur after 12 noon.
In the event of inclement weather, if your game is not on the recorded message and you haven't been called, GO TO YOUR GAME SITE! Because weather conditions can vary within our area, rainouts ARE NOT one-size-fits-all. You may have to postpone a game when you arrive, but that is one of your responsibilities that you can't do from home!
-(0)-
WE CAN ALWAYS USE MORE UMPIRES!
Interested in umpiring? Contact information for the SSUA Board of Directors and Spokane ASA Umpire in Chief Ken Mathia is below.
No experience is necessary, just a love of the game and a willingness to learn. And training is free!
-(0)-
CHECK OUT "RULES, DOCUMENTS & MATERIALS" ...
For
• REVISED SSUA RECREATION EJECTION REPORT
• GOOD STUFF IN ASA RULES CLARIFICATIONS & PLAYS
• MALCOLM BOYLES, ASA WESTERN DEPUTY SUPERVISOR OF UMPIRES,
HAS GREAT TIPS ON GAME MANAGEMENT ...
Looking for some good training PDFs? Check material from the 2015 Bi-Annual UIC Clinic. ...
.
Rules, Documents & Materials Index
1. SSUA Bylaws
2. Local Rules
3. National Rules
4. School Rules
5. ASA Clarification & Plays
6. Training - Clinics & Schools
7. Training - PowerPoints & Material
8. SSUA Policies
9. Information
10. ASA National Awards Programs
11. News 'n Notes
12. History
13. Awards & Honors
14. Rec & High School Tournaments
15. 4th of July Shootout