SS Boys Baseball: Welcome
SS Boys Baseball Leagues
Our 14u Dixie Boys State Champion All Star team is heading to Aiken, South Carolina, to the Dixie World Series, August 1-5. We wish all of them and their families safe travels and good luck at the tournament! We are very proud of the way each and every one of them have represented SSBBA! Big thanks to their many sponsors that heve helped make this possible.

Fall Ball signups are on! Registration forms are available under "Handouts."
Signups will run through August 22. There will be NO late signup period this season. Forms are also available at Fieldhouse Sports.
New for this Fall Ball season - we are going to allow 15 year olds to sign up for the 14u division. The birthday cutoff will remain the same - May 1. Any kids ages 3-15 on May 1, 2016, will be eligible to play in SSBBA Fall Ball.
We do allow out of town teams to join our league during the Fall Ball season. They are expected to provide their own uniforms, and participate in the fundraiser. Also, established Select teams will be required to play up one age division.
For more information, please visit our Facebook page: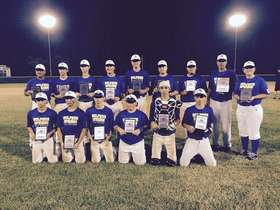 2015 14u All Stars - State Champions
Handout:
2015 Fall Forms