SS Boys Baseball: Welcome
SS Boys Baseball Leagues
We have a ton of pictures from this season posted on our Facebook page!
If you have any pictures you'd like to share, you can message them to us through the Facebook page, or email them to ssbba@outlook.com

Keep an eye on our Facebook page for any updates regarding game cancellations due to weather.
For more information, please visit our Facebook page:
Our 14u Texas State Champion Dixie Boys Baseball All Star Team participated in the Dixie Boys World Series, August 1-5, in Aiken, South Carolina. Their first game, against Dallas, North Carolina, was a 6-0 loss. Their second game, against Dyersburg, Tennessee, was an 11-1 win. Their third game, against Hampton County, South Carolina, was an 8-3 win. Their fourth game, against Newton County, Georgia, was a 6-4 loss, ending their tournament run. We are very proud of the heart and talent displayed by these boys and their coaches. They have done a tremendous job representing Sulphur Springs in the Dixie Boys State Tournament, and representing Texas in the Dixie Boys World Series. Once again, the Sulphur Springs Boys Baseball Association would like to thank all of the team's many, many sponsors that helped make this trip possible for such a great group of kids!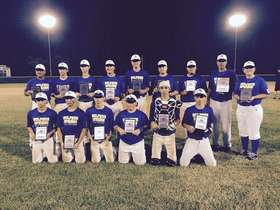 2015 14u All Stars - State Champions