SS Boys Baseball: Welcome
SS Boys Baseball Leagues
Fall teams were drafted Tuesday, September 1.
You should hear from your child's coach soon. If you haven't heard from one by Friday, September 4, please contact us so we can look into it.
Unfortunately, we did not have enough registrations in "O"Zone 12u, or Boys 14/15u to be able to field divisions for those age groups. If you registered your child for either of those divisions, your refund check will be in the mail shortly.
More information about game schedules will be posted as it becomes available.
The fundraiser for the Fall 2015 season is a raffle for a Savage 308 bolt action rifle with scope. Tickets are $1 each and will be available from our players.
For more information, please visit our Facebook page:
Our 14u Texas State Champion Dixie Boys Baseball All Star Team participated in the Dixie Boys World Series, August 1-5, in Aiken, South Carolina. Their first game, against Dallas, North Carolina, was a 6-0 loss. Their second game, against Dyersburg, Tennessee, was an 11-1 win. Their third game, against Hampton County, South Carolina, was an 8-3 win. Their fourth game, against Newton County, Georgia, was a 6-4 loss, ending their tournament run. We are very proud of the heart and talent displayed by these boys and their coaches. They have done a tremendous job representing Sulphur Springs in the Dixie Boys State Tournament, and representing Texas in the Dixie Boys World Series. Once again, the Sulphur Springs Boys Baseball Association would like to thank all of the team's many, many sponsors that helped make this trip possible for such a great group of kids!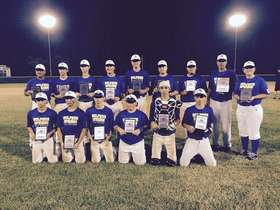 2015 14u All Stars - State Champions