SS Boys Baseball: Welcome
SS Boys Baseball Leagues
It's time to start registering for the Spring 2016 SSBBA season!
Registration and volunteer forms are available at Fieldhouse Sports.
Keep an eye out here and on our Facebook page for more information as it becomes available.

New this season, we are adding a 16u age division for players that have aged out of our 14u division, but are not playing high school ball. More information about the new age division will be posted as it becomes available.
For more information, please visit our Facebook page:
Our 14u Texas State Champion Dixie Boys Baseball All Star Team participated in the Dixie Boys World Series, August 1-5, in Aiken, South Carolina. Their first game, against Dallas, North Carolina, was a 6-0 loss. Their second game, against Dyersburg, Tennessee, was an 11-1 win. Their third game, against Hampton County, South Carolina, was an 8-3 win. Their fourth game, against Newton County, Georgia, was a 6-4 loss, ending their tournament run. We are very proud of the heart and talent displayed by these boys and their coaches. They have done a tremendous job representing Sulphur Springs in the Dixie Boys State Tournament, and representing Texas in the Dixie Boys World Series. Once again, the Sulphur Springs Boys Baseball Association would like to thank all of the team's many, many sponsors that helped make this trip possible for such a great group of kids!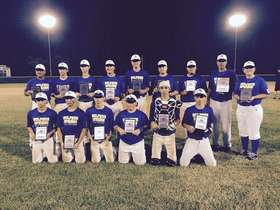 2015 14u All Stars - State Champions
Tuesday, January 12
Scholarship Opportunity - Deadline to apply, April 1
The Sulphur Springs Boys Baseball Association offers a college scholarship of up to $1,000 for a graduating senior/seniors that is a current Hopkins County resident, and played at least 4 years in our organization, at any age level.
Interested applicants should submit an essay about what playing baseball in Hopkins County meant to them.
The deadline to apply is April 1.
Applications should be given to Carmen Crouse, or mailed to:
SSBBA
P.O. Box 738
Sulphur Springs, TX 75483
With the essay, please include contact information, and the years that were played with SSBBA.