San Rafael Little League: Welcome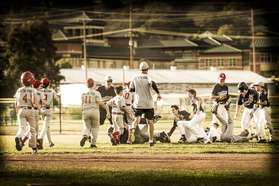 Wahoos & Red Wings after the UM Championship (photo courtesy of Steve Peixotto)
Opening Day!
Opening Day is set for Saturday, March 19 at 11:00 am. More details to follow.
Registration Still Open For T-Ball, Rookie & Upper Rookie
Click here to register.
T-Ball $275

Rookie $300

Upper Rookie $300
Become A Permanent Part Of The Donor Wall At The New Davidson Field!
Support your league by purchasing an engraved tile for the new donor wall. Click here to find out more!
Get Involved
Please join us at the next San Rafael Little League Board Meeting on Monday, March 7th at 7:00 p.m. at the Elks Lodge (1312 Mission Ave).
Contact Us
If you have additional questions, please feel free to email SanRafaelLittleLeague@gmail.com and/or snail mail to:
SRLL
PO Box 11191
San Rafael, CA 94912