San Rafael Little League: Welcome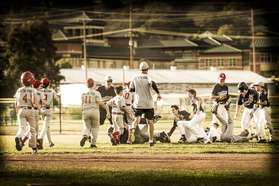 Wahoos & Red Wings after the UM Championship (photo courtesy of Steve Peixotto)
Thank You!
Another fantastic year of baseball in the books for San Rafael Little League. Thank you to all of our volunteers, coaches, parents, sponsors and players for making our 61st season an enormous success. Congratulations to all of our playoff champions. Best of luck in your respective Tournament of Champions. We know you will all be terrific representatives of our league.
Tournament of Champions & All-Stars Schedule
On our Downloads & Handouts page.
San Rafael Pacifics Tickets and Promotional Calendar
Click here to view the Pacifics promotional calendar for the 2015 season and purchase your single game tickets.
Get Involved!
Please join us at the next San Rafael Little League Board Meeting on Monday, July 6th at 7:00 p.m. at the Elks Lodge (1312 Mission Ave).
Contact Us
If you have additional questions, please feel free to email SanRafaelLittleLeague@gmail.com and/or snail mail to:
SRLL
PO Box 11191
San Rafael, CA 94912