San Rafael Little League: Welcome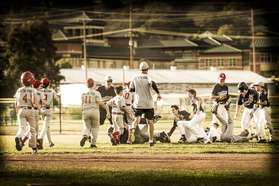 Wahoos & Red Wings 2015 UM Championship (photo courtesy of Steve Peixotto)
Playoff and All-Star Schedules Have Been Posted
Playoff schedules (Minors, UM & Majors) and All-Star schedules are available on the Downloads & Handouts page.
Become A Permanent Part Of The Donor Wall At The New Davidson Field!
Support your league by purchasing an engraved tile for the new donor wall.
Interested in Becoming A San Rafael Pacifics Host Family?
Find out more here.
Get Involved
Please join us at the next San Rafael Little League Board Meeting on Monday, June 6th at 7:00 p.m. at the Elks Lodge (1312 Mission Ave).
Contact Us
If you have additional questions, please feel free to email SanRafaelLittleLeague@gmail.com and/or snail mail to:
SRLL
PO Box 11191
San Rafael, CA 94912