Summerside Recreation Hockey League: Welcome
The Summerside Recreational Hockey League: The Tradition Continues...
This is the website for the Summerside Recreational Hockey League (S.R.H.L.) the Summerside Industrial Hockey League (S.I.H.L.). The Summerside Spring Recreational Hockey League (S.S.R.H.L.). and the newly created Summerside Womens Recreational Hockey League (S.W.R.H.L.). You can check out the site for rosters, stats, news and other information about our Leagues, Tournaments and events and other recreational leagues in the Summerside area.

If you are looking to play in any of the leagues, you may contact league president and site administrator, Aaron Doyle at any time. We do accept new players on registration night. We hold our rec Hockey registration in early October and our league begins play the first week of November. We take a short break at Christmas and then finish up at the end of March.

The S.R.H.L. is very proud to host the 'Shockers Annual Mardi-Gras Rec. Hockey Tournament' every spring (*March 27-29, 2015) and is now becoming known as one of the largest recreational hockey tournaments in Eastern Canada. Every year this tournament grows in popularity and this season is no exception as we've been receiving inquiries from all over North America. This tournament is open to both male and female teams and provides an excellent rec hockey/sociallizing atmosphere. The SRHL is your #1 headquarters for rec hockey fun and Shock's Annual Mardi Gras is a tournament every "true" rec hockey team should participate in at some point.
The Summerside Recreational Hockey League was established in 1967/1968, by then league president, Ron MacArthur and was at the time, the only rec hockey league of it's kind in North America. The four team, recreational league was developed to promote fun and community fellowship within an "open draft" hockey organization. We are one of the oldest rec hockey leagues east of Montreal and have played continuously since 1967.
The Summerside Industrial Hockey League was established in 2008 to create a highly competitive Recreational Hockey League in the Summerside area. With no body contact or no slapshots, the league will be simply highly skilled players playing as hard as they can from start to finish. Most players have played Junior B, Midget AAA or AA, Senior, or some even university hockey at some point of there hockey career. That being said if you didnt play in one of them leagues does not mean you cant play in the S.I.H.L. Just know that most guys are pretty competitive and play hard the whole game. They take no shifts off, and expect all players to play the same, clean, fast, and right till the buzzer goes at the end of the game. Lots of skill and speed will make playing in the S.I.H.L. a great time for all players. If you are looking to play in the S.I.H.L. you can contact myself to be put in touch with a team rep. In 2011-2012 the S.I.H.L. has changed its format to a full rostered team registration for entry into the SIHL. If you are looking to put a team in the SIHL please contact Aaron Doyle by Oct. 1. The S.I.H.L. had started with 4 teams since its inception in 2008. For the 2012-2013 season the S.I.H.L. has 6 teams registered for play with games at Slemon Park and C.U.P. in Summerside.
The Summerside Spring Rec. Hockey League was established in 2010. This S.S.R.H.L. will be a yearly tradition each Spring with players from all levels of hockey young and old. All rosters will have 13 skaters and a goalie. This league is made up of players from age 14-65, there for skill level is at both ends of the spectrum. The S.S.R.H.L. will play 10 games of Round Robin, then a crossover, then a final. Rules will be the same as S.I.H.L. with no redline. In 2009 the S.S.R.H.L. started with 4 teams. In 2011 the S.S.R.H.L. went up to 6 teams.
The Summerside Womens Rec. Hockey League is in its first year of operations for the 2014-2015 season. Any females interested in playing in a local organized womens rec hockey league should contact me asap. Shinny will be starting in October and will continue for the 2014-2015 season. Any female is permitted to play, there will be no restriction on skill level.
All leagues are open to anyone, 19 years of age or older. There are no restrictions on skill level. In the SRHL all players are ranked by a number system, following our annual rookie game dubbed - The Ice-Breaker Challenge. A league draft is then held, where team reps select from the registered base of players to ensure four well-balanced teams. Balancing of teams promotes sportsmanship, fun and competitiveness within the league.

This 2014-2015 season marks over fortyeight years of continuous play for the S.R.H.L. There are very few, if any, rec hockey leagues in North America that can boast about that and it's something to be very proud of. Here's a brief outline of the league.
- Each team plays twice weekly at 'Credit Union Place' in Summerside.
- All of our games are officiated by one referee and one time/score keeper.
- Our season consists of approximately 32-34 games, including a play-off championship.
- At season's end, an awards banquet is held in Summerside.
- Enrollment in the league is limited to 52 players.

In the SRHL each year, team reps will draft players on to their teams, where completely new teams are formed. As a result, players will get to know each other and in many cases, would have played together at one time or another in past seasons.

In mid December, a league executive meeting is held to ensure that the teams are indeed well balanced and if needed, trades would then occur.

All major infractions result in suspensions. Any unsportsmanlike incident will go under review and guilty parties will be dealt with accordingly. All suspensions may be appealed to the disciplinary committee, which consists of team reps and league officers. Disciplinary committee's final judgement will stand.

Thanks for visiting our site and don't forget to sign the guest book.

League Management
Wednesday, November 19
22nd Annual Mardi-Gras Rec Hockey Tournament Confirmed Teams
Below is an updated list of teams confirmed for the 22nd Annual Mardi-Gras Recreational Hockey Tournament March 27-29, 2015. Right now 69 mens teams and 20 womens teams confirmed...So there is only room for 1 men's team's and 1 women's team's ....
Thanks Aaron ~~~ Mens Teams Confirmed ~~~ Halifax Harbour Ducks ~ Ben Bruhm Halifax Hitmen ~ Ben Bruhm Sussex Molson Canadians ~ Bradley Stiles Sackville Timberwolves ~ Brett Mac Eachern M.D.S. Coating ~ Brian Stewart Permadry Pylons ~ Colton Collins Ocean Trout Farms ~ Darren Wood The Ale Stars ~ Dave Bourque Clarks Toyotas ~ Doug Gallant Team molson ~ Errol Guitard Multiple Scorgasms ~ Gaetan Bourgeois Geoffrey Irving ~ Elmsdale Pogey Train Midgelly Fish ~ Jamie Kelly Scoudook Hook ~ Jeff Mitchell Kent-Sud Riff Raffs ~ Joey Mc Grath Century 21 ~ Marc Morrison Illsleys Feed Icehogs ~ Mark Illsley The 200 Wing ~ Mark O'Keefe Lucky U ~ Mark Pyne East Coast chives ~ Mathieu Goguen Kent South Peckers ~ Matt Lemenager The Warriors ~ Mitchell Witlock Prodigy Sports ~ Nick Martin Gallant TV ~ Rheal Gallant Sackville DRL ~ Robert Wells Hubtown Ultras ~ Ryan Butcher James Joyce Irish Sheep ~ Ryan Howard rentsummerside.com ~ Scott Brown Moybray Constuction Warriors ~ Tony March The Old Dirtys ~ Terry Buote Greco / Capt. Sub ~ Tyler Doyle Bud Light Bruisers ~ Mike Smith Pearle Vision ~ Danny Nolan Book Hockey ~ Jean-Marc Boudreau Bedeque Vipers ~ Pat Mc Iver Halifax Centenials ~ Thomas Saunders Sackville Combines ~ Ryan Kay O'Connor Glass ~ Irwin Webster Shediac Shockers ~ Marco Fougere Wellington Flyers ~ Nick Arsenault CCCP ~ Chris Hume The C-Bass All-Stars ~ Colin Basset Maritime Iceholes ~ Jamie Le Blanc Saint john Silver Bullets ~ Greg Mac Leod Toronto Barons ~ Peter Jeelly Frozu Flyers ~ Ian Postma Halifax Icemen ~ Kevin Cowper New Ross Wild ~ Nick Hirtle The Skating Stallions ~ Adam Grant Municiple Penguins ~ Eammon Guitard Scottland Contracting Vikings ~ Larry Bussy Anderson Automotive ~ John Setner The Oilers ~ Justin Flood Tignish Aces ~ Jake Arsenault Eastern Kings ~ Tyler Vandiepen Mill River Farms ~ Trevor Kinch Capt. Sub Pirates ~ Tyler Doyle Champlain Auto Body ~ Randy Mollins Fredericton Canadians ~ Tyler Belyea Lindsay Construction ~ Tammy Robichaud Cap Pele Bombers ~ Joel Doiron Kent County Shockers ~ Joel Le Blanc Les Hounds ~ Andrew Manual Fredericton Oldtimers ~ Kevin johnston Annapolis Valley Construction ~ Kendall Rodgers Richmond ~ Cleve Mc Neill Local 213 Plumers ~Eddy Richard Me and the Boys Construction ~ Jason Tibert Crapaud Shinny ~ Adam Quinn ~~~ Women's Confirmed ~~~ S.W.R.H.L. ~ Linda Irving Waynes Warriors ~ Corina Anderson Coverall Crunch ~ Kristie Jay Rustico Ladies ~ Lindsay Arsenault Les Decibles ~ Manon Le Blanc Evangeline Lady Redwings ~ Nina Arsenault Fredericton Falcons ~ Jenny Reid Pictou County Chompers ~ Jolene shaw Truro Hub Craft Sharks ~ Heather Fraser Seahawks ~ Vanessa Clinton Morell Benchwarmers ~ Jackie Ostridge Danbury Ramblers ~ Cheryl Crozier Famous Peppers ~ Sarah-Jayne Mc Kenna Twerking Tigers ~ Julie Arsenault Goal Diggers ~ Christina Mac Arthur Shipagan Rafales ~ Gilles Cormier Tyne Valley Wrekers ~ Any Mac Kendric Fireball II ~ Mary Mac Donald ????? ????? ~ Krystal Blair Sweet Summerside Lady Capitals ~ Michelle Morrison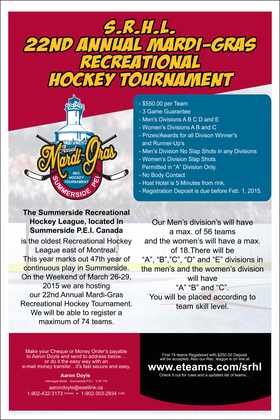 Tuesday, November 25
22nd Annual Mardi-Gras Rec Hockey Tournament
S.R.H.L. 22nd Annual Mardi-Gras
Recreational Hockey Tournament
The Summerside Recreational Hockey League, located in Summerside P.E.I. Canada is the oldest Recreational Hockey League east of Montreal. This year marks out 47th year of continuous play in Summerside. On the Weekend of March 26-29, 2015 we are hosting our 22nd Annual Mardi-Gras Recreational Hockey Tournament. We will be able to register a maximum of 74 teams. Our Men's division's will have a max. of 56 teams and the women's will have a max. of 18. There will be "A", "B","C", "D" and "E" divisions in the men's and the women's division will have "A" , "B", and "C". You will be placed according to team skill level. So let me know your teams skill level up front, please be as accurate as you can.
Teams should register ASAP, to avoid disappointments. Last year the tournament was full in late January, so don't be left out…Register ASAP with your Deposit of $250.00 sent in before the deadline. You are not officially Registered until I receive your $250.00 deposit before Feb. 1, 2015. After March 1st your $250.00 deposit is non-refundable. All men's and women's teams must send a deposit of $250.00 there are no exceptions for anyone. If I do not receive your team deposit by the deadline you run the risk of your team not being entered in the Mardi-Gras…
The Tournament is being held in Summerside P.E.I. with all games being played at the Credit Union Place, Community Gardens, Evangeline Rec. Center and Slemon Park Arena. Tournament play will run from Friday night starting at 5:00 pm, Sat. and Sun ending at 5:00 pm. If needed local teams may play Thursday night. Each team will receive a package that will include some discounts at local restaurants and businesses as well as other items.
Our league's consist of 8 men's teams which are very recreational, that being said there are some pretty competitive teams that do come to the Mardi-Gras. Your team will be placed in a division that suits your ability. If you're new to the Mardi-Gras, you will be placed in a specific division. If that division does not suit your team, roll with it for this year. We will adjust your teams division for the following year. Just remember what you are here for, some fun, some beer and some nightlife. We don't need any blowouts or unsportsmanlike play. Details on The Mardi-Gras Tournament are below or you can call or email me at any time.
First 74 teams Registered with $250.00 Deposit will be accepted. Also our Rec. league is on line at ~~ www.eteams.com/srhl Check it out for rules and a updated list of teams…
$550.00 per Team
3 Game Guarantee
Men's Divisions A B C D and E
Women's Divisions A B and C
Prizes/Awards for all Divison Winner's and Runner-Up's
Men's Division No Slap Shots in any Divisions
Women's Division Slap Shots Permitted in "A" Division Only.
No Body Contact
Host Hotel is 5 Minutes from rink.
Registration Deposit is due before Feb. 1, 2015.
When booking your rooms tell the desk clerk you are participating in the…
22nd Annual Mardi-Gras Rec Hockey Tournament…
Host Hotel

# 1:
Causeway Bay Linkletter Hotel 1-800-565-7829
Host Hotel

# 2:
Slemon Park Inn
1-902-432-1772.
Host Hotel # 3:
Quality Inn 1-902-436-2295
Host hotel #4:
Econo Lodge 1-902-436-9100
Make your Cheque or Money Order's payable to Aaron Doyle and send to address below…or do it the easy way with an e-mail money transfer…it's fast secure and easy.
Aaron Doyle
346 Argyle Street
Summerside P.E.I.
C1N 1Y9
aarondoyle@eastlink.ca
1-902-432-3173 Home
1-902-303-2934 Cell