Springfield Shock Volleyball Club: Welcome
Wednesday, November 19
"Shock Builds Talent" Based in Springfield, Illinois
If you have any issues with your login please email: Donna Mayer @
mayer@gatewayvb.org
. She is aware that you may contact her for help with registration. Please send me an email to:
shockervolleyall@yahoo.com
when this is completed. Thanks so much.
YOU DO NOT PAY FOR THIS, SHOCK PAYS YOUR FEES
. We are looking forward to a very fun and successful season!
READY-SET-GO, OPEN GYMS WITH COACH WIBLE
AT SPRINGFIELD RACQUET AND FITNESS CENTER
11/24 from 6 until 9pm
This is for all junior high players and younger
regardless of club affliation
Cost is $15 per evening
No registration needed
.
********************************************************************************************************************************
Based in Springfield, Illinois
#ShockStrong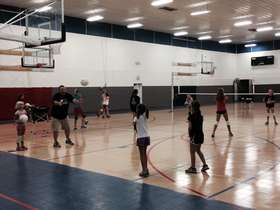 SHOCK VOYAGER VOLLEYBALL CAMP 2014
Wednesday, April 16
2014 All Elite