Springfield Shock Volleyball Club: Welcome
Thursday, April 10
"Shock Builds Talent" Based in Springfield, Illinois
Congratulations to our Elite 11's for bringing home Gold! Congrats to our 14's for bringing home a big win!
We are proud of you!! #SHOCKSTRONG
*************************
Parents: FYI - please follow our practice schedule for
all Elite and Regional Teams. Practice is a requirement. If you are sick, bring a doctor's note. If you are at a school function, bring a schedule to your coach.
*****
Shock's 4th Annual
Summer Volleyball Series
is accepting registrations.
Check out Summer 2014 -
Volleyball Voyager
on the Menu bar!
Co-ed 2nd through 12th grade
************************
Reminder:
No outside food or coolers in gym
Pickup trash after your team
Good sportsmanship is always in style
Elite teams translate to: 14's Rachel - Triple R
12's Amy - Desperados
11's - Triple D Ranch or Triple D
Good luck players!! Have fun!!!
***************************************************************************************
SHOCK IS HIRING ADULT COACHES
MUST HAVE RECENT COACHING EXPERIENCE

MUST HAVE PLAYING EXPERIENCE

USAV CERTIFICATION IS A PLUS

WILL GO THROUGH INTERVIEW PROCESS, SKILLS TEST, AND BACKGROUND CHECK
REFERENCES REQUIRED
RESPOND TO SHOCKERVOLLEYBALL@YAHOO.COM
********************************************************************************************************************************
NEXT UP:
Shock Elite 12, 11, Scorpions and Mustangs, Mon, April 14, Bradforton, 6-9pm
**
Shock Practice, all 14s/13s Regional and Elite Teams, Wed, 4/16, Lanphier 7-9p
**
Shock Rattlers and Pink Ponies, Wed 4/16, Lanphier 7-9pm
**
All 14's and 13 Elite practice, Bradforton, Sat, 4/19, 3-6pm
*********************
Based in Springfield, Illinois
#ShockStrong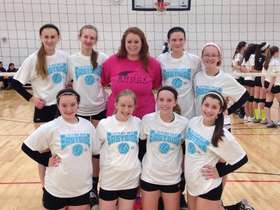 Saturday, April 5
2014 All Elite