Springfield AA Boys Lacrosse: INTRAMURAL (2nd, 3rd, 4)
Friday, April 11
2015 Intramural Rosters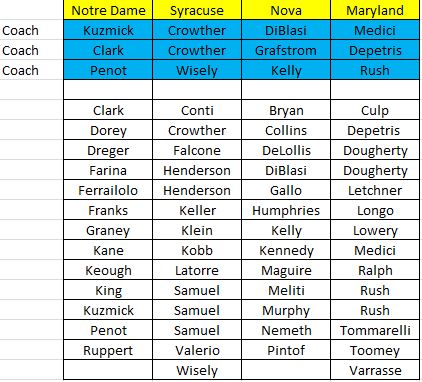 2015 Intramural 1st/2nd Grade Rosters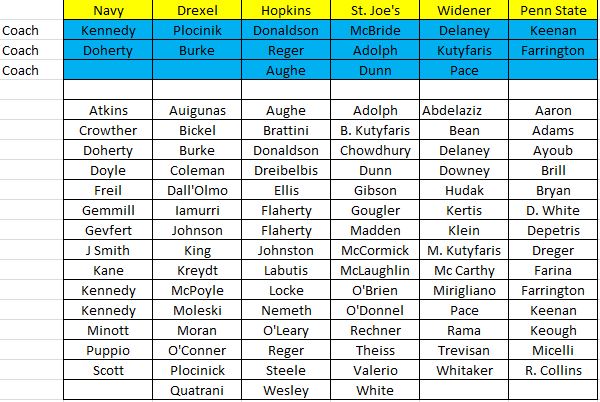 2015 Intramural 3rd/4th Grade Rosters
PROGRAM NOTES:
The Intramural Program will include all players interested from 2nd-4th grade. 1st graders can play but must register with Ed Grafstrom.

The goal of this program is to teach the game of lacrosse to the boys in a fun, low-pressure environment.

We realize that the sport of lacrosse will be new to many of the kids (and parents) and we want to introduce them to this action packed sport.

This League will take place once a week starting in late March through May (late afternoon Saturdays)

The kids will be broken into 6 or 8 teams (depending on enrollment).

Each week the coaches will take the kids through a series of fast paced skill development drills - cradling, shooting, passing, dodging, ground balls, switching hands etc. Our goal is to get each player 150+ touches during each practice and in turn they will know how to work on these skills on their own during the week. We will spend 75 minutes each week on drills to help the kids learn these basic lacrosse skills and better understand how the game is played.

Following the clinic the boys will join their assigned team and play a 45 minute game versus one of the other teams. The kids will get to play all positions during the game - attack, middie and defense.

Teams will be coached by the C and U9 coaches - Rob O'Brien, Brian Gougler, Ed Grafstrom, Brian Delaney, Kevin Keenan, Jim Kennedy, Bill Adolph (as well as other parents who would like to help out)

Games will be played in a 7 vs 7 or 8 vs 8 format

All players will be required to have full equipment: helmet, mouth piece, shoulder and elbow pads, athletic cup, gloves and stick.

(If providing equipment is a hardship, please call)

Additional Cost: $10 for a Springfield AA reversible pinnie
To register for lacrosse go to the Springfield AA website: http://www.springfieldaa.org/
When registering for sports choose: "Lacrosse Intramurals Boys"
U-9/U-11 Travel (2nd, 3rd , 4th Graders)
U-9/U-11 is a 2nd/3rd/4th grade Travel Team which will play other townships and in tournaments running through June.

This team will be made up of Intramural players and will have an additional practice during the week. This will be a more competitive experience for the players interested in further committing to lacrosse. Boys must play Intramurals to be on U9/U11 Travel team.

Coaches: Kevin Keenan, Jim Kennedy, Bill Adolph

The goal for this team is to better prepare the boys to move up to the B or C teams (5th/6th or 3rd/4th grade) in the next two years.

Games are typically played in a 7 vs 7 or 8 vs 8 format with some games in a full field 10 vs 10 format.

Team will participate in two tournaments.

Cost for this program will be approximately $50 to cover tournament fees.
To register for lacrosse go to the Springfield AA website: http://www.springfieldaa.org/
When registering for sports choose: "Lacrosse Intramurals Boys"
Sunday, February 9
Equipment Requirements
Mandatory Equipment: Helmet, Shoulder Pads, Elbow Pads, Stick, Gloves, Mouthpiece, Protective Cup
Wednesday, March 27
2014 Championship Night
Springfield Intramural Lax Championship Night at SHS 2014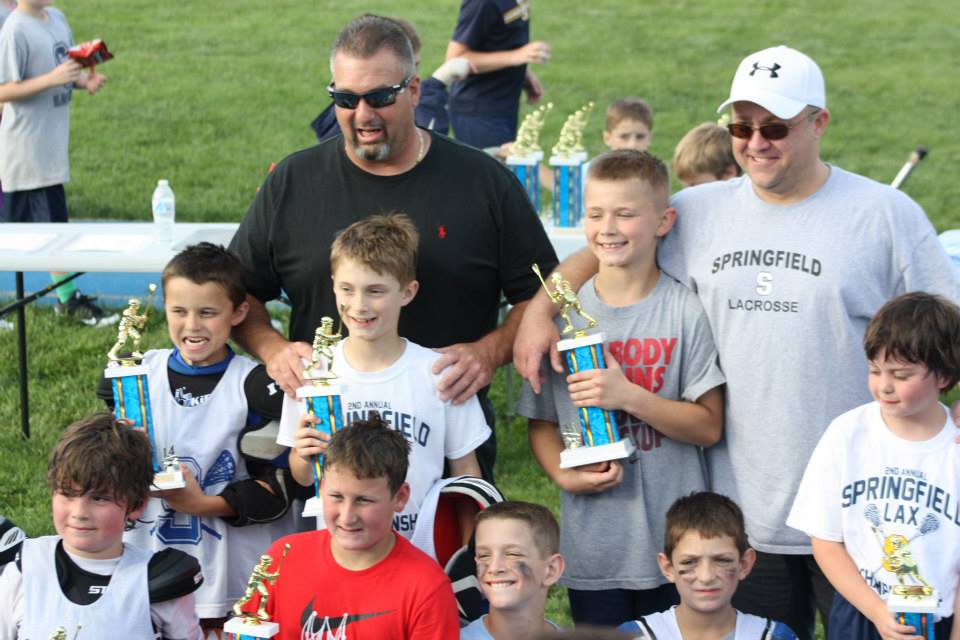 2nd, 3rd and 4th GRADE INTRAMURAL TEAMS

Coach: Ed Grafstrom (Intramural and B1)
e-mail : mailto:springfieldlaximu9@mail.com

phone:

610-909-1007
-----------------------------------------------------------------------
Coach: Kevin Keenan (Intramural and C1) Coach: Jim Kennedy (Intramural and C1) Coach: Bill Adolph (Intramural and C1)
Coach: Brian Delaney (Intramural and U9/U11)
Coach: Chris Plocinik (Intramural and C2) Coach: Brian Gougler (Intramural and B1 EliteTeam) Coach: Rob O'Brien (Intramural and B1 Elite Team)

COACHES NEEDED: PLEASE CONTACT ED GRAFSTROM NO EXPERIENCE NEEDED - TRAINING PROVIDED.

The focus of the intramural program is to teach the boys basic stick work skills and introduce them to the rules of the game in a fun and safe environment. The boys will participate in various drills and a 7v7 game each week.

PLEASE CHECK THE WEBSITE FOR UPDATES
NO PHONE CALLS WILL BE MADE.
---
IT DOESN'T TAKE A GREAT PLAYER TO WORK HARD, BUT ALL GREAT PLAYERS WORK HARD!
Lacrosse is one of the few games that you can improve on your own; all you need is a stick, a ball, and a wall. As your game develops do not forget how you got there. Fundamentals and stick skills are crucial to both your development and also to the success of your team. A great quote to take with you on your journey "It doesn't take a great player to work hard, but all great players work hard!"

---
PARENTS PLEASE ENCOURAGE YOU KIDS TO PRACTICE FOR AT LEAST 10 MINUTES A DAY.
ALL PROTECTIVE LACROSSE EQUIPMENT IS REQUIRED TO PRACTICE AND PLAY IN GAMES. THIS INCLUDES PROTECTIVE CUP AND MOUTH PIECE. PLEASE ENSURE THAT YOUR SON HAS ALL OF HIS EQUIPMENT AT EACH SESSION...THE COACHES DON'T WANT TO BE THE BAD GUYS AND TELL A BOY HE CANNOT PARTICIPATE IN AN EVENT.