Spotsylvania County Little League: Challenger Division
SCLL Challenger Division
Welcome to Challenger Baseball!
Spotsylvania County Little League established its Challenger Division in 2007 to enable boys and girls with physical and/or mental challenges, ages 5-18, or up to age 22 if still enrolled in high school, to enjoy the game of baseball. Challenger games can be played as t-ball games, coach pitch, player pitch or a combination of the three. The Challenger players wear the same uniforms, shoulder patches and safety equipment as other Little League players.

SCLL's Challenger Division also uses team "buddies" for the Challenger players. The "buddies" assist the Challenger players on the field and at bat. However, they will encourage the players to make plays and bat themselves when possible.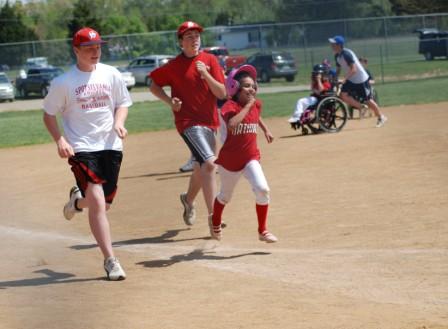 In a Challenger game, each player bats every inning. The inning is over when the offense has batted through the roster. No score is kept during Challenger games.

The total time commitment per week is one hour to one hour and 15 minutes - the amount of time a game usually lasts.

The registration fee is $35. For more information on the Little League Challenger Division, contact Scott Neal at challenger@spotsyll.org
Currently accepting registrations! Go to: Home Page to register. Keep an eye on our website and Facebook page for announcements!