Spitz Canadians Baseball Club: Up to the Date News....
Tuesday, October 18
California or Bust!
The Spitz Canadians baseball season is winding down and the club is very excited to be getting ready for their big finale'. The team departs Thursday Oct. 20 for Los Angeles where they will play 2 exhibition games in addition to the "USSSA Monster Tournament" in Riverside, CA. After doing a little sightseeing the boys are off to Las Vegas for their final tournament of the year, the "Desert Fall Classic", before returning home Oct. 31.
Friday, October 14
PBF Returns
The Spitz Canadians will once again play host to the Calgary PBF Redbirds Oct 15 for another double header. The Canadians will be looking for 2 more wins against the PBF as they prepare for California and Las Vegas.
Thursday, October 6
Give Thanks for Baseball
This Thanksgiving weekend sees the Canadians playing a home and home affair with the Calgary Pro Baseball Force Redbirds. The club will travel to Calgary Saturday and play host to the PBF on holiday Monday at Spitz Stadium.
Wednesday, September 28
Medicine Hat Fall Event
Medicine Hat is next on the docket for the Spitz Canadians. Their fall event is scheduled for Oct 1 and 2. The Canadians play Saturday at 11:00 and 6:45; both at Medicine Hat's premier field, Athletic Park. Sunday's games are 11:45 and 2:30 at Kin Coulee and McCoy High School. Opponents are Calgary Red Birds, Edmonton St. FX, Red Deer Braves and Calgary Cannons. The team will leave for the Hat after practice Friday night from Spitz Stadium.
Saturday, September 3
Canadians set to host Spitz Fall Classic
The Spitz Canadians Fall Classic is set to go Sept 9-11 and features teams from Okotoks, Calgary Pro Baseball Force and St.Francis Xavier Academy in Edmonton. Six teams will battle at Spitz Stadium and the Canadians hope to perform well as this weekend is only the beginning of a busy September schedule which sees the club playing in 4 consecutive weekend events.
Saturday, September 3
Jr Canadians play in AABC 13-14 Extravaganza
The Jr Canadians are hoping to catch the eye of Team Alberta coaches at the 2nd annual 13-14 Extravaganza being held in Medicine Hat this weekend. This event has 8 teams from all over Alberta and is the AABC's youngest talent ID tournament.
Saturday, September 3
Canadians veteran Sturm selected to Team Alberta
Congratulations to 3rd year player Justin Sturm of the Canadians who was selected to Team Alberta's 16U Prospects team. The 16U prospect tournament was held in Lethbridge last weekend and showcased some of the province's best 16 year old talent. Sturm and Team Alberta are in Swift Current, Saskatchewan this weekend to play against Manitoba and Saskatchewan in a prospect series. Good luck Justin!
Wednesday, August 24
Lethbridge to host AABC 10th Annual 16U Championship
The Spitz Canadians are the proud host team for this years Alberta Amateur Baseball Council's annual 16 and Under Baseball Championship. There are 8 teams in this tournament and games will be played Aug 26, 27 and 28 at both Spitz Stadium and Lloyd Nolan Yard. This is a true Alberta championship with players from all leagues and the Canadians are excited to play in this prestigious event.
Tuesday, July 26
Denver Bound
The Spitz Canadians departed Monday afternoon for Denver, Colorado to partake in the 2011 Triple Crown World Series. The tournament features teams from Colorado, Texas, Kansas, Washington, Montana and New Mexico.
Tuesday, June 28
Canadians reach Consolation Final in Belgrade
The Spitz Canadians finished 4th place in the 2011 Annual Wood Bat Tournament in Belgrade, Montana this past weekend. After going 2-1 in round robin play the team was looking for gold as they stomped the Livingston squad in Sunday's first bracket pool game. They lost however in the semis to the eventual tournament champion Missoula Frontiers. The consolation final was a lopsided affair with the Canadians losing to Gallatin Valley, a team that Lethbridge had beaten the previous day.
Monday, April 18
Canadians return from Washington
Even though the Canadians posted only 1 win in 4 games during the Golden Glove Tournament in Yakima, WA they shouldn't be too disappointed. The club was in each of the 3 losses until about the 4th inning when fatigue seemed to set in. Considering the poor weather has forced the team to practice indoors they played fairly well compared to their southern competition who have enjoyed a more seasonable Spring to prepare for this event. The Canadians' coaches anticipate a great season for 2011.
Wednesday, April 6
LDIBF teams prepare for Yakima, Washington.
The Spitz Canadians are excited and ready for the Golden Glove Tournament this upcoming weekend in Yakima but they are not alone. They will be joined by the Junior Canadians 13U team and the newly formed 12U Junior Bulls. All 3 clubs will be playing in the Washington event April 9 and 10. The teams leave early Thursday morning and will also visit Seattle to take in the Mariners' home opener!
Wednesday, April 6
2011 Spitz Canadians roster named.
The 2011 version of the Spitz Canadians features 5 returnees from last season in Justin Sturm, Tanner Shirakawa, Dayton Johnston, Ryan Kiczula and Tristan Thiessen. Making the jump from last years' Junior Canadians are Jason Wong, Josh Hagen and Adam Kress. Rounding out the roster are Matt Odland, Logan Enns, Jason Wegner, Matt Perin, Lane Doerksen, Louis Lovell and Catlin Thiessen. The team consists of players from Lethbridge, Milk River, Picture Butte, Vauxhall, Taber and Hays.
Sunday, April 3
Break in the weather nets Canadians 2 wins
In preparation for the Golden Glove Tournament in Yakima, WA the Spitz Canadians played host to Kate Andrews High School on April 1 in a double header. The club used the first opportunity to play outdoors to break out the long ball as 3 home runs were launched at Atso Field. The team, which has been training indoors since early February, has been looking forward to Spring weather. The 2 wins over KAHS should boost the players confidence as they head out on the road next week to Washington.
Friday, February 26
Spitz Canadians with Olympic Connection
Drew Herauf with Olympic Torch
Drew Herauf has experience representing Canada. For two years, the Lethbridge native roamed the outfields around North America playing for the Spitz Canadians. He enjoyed his time with the club and loves the game of baseball. Ironically, it was actually watching a Blue Jays game on TV in the summer that led to his latest opportunity, one he calls "a once in a lifetime experience which was really cool!". He saw the ad for the chance to be a RBC Torch Relay carrier for the 2010 Winter Olympics in Vancouver. He applied and the entire family was ecstatic when they received notification he would participate when the torch came through Lethbridge on January 17.
Drew was a mainstay in the Spitz Canadians outfield. "Drew brought a strong work ethic to the field each day and was a asset to the club both years he was selected to the club," commented Canadians Field Manager Kevin Kvame. Drew felt like he matured over the two years and understands the importance of having clean fun on the road to ensure the team is respected at all times. The Spitz Canadians played events in Alberta, Montana, Utah, Colorado, Washington, Nevada, and California during Drew's years with the team. "The players come to understand that when they are the only Canadian team in a tournament, they become by default Team Canada to the other teams," Kvame said about the team's reasoning for the importance they place on their reputation each and every day they are together as a team.
Meanwhile, maybe Herauf knows just a bit what Alexandre Bilodeau felt like claiming Canada's first gold medal ever on home soil. "We were all so excited for him. We partied long and hard in Edmonton after that event," Herauf said with a smile about the exciting Olympic event. He said his most memorable moment was winning the USSSA Monster Tournament in Riverside, California in an exciting 2-1 final. As the winter continues, Drew says he looks forward to every new day as that means baseball season is getting closer. He will be trying out in the American Legion program again in 2010 with a chance to be on the Lethbridge Spitz Elks or return to the Lethbridge Spitz Miners. "I probably wouldn't have been into sports and the Torch Relay without my experiences in baseball," Herauf said in reflection about what it has been like to play competitive baseball. The new crop of Spitz Canadians players are starting their journey toward competing at events where they will represent themselves, their families, Lethbridge, Alberta, and also Canada.
Drew was asked if he had any advice for the upcoming baseball prospects: "Give it your all! You will regret it if you don't. Most people do not make a career from being a baseball player, but I hope to get my education from being a baseball player. I will give it all to reach that goal.&Quality advice from a Spitz Canadians player who knows the importance of enjoying life experiences, from baseball in Southern California to the VANOC Torch Relay!
Saturday, February 13
Canadians Alumni and History Continue to be Developed
The Spitz Canadians continue to look through archives and post the team's Alumni from its past! Check out the Alumni tab and see who played on the team and where they advanced to in their academy and college years!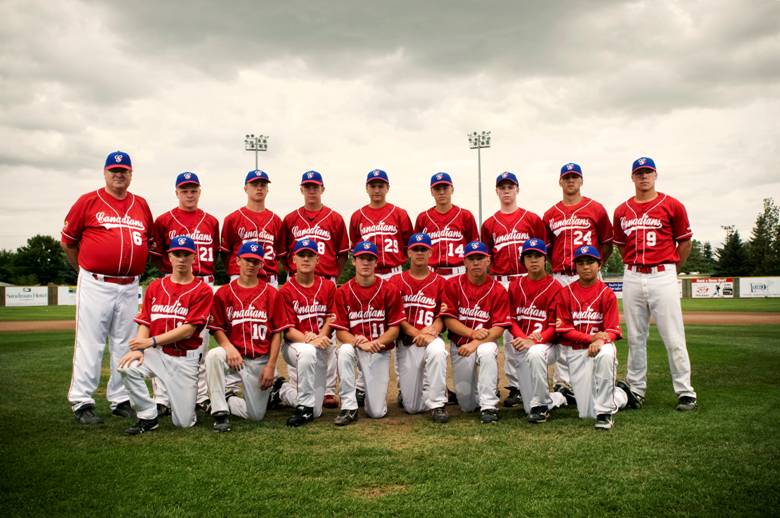 THE 2008 RECORD BREAKING SPITZ CANADIANS! ALUMNI ADDITIONS!!
Wednesday, January 28
Lethbridge Baseball Spring Training Opens February 2nd!
Lethbridge & District International Baseball Foundation are pleased to announce the 2nd Annual Lethbridge ...
Saturday, February 13
Spring Training 2010 Program Announced
The 2010 Spitz Canadians Program are again partnering with District 1 Little League and inviting all interested athletes to participate in Spring training sessions starting Monday February 8, 2010. Sessions will be held on Monday Nights beginning at 7:30 pm and Saturday Afternoons at 4:00 pm @ Lloyd Nolan. Cost of Spring Training is $80 for 5 sessions or $160 for all of them. Registration is due when you arrive for the first session.
In addition to supplying past, present, and future Canadian players plus other registrants pre-season training, the training sessions will serve as tryouts for the 2010 Spitz Canadians Team which will continue to operate with training, tournament play, and the fall Southwest USA Tour as in the past. The Canadians program is geared to giving players wanted more baseball some great experiences while learning about skills needed both in baseball and in life. NOTE: YOU DO NOT HAVE TO BE TRYING OUT FOR THE SPITZ CANADIANS TO PARTICIPATE IN SPRING TRAINING BUT YOU MUST PARTICIPATE IN SPRING TRAINING IF YOU WANT TO TRY OUT FOR THE SPITZ CANADIANS.
As the weather warms the training sessions will be held outdoors. These will be the final tryouts for the 2010 team with the team being announced by April 9, 2010. Please ensure players attend tryouts and communicate their interest in the program so they do not miss the opportunity to be on the 2010 Spitz Canadians. Age Group : Players must be born on or after May 1, 1994. Once the team is selected a parent meeting will outline costs, volunteer and fundraising expectations, and deadlines.
Once selected the 2010 Spitz Canadian Team will participate in a pre-season exhibition series in Lethbridge on April 10-11 tournament in Washington on the April 16-18 weekend.
The Canadians team will basically be shut down until the athletes commitments to High School Baseball, American Legion, Little League, Baseball Alberta ect...are done. Plans are to have practices once per week for the months of May, June, July, with the other programs being worked around will be put in place as well.
Any Questions or concerns call Kevin Kvame @ (403)320-2025 or (403)315-4064.

Thanks for your interest in the program!!
Friday, April 2
Survey of the Month - April
Come back each month for a new Survey! Express your opinion on a variety of baseball topics!!
Wednesday, May 5
Famous Baseball Quotes
This one comes from the Captain of the New York Yankees - Derek Jeter
"God, I hope I wear this jersey forever."
That is an awesome example of passion and loyalty to the game and his team!
One of the greatest catchers in baseball history was renowed for his interesting quotes:
"Baseball is ninety percent mental and the other half is physical."
Yogi Berra at least had it half right!
Watch for more quotes from the great game of baseball in the coming weeks!
Wednesday, February 2
Spring Training 2011
2011
LETHBRIDGE & DISTRICT INTERNATIONAL BASEBALL FOUNDATION
Spring Training
In Partnership with Prairie Baseball Academy,
The Lethbridge Bulls, & Little League Alberta District #1

3 Options - Full Schedule - $225 All Sessions shown below
Half Schedule - $140 Half # PBA CAMP - Half Others
Tryout Only - $45 Any 4 Non # PBA CAMP Sessions
3 Age Groups for Travel Ball : These are being considered depending on numbers with age as of April 30, 2011:
9 – 11 (or 12)Year Olds - Junior Bulls
12 – 13 Year Olds - Junior Canadians
(13) 14 – 15 Year Olds - Spitz Canadians
Spring Training Dates – All Sessions at Lloyd Nolan Indoor unless otherwise noted:
February 8 - 7pm to 9pm March 6 - 4pm to 6 pm March 29#
February 10 - 7pm to 9pm March 8 # March 31#
February 12 - 4pm to 6pm March 10 # April 2* 4pm to 6 pm
February 15 - 7pm to 9pm March 13 - 4pm to 6 pm April3* 4pm to 6 pm
February 17 - 7pm to 9pm March 15 # April 4* 4pm-5:30 pm
February 20 - 4pm to 6pm March 17 # April 5* 5pm to 6:30 pm
February 22 - 7pm to 9pm March 20 - 4 pm to 6 pm April 5 #
February 24 - 7pm to 9pm March 22 # April 6* 4pm to 5:30 pm
February 27 - 4pm to 6 pm March 24 # April 7* 5pm to 6:30 pm
March 1 # March 26* 4pm to 6 pm April 7 #
March 3 # March 27* 4pm to 6 pm
COLOR LEGEND: # PBA CAMP 9-12 Year olds 6:30pm-8:00pm 13-15Year Olds 8:00pm-9:30pm
* Outdoor Practices (Weather Permitting- Meet at Lloyd Nolan Yard)
FOR FURTHER INFORMATION ON BASEBALL IN SOUTHERN ALBERTA GO TO:
PRAIRIE BASEBALL ACADEMY: www.prairiebaseball.com
LETH. & DISTRICT INTERNATIONAL BASEBALL: www.spitzcanadians.com
LITTLE LEAGUE DISTRICT #1: www.southernalbertalittleleague.com
LETHBRIDGE BULLS BASEBALL CLUB www.bullsbaseball.com

IF YOU HAVE ANY QUESTIONS PLEASE CALL SPITZ STADIUM OFFICES AT 403-320-2025 (KEVIN,
DUSTIN, AARON, or BRANDON) or CALL RICK AT 403-330-3777.