South Vancouver Little League Baseball: Welcome

www.svll.ca baseball@svll.ca Phone: 778.882.1990
Park: South Memorial Park, 41st Avenue & Ross Street
Mail: 6417 Fraser Street, PO Box 60222, Vancouver, BC, V5W 3A0
Twitter: @SouthVanLL Facebook: www.facebook.com/SouthVanLL
Newsletter subscription: http://eepurl.com/hUllo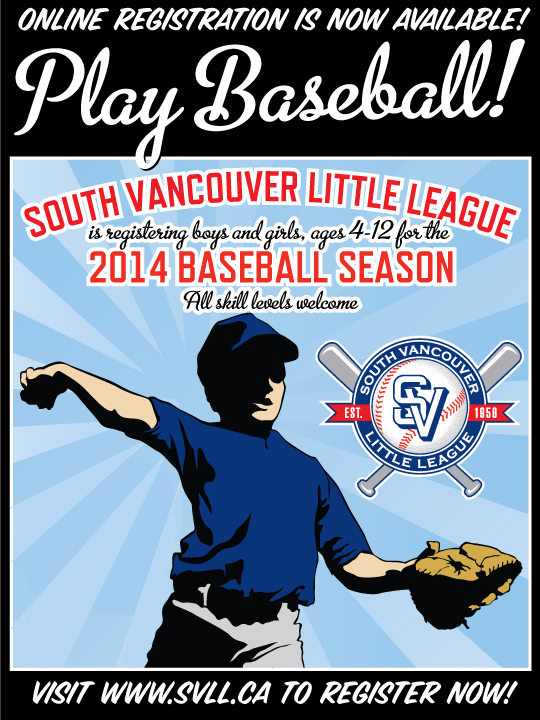 Registration for the 2014 season is now open



More registration details on the Registration page of our web site.
The South Vancouver Little League 2014 season kicks off on Sunday April 13 with opening ceremonies to welcome all new and returning players and their families.
Opening day is for all players from BlastBall to Majors. Coaches will line up with their players outside of the fence at the main diamond: BlastBall and T-Ball along the 41st Avenue (first base) side; Majors and Minors and Rookies along the Ross Street (third base) side. Players and coaches should be in full uniform.
Ceremonies start at 1:00pm, rain or shine, so all players should be at the field by 12:30pm.
Players! Stick around after opening ceremonies for the league photo in the outfield, your season program, and lunch.
Parents please note that some games on Opening Day may start earlier than scheduled, please check with your coaches for actual game time.

Have you ever played on a little league baseball team? There are few things that match the wholesome goodness of a community getting behind its little league team. You might have seen the stories in the press in the past couple of years about some of Vancouver's Little League teams' success: both Hastings Park and Little Mountain have sent teams to the Little League World Series. South Vancouver is due for its turn - but to get there, our players need your help!
Our players need your donation to purchase uniforms and equipment, so our teams will have the same tools and opportunities as in other Vancouver neighborhoods. Donations also go to directly support individual player awards and team championship trophies, service awards, and importantly, to support any family unable to find the registration fee.
As a sponsor you will be recognized in the South Vancouver Little League Baseball Season program, have a place on the sponsorship board located at Ross Street and 41st Avenue; be featured on our website; have banner signage on our outfield fence; and of course there will be a designated team for you. There are different promotional opportunities available as outlined in the Sponsorship Program.
The South Vancouver Little League was established in 1956, and has always been 100% volunteer driven. Our vision has continued to be simple, clear and achievable: to provide our children and youth with a safe and well-organized program with the specific objectives of implementing the ideals of good sportsmanship, fair play, honesty, courage and respect for authority. Most volunteers are parents, but many are people who just love the game of baseball and value the benefits it offers the community's children in regards to good sportsmanship, athletic abilities, honesty, courage and respect. The league has about 250 players participating from families throughout South Vancouver of varied backgrounds.
Please contact Andrew Froese at andrew@townhallbrands.com to discuss more fully how your donation can help. We look forward welcoming you as a sponsor for our 2014 Baseball Season!
South Vancouver Little League on Facebook