South Vancouver Little League Baseball: Welcome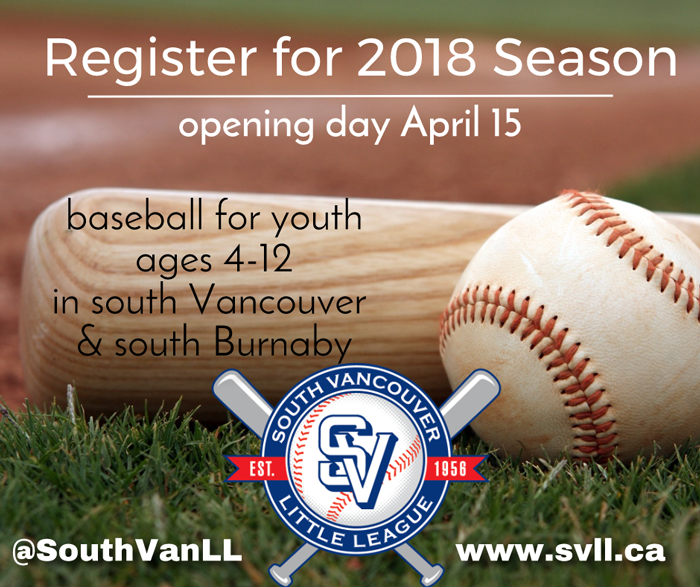 New for 2018 there is online safety training for coaches and parents

Mandatory in 2018 for T-Ball and Rookies coaches, optional for Minors and Majors coaches. Instructions here, link will be emailed.

Required for All-Stars and optional for any parents, without reimbursement by the League. svllparent.respectgroupinc.com with instructions here.
Concussion protocol training: coming soon

Coaching training is available for all South Van Little League coaches and prospective coaches, at a cost covered by the League. Email your division coordinator if you can attend.
Little League BC District 1 presents Baseball Basics with Al Herback, Emphasizing Athletic Development
Dates: Tuesday & Wednesday, April 3-4, 2018
Location: Alumni Gym at Vancouver College, Vancouver

Introduction to Baseball Basics (ages 5 thru 8)
Tuesday April 3 - 5:30 pm registration - 6:00 pm to 9:30 pm

Beyond Baseball Basics (ages 9 thru 12)
Wednesday April 4 - 5:30 pm registration - 6:00 pm to 10:00 pm
The game will never change, but the way we teach our children has changed considerably in the past few years.
The majority of children only want to play and may not be concerned if they become great or even good. As every child is unique and will have strengths and weaknesses, we must do everything we can to help each one reach attainable goals with the skills of baseball/softball. They must always be in a safe environment, have fun through activity, be taught to improve their skill and athletic performance and, through your help, build the confidence to succeed in this wonderful game!
Come out and experience his new instructional program. As this will be an event to enjoy, wear comfortable clothing, bring a glove, a lot of enthusiasm and he will bring the program to life for you! Parents are always welcome along with the coaches/managers. You are more than welcome to attend both evenings. A manual for each session will be supplied by the district.
Bring your glove, running shoes, and comfortable clothing. Coaches and parents can attend one or both sessions.


As mentioned last year, Little League has adopted a new standard for approved bats starting with the 2018 season.
Non-wood and laminated bats used in Little League must have the USA Baseball logo and having a diameter no larger than 2 5/8". All BPF 1.15 bats used in previous years will be prohibited.
South Vancouver Little League will enforce the new bat standard for Minors and Majors divisions. T-Ball and Rookies divisions will be allowed in 2018 to use bats from the previous standard in league games providing they do not exceed 26". The new USA Baseball standard must be met for any tournament play. All teams are equipped with the new bat standard, personal bats are optional.
More information from Little League:
Baseball Bat Information and Baseball Bat Rules
Little League USA Baseball Bat Standard