South Vancouver Little League Baseball: Welcome

www.svll.ca baseball@svll.ca Phone: 778.882.1990
Park: South Memorial Park, 41st Avenue & Ross Street
Mail: PO Box 60222 Fraser PO, Vancouver, BC, V5W 4B5
@SouthVanLL www.facebook.com/SouthVanLL
Newsletter subscription: http://eepurl.com/hUllo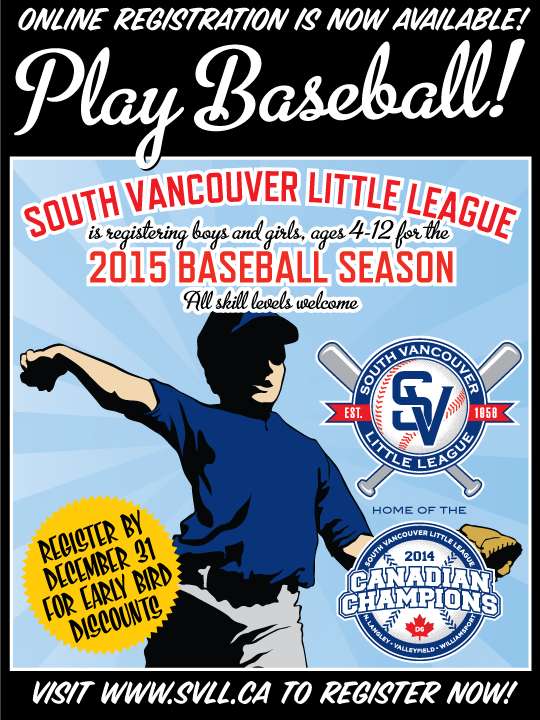 Registration for the 2015 season is now open



More registration details in the Registration section of our web site.
South Van Little League is proud to host the 2015 11/12 BC Provincials Tournament.
More details to come at 2015provincials.svll.ca!
View the photos on Flikr: https://www.flickr.com/photos/svll/sets/72157645657523814


2014 Canadian Little League Champions!


South Vancouver Majors All-Stars won the 2014 Little League Canadian Championship.
Hosted by Valleyfield Little League at Valleyfield, Quebec.
Live scoring on Pointstreak. Webcast here.

| | | | | | |
| --- | --- | --- | --- | --- | --- |
| Game | Day | Date | Time PDT | Home | Visitor |
| Game 2 | Friday | August 1 | 12:00pm | South Vancouver (BC) 9 | Southwest (AB) 8 |
| Game 6 | Saturday | August 2 | 3:00pm | South Vancouver (BC) 5 | North Regina (Prairies) 0 |
| Game 7 | Sunday | August 3 | 9:00am | Lancaster (Maritimes) 0 | South Vancouver (BC) 18 |
| Game 10 | Monday | August 4 | 9:00am | South Vancouver (BC) 2 | High Park Braves (ON) 5 |
| Game 15 | Tuesday | August 5 | 3:00pm | South Vancouver (BC) 10 | Valleyfield (host) 0 |
| Game 19 | Thursday | August 7 | 9:00am | NDG Lynx (QC) 4 | South Vancouver (BC) 3 |
| Playoff | Saturday | August 9 | 1:00pm | South Vancouver (BC) 2 | Southwest (AB) 0 |
| Championship | Sunday | August 10 | 10:00am | High Park Braves (ON) 1 | South Vancouver (BC) 4 |
2014 South Van Majors All-Stars Team
Manager: Brian Perry
Rod Betonio
Nico Cole
Coach: Jon Mackenzie
Vicarte Domingo
Madjik Mackenzie
Coach: Ric Domingo
Ryan Mah
Emma March
Evan March
Josh Matsui
Michael Oyhenart
Joseph Sinclair
Daniel Suarez
Matthew Suarez
Tweets by @SouthVanLL
Privacy Policy
Upcoming Events
Date
Event
Time
Location
Sat 1/31
Registration
10:00 AM - 1:00 PM
Kensington Community Centre
Mon 2/2
SVLL volunteer meeting
7:00 PM
Grays Park Community Hall