South Tampa: Welcome
P.O. Box 13377, Tampa, FL 33681
For being a Titan this season. We hope to see all of you return in the fall. We will be voting in a new board soon. If you have ideas and saw areas where you think you could be of help, please step up. We can't move forward and grow without new energy and ideas. Stay connected with the website for our next board meeting date and look at the Titan News tab to see open positions and volunteer opportunities.
We will not be hosting flag this spring. Stayed connected with us to find out when fundraising and registration will begin for tackle.
---
Follow us on Instagram with your cell phone. Use this link from your iphone or Android.
http://instagram.com/southtampatitans_
You can also follow up on Facebook. There are a few different sites. Our official one is under South Tampa Titans Football & Cheer.
https://www.facebook.com/friends/requests/?fcref=rup#!/pages/South-Tampa-Titans-Football-Cheer/386379878086480
---
Congratulations to one of our Board Members, Nicol Roldan. She was presented with the
Dr. Martin Luther King, Jr. Humanitarian Award.
We are so proud of her and her and all she does for her community.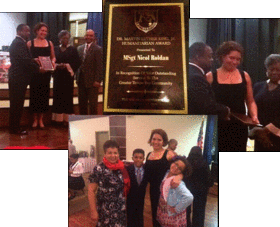 Titans - Short