South Tampa: Welcome
P.O. Box 13377, Tampa, FL 33681
Join us for Titan Night at Beef O'Bradys on South Dale Mabry, Monday, November 24th from 5pm - 10pm. 15% of the proceeds will come back to the Titan organization and will be used to assist the cheerleaders going to Regionals in Orlando. All you have to do is eat great food and put your receipt in the bucket when you leave. There will be raffle items as well. Tell your friends and family because anyone can participate in Titan night.
---
To our Pee Wee cheer squad for placing second at competition. They will now advance to Regionals in Orlando on November 29th. Please view the Cheerleader News tab for details on this.
We need your support!!!
Follow us on Instagram with your cell phone. Use this link from your iphone or Android.
http://instagram.com/southtampatitans_
You can also follow up on Facebook. There are a few different sites. Our official one is under South Tampa Titans Football & Cheer.
https://www.facebook.com/friends/requests/?fcref=rup#!/pages/South-Tampa-Titans-Football-Cheer/386379878086480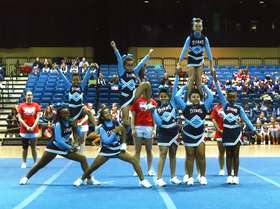 Titans - Short