South Sutter Little League: Welcome
Friday, May 8
2015 Season
SOUTH SUTTER HOSTING TOC TOURNAMENT
YOUR HELP NEEDED
South Sutter is privileged to be hosting Tournament of Champions for Majors Girls this year. We are going to need extra help and support from both youth and adult volunteers to make this successful and to leave a lasting impression on District 2.
Here are the committees that need help:
Snack Bar
Field crew and equipment
Facility mainenance and clean-up
Announcing
Scorekeeping
Raffles and fundraising
Please let Tony Borges cache009@aol.com know how and where you can help.
Hit-A-Thon Fundraising Winners are in!
1st Place - Davin Earhart
2nd Place - Jacob Towns and Justin Aaberg
3rd Place - Wyatt Bean
Winning Team - Minor Royals
THANK YOU to everyone who contributed to a fun and successful fundraising event - we raised about $3000 that will go towards our league. (if you still have outstanding donations please turn them in)
Upcoming Dates:
Closing Ceremonies: June 1st at 630pm
(Pins will be passed out, Hit-a-thon winners awarded, and All Stars announced)
Tournament Of Champions: June 6th
All-Stars: June 27th
Locations of all fields our teams play at in District 2 can be found in the Locations tab on the left.
South Sutter Little League - (530) 656-8284
Click here for our Facebook page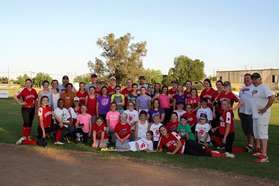 2015 Softball Clinic