South Softball: Welcome
Welcome to the Parkersburg South Softball Website!
Home of the Lady Patriots the 2010 "AAAA" OVAC Champions
2012 State Runner-Up
If you have any questions please call Coach Null @ 304-420-9610 ext. 4102 or e-mail
parkersburgsouthsoftball@gmail.com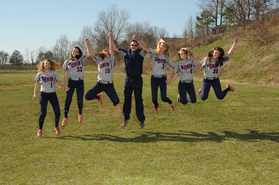 2015 Seniors
Tuesday, February 9
UPDATE
Tuesday 2/9/16: Booster's Meeting is Postponed until 2/16/16 @ South 6:00pm
Mountain River Conditioning is CANCELLED!
Conditioning
NO SCHOOL= NO CONDITIONING
Tuesday, February 9
Pancake Breakfast
Saturday, February 13, 2016
9:00am-11:00am
At Wyngate Senior Living Community
(One Wyngate Drive)
$5 Donation
For more information, please contact Tammy Litman at 304-482-3183
Wednesday, January 20
2016 Tryout Information
What: Tryouts for the 2016 Lady Patriot Softball Team
When: Monday 2/29/16 from 3:30pm-6pm (Check in begins @ 3:30pm)
Tuesday 3/1/16 from 5:30-7:30pm *Pitcher's/Catcher's stay until 8pm*
Wednesday 3/2/16 from 3:30-5pm (1st Round Cuts Posted by 9pm on website)
Thursday 3/3/16 from 5:30-7:30pm *Pitcher's/Catcher's stay until 8pm* (2016 Team Posted by 9pm)
FIRST TEAM PRACTICE= Friday 3/4/16 from 3:30-5:30pm *Pitcher's/Catcher's stay until 6pm*
2nd TEAM PRACTICE/ TEAM BUILDING= Saturday 3/5/16 from 11-1pm "Marine Madness"
Where: South (Tile Gym)
Equipment Needed: Practice attire, tennis shoes AND cleats, glove, etc....BE PREPARED *DAILY* FOR INDOOR AND OUTDOOR ACTIVITIES
CHECK IN WILL BEGIN AT 3:30PM AND PLAYERS MUST HAVE THE FOLLOWING ITEMS COMPLETED TO BE ELIGIBLE TO PARTICIPATE:
1- Physical Form
2- Insurance Form Both forms are available in the Athletic Office or Coach Null's Classroom (4102)
GREAT DAY TO BE A LADY PATRIOT!
2016 Lady Patriot Schedule
Click on the Handout below for a copy of the 2016 Lady Patriots Schedule!
Handout:
2016 Varsity and JV Schedule
Travel Itinerary
Click on Handout below for 2016 Travel Itinerary
Handout:
2016 Travel Itinerary
2016 Lady Patriots Roster
TBA
HOME of the LADY PATRIOTS
Don Godbey Fields 1535 Gihon Road Parkersburg, Wv 26101
Handout:
Directions to Godbey Fields