South Softball: Welcome
Welcome to the Parkersburg South Softball Website!
Home of the Lady Patriots the 2010 "AAAA" OVAC Champions
2012 State Runner-Up
MISSION STATEMENT
Parkersburg South High-School Softball Program is committed to ensuring a sound, competitive program that represents Parkersburg South in an impeccable manner and provides student athletes the opportunity to excel academically, athletically, and socially. High standards instilled for players, managers, and coaches will develop young ladies of the utmost integrity who will be committed to hard work and loyalty while pursuing excellence in the classroom and on/off the field.
If you have any questions please call Coach Null @ 304-420-9610 ext. 4102 or e-mail parkersburgsouthsoftball@gmail.com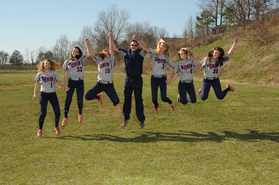 2015 Seniors
Cash Bingo
Sunday, March 20, 2016
Doors open at 12:30pm
Games start at 2:00pm
Moose Lodge, 1601 Dupont Rd. (Behind Napoli's South Parkersburg)
25 games for $20
Straight Line Games = $30 Winner
Specialty Games= $40 Winner
Coverall = $100 Winner
Raffles, 50/50, Tear-Offs, Concessions
For more information, please contact: Missy Ellis 304.917.9085
2016 Lady Patriot Schedule
Click on the Handout below for a copy of the 2016 Lady Patriots Schedule!
Handout:
2016 Varsity and JV Schedule
Travel Itinerary
Click on Handout below for 2016 Travel Itinerary
Handout:
2016 Travel Itinerary
2016 Lady Patriot Roster
Click on the handout below for your 2016 Lady Patriot Softball Team!
Handout:
2016 Lady Patriot Softball Roster
HOME of the LADY PATRIOTS
Don Godbey Fields 1535 Gihon Road Parkersburg, Wv 26101
Handout:
Directions to Godbey Fields