South Softball: Welcome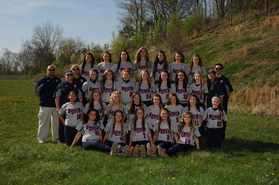 2014 Lady Patriots
Welcome to the Parkersburg South Softball Website!
Home of the Lady Patriots the 2010 "AAAA" OVAC Champions
2012 State Runner-Up
If you have any questions please call Coach Null @ 304-420-9610 ext. 4102 or e-mail
parkersburgsouthsoftball@gmail.com
Conditioning
General Rule of Thumb: NO SCHOOL = NO CONDITIONING
2015 Lady Patriot Softball Team Try-Outs
Try-Outs are available to any female student currently enrolled at Parkersburg South High-School.
Players trying out will need to bring the following: Completed Physical and Insurance Form ( Available in the Athletic Office @ South), glove, indoor and outdoor shoes/cleats, and proper attire for indoors and outdoors.
Try-Out Schedule:
Monday 3/2/15: 3:45-6:00pm
Tuesday 3/3/15: 6:00-8:00pm
Wednesday 3/4/15: 3:45-5:30pm
Thursday 3/5/15: 6:00-8:00pm
Friday 3/6/15: 3:45-6:00pm (If needed for try-outs or 1st team practice)
The above schedule is for indoor time slots @ South in the Roy McCase and tile gym. In the event the weather is nice we will go to Godbey Fields and outdoor times are from 4-6pm. MONITOR FOR UPDATES THE WEEK OF TRY-OUTS.
2015 Lady Patriot Schedule
Handout:
2015 Varsity and JV Schedule
Travel Itinerary-TBA
2015 Lady Patriots Roster
TBA
HOME of the LADY PATRIOTS
Don Godbey Fields 1535 Gihon Road Parkersburg, Wv 26101
Handout:
Directions to Godbey Fields