South Plymouth Youth Baseball: Welcome
South Plymouth
Youth Baseball
P.O. Box 792
, Plymouth, MA 02362
501(c)(3) Tax ID: 04-2653345
Wednesday, November 7
NEW WEB SITE
South Plymouth Youth Baseball has a new web site. This site will no longer be updated.
Please visit our new site at www.spyb.org and be sure to update your bookmarks.
Look for an e-mail sometime in the next few weeks explaining some of the advantages to our new and improved site
Major League 2013 Season Tryout dates
Major League Tryout Dates for 2013 Season
Sat Sept 22 2:00-4:00pm
Sun Sept 23 2:00-4:00pm
Location: Burgess MRA2
All players please pre register online prior to tryout dates
Open to all players ages 10-11-12 looking to play in the Major League Division

Join us on Facebook !
Tuesday, June 19
Championship Games
2012 Champions
Congratulations 2012 National League Champions!
Dodgers
---
Congratulations 2012 Major League Champions!
Sheridan Landscape
---
Congratulations 2012 American League Champions!
Red Sox
Thursday, July 5
2012 CAL RIPKEN DISTRICT CHAMPIONS
CONGRATULATIONS !
SOUTH PLYMOUTH 9A-ALL STARS
2012 Eastern MA
District 8
Champions
FRONT ROW: HUNTER DEAN, CAM CRIPPS, MITCHELL MURPHY, NOLAN SKAGGS, KYLE BURKE.
SECOND ROW: COLIN NORKEVICIUS, DYLAN ZEMOTEL, JEFF RODDEN, ANDREW GECSE, JEFF FIELDERS, JACK CONDON, NIKO RIGAS, RYAN O'CONNELL.
COACHES: JEFF SKAGGS, MIKE BURKE, STEVE RODDEN, BRIAN CRIPPS
"Special Thanks to Eastern Bank for their support"
Thursday, June 21
2012 National League Award Winners
2012 National League Award Winners
East:
Best Hitter: JACK CONDON
Best Pitcher: JEFF RODDEN
Defensive Award: T.J WHITMAN
Citizen Award: COLIN NORKEVICIUS
West:
Best Hitter: CAM CRIPPS

Best Pitcher: HUNTER DEAN
Defensive Award: DYLAN ZEMOTEL
Citizen Award: AIDEN WRIGHT
Sunday, May 27
11s All Stars - Bourne Tournament Champions
Congratulations to the 11A All Stars
Champions of the Bourne Memorial Weekend Tournament!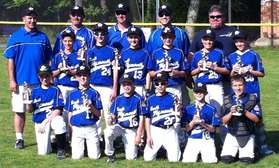 11s All Stars 2012