SOUTH GATE YOUTH FOOTBALL & CHEERLEADING: Welcome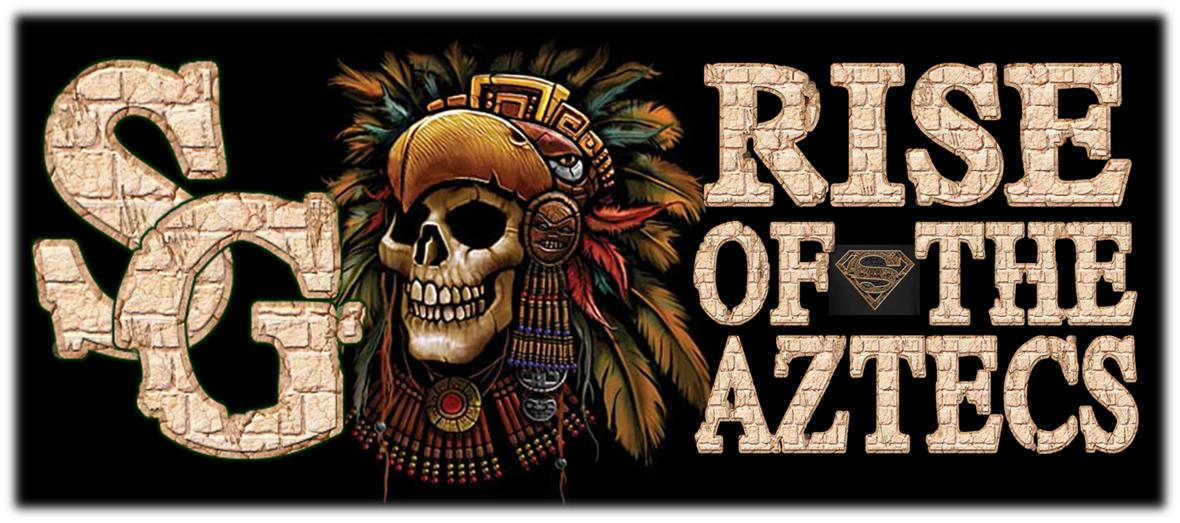 SOUTH GATE YOUTH FOOTBALL & CHEER 2016...

Welcome to the OFFICIAL WEB SITE of
SOUTH GATE YOUTH FOOTBALL, INC.
founded in 1990---serving the South Gate community for 26 years!!! We are a non-profit youth organization of flag & tackle football and cheerleading for boys and girls between the ages of 5-13.
----A Youth Sport Program that Provides the Fundamental Nurturing Experiences that Build a Strong Foundation for Future Success in Sports and in Life!---
We offer the opportunity for young student-
athletes to nurture their competitive spirit, to build new friendships while being a member of a team; to understand the benefits of hard work, team work, sportsmanship and discipline to enrich their lives and to prepare them for high school competitive sports.
FOOTBALL and CHEERLEADING is the "greatest" of youth sports activities that provide a strong foundation for future success in sports and in life.
Win or lose, we can expect our young student-athletes to experience the best memories that will last them a lifetime! Thank you for visiting our site and hope you stop by again soon!
THE 2015 SEASON WAS A YEAR OF GREAT ACHIEVEMENT! WE WILL POST PICTURES SOON! WE'RE GETTING READY FOR A NEW YEAR OF AZTEC YOUTH FOOTBALL & CHEER AND YOU WON'T WANT TO MISS IT...BE A PART OF IT!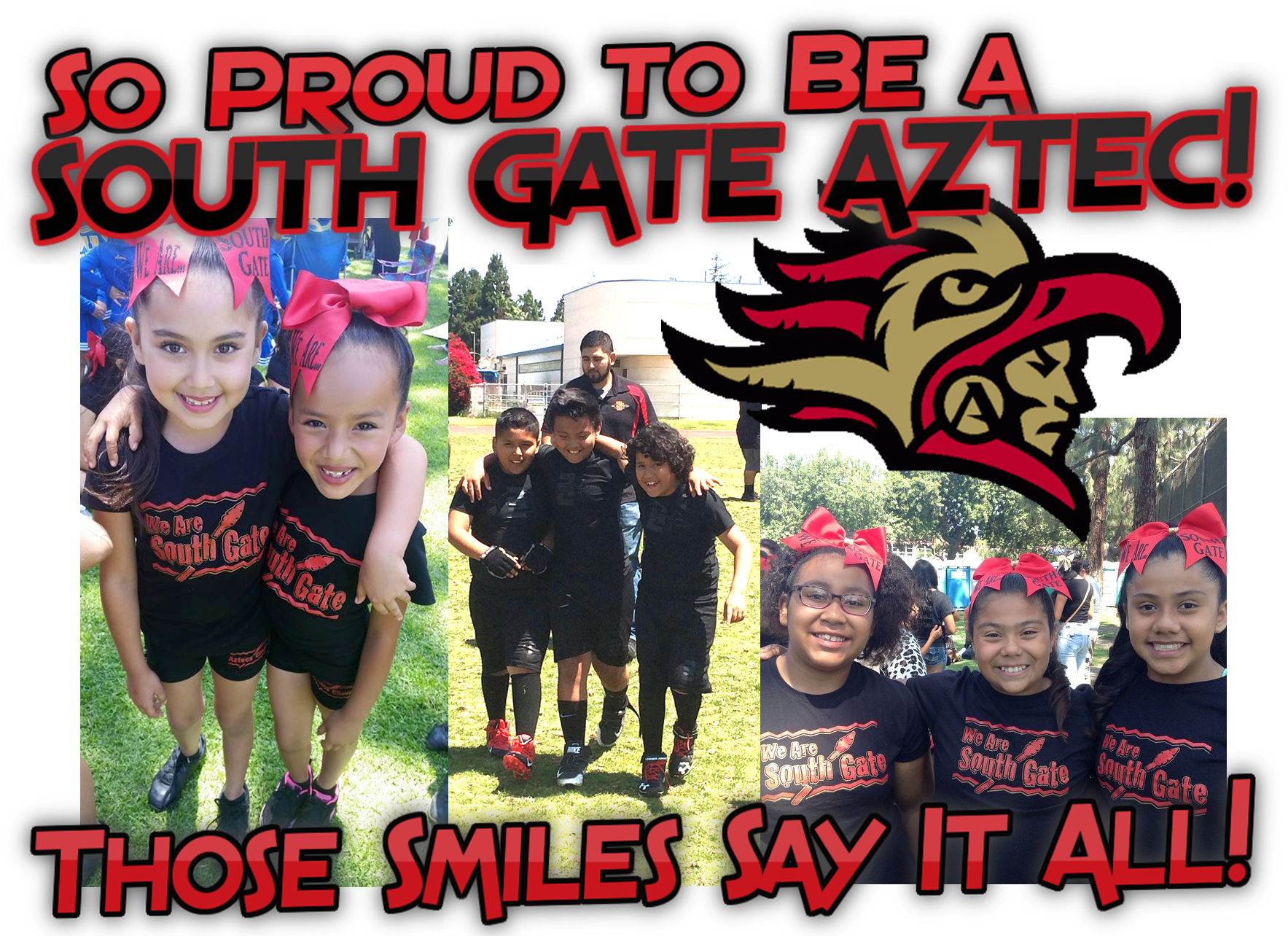 RISE OF THE AZTECS BEGAN IN 2014
Beginning in 2014, the RISE became our purpose and our goal to bring "competitive" youth football back into the forefront of the South Gate Youth Football organization. It was an AMAZING 2014 season where we saw the beginning of our RISE…Undefeated League Champions (Jr. Future League, Ages: 5-6), 2nd Place League- Junior Clinic Division (Ages 8), 4th Place Jr. Pee Wee Division (ages 9-11), and 3rd Place Pee Wee Division (Ages 10-12). And this all began with the "commitment" of our Head Coaches to bring our competitive game up to the level for which we had once been known. These have been developing years in our Program and although we stay committed to providing a youth sport activity to all whom wish to participate; it is how we "teach and train" our young student-athletes about this great sport and our new philosophy of bringing RISE to our Football Program in the coming years which will make a difference! AZTEC YOUTH FOOTBALL IS ON THE RISE AND YOU WON'T WANT TO MISS OUT ON OUR GREAT JOURNEY INTO THE FUTURE! AND, OF COURSE WITHOUT FOOTBALL WE COULD NOT HAVE CHEER AND TOGETHER WE ARE AN AMAZING FAMILY!
Our CHEER PROGRAM made a tremendous leap into the future of stunting and stunt performances in 2014. Our philosophy also changed in bringing the RISE into our Cheer Program in 2014. Again through our commitment in how we "teach and train" our young cheer-athletes (ages 5-13) has made the biggest impact in our continued success and into our future! We are also proud to announce our 3rd Place National Champions, Junior Pee Wee and our 1st Place Natoinal Champions, Junior Midget in 2014/2015 competition!
YOUTH FOOTBALL AND CHEERLEADING CONDITIONING AND TRAINING WILL BEGIN IN FEBRUARY 2016 FOR FOOTBALL & EARLY APRIL FOR CHEER…We continue to interview Head Coach Candidates for the open positions below to complete our teams for our 2016 Season. If you are interested in joining our RISE and being a Youth Football or Cheer Head Coach, please be sure to submit your HEAD COACH APPLICATION today! (This is a downloadable MS.DOCX file where you can type-into the file, save it to your name and sent to us via EMAIL as soon as possible).
Drums
CLICK ABOVE TO GO DIRECTLY TO AZTEC NEWS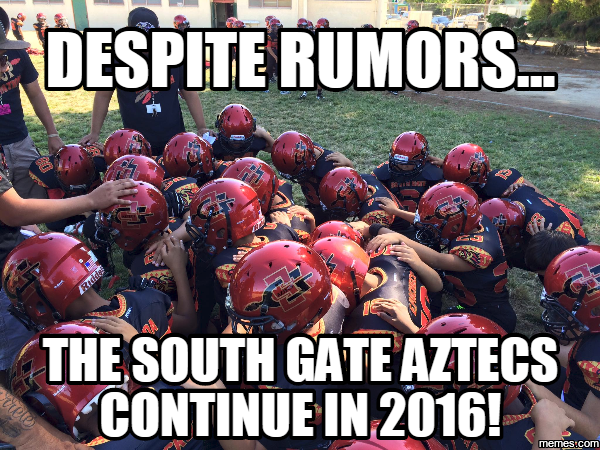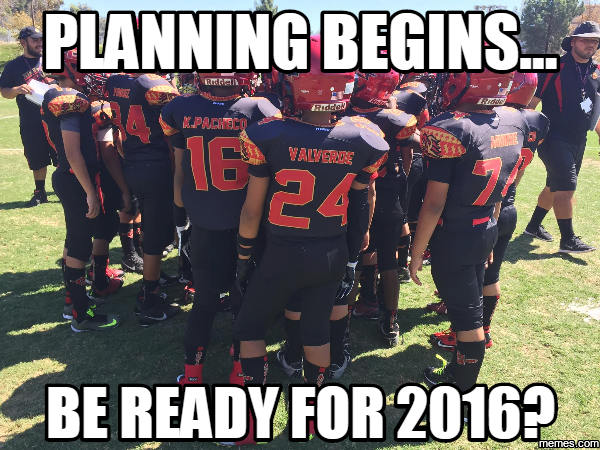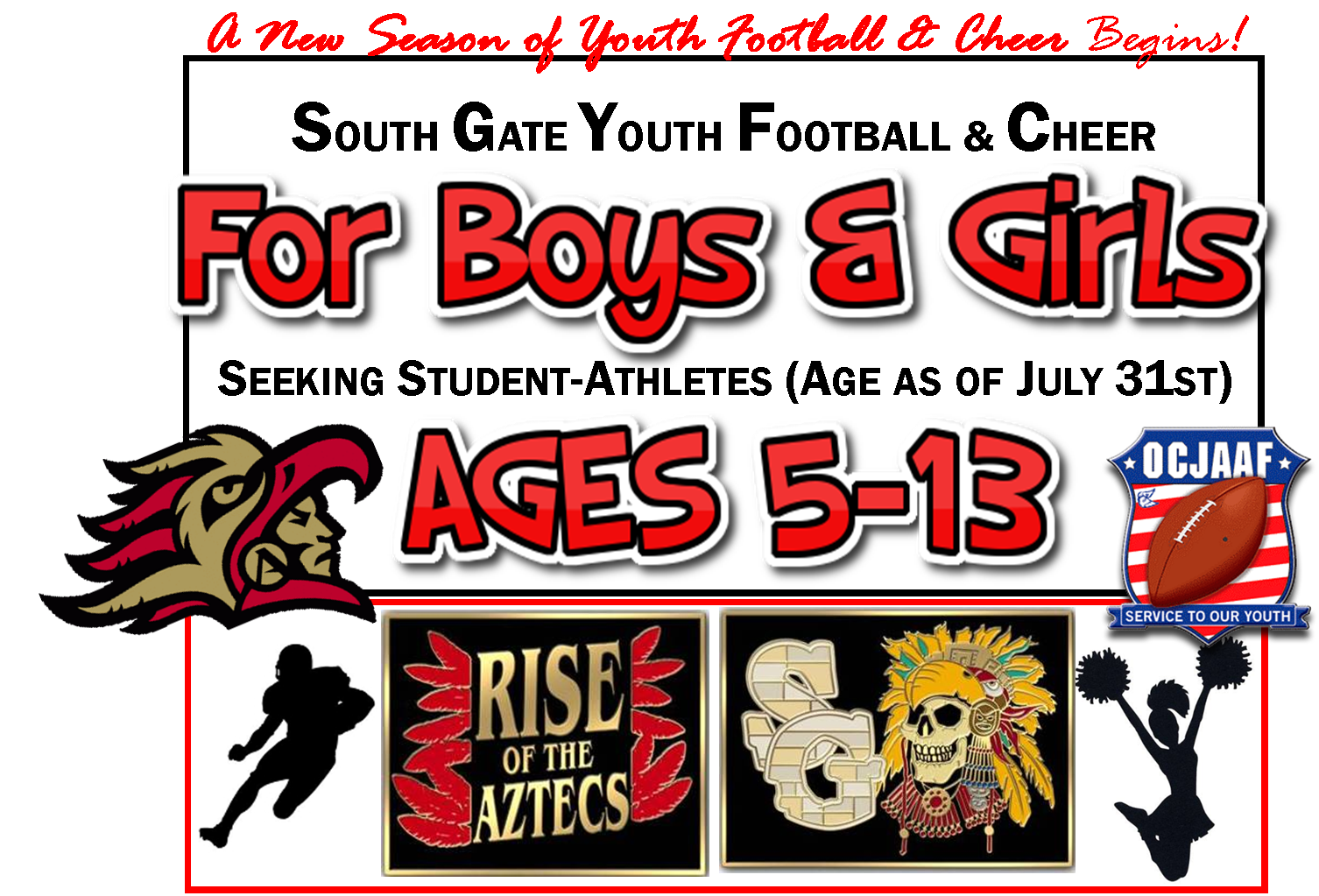 Don't forget to check the ORANGE COUNTY JR. ALL AMERICAN FOOTBALL WEBSITE for up-to-date news and information like, game schedule changes, scores & standings, the weekly Commissioner's Newsletter, WHAT'S NEWS, and other. Thank you!

The South Gate Youth Football, Inc. organization has been a member of the Orange County Junior All American Football Conference (aka, the OCJAAF) since 1990. In 2015 we expect to fill 2-flag teams (Ages: 5-6 & 7) and 5-tackle teams (Ages: 8-14) and a cheer squad for each team. The OCJAAF is a leading youth football and cheerleading program in Southern California and continues to grow with each New Year. IN 2015 THE OCJAAF WELCOMES 3-CHAPTER MEMBERS: COMPTON TITANS, MISSION VIEJO COWBOYS and GARDEN GROVE TROJANS! The OCJAAF offers the "best" opportunities in a multicultural, diverse and highly competitive youth football and cheerleading organization. We all have one thing in common…OUR KIDS! And win or lose, we get the best opportunity to bring our student-athletes into one of life's greatest classrooms…the football field! It is only through the OCJAAF which has created the "best" overall and innovative youth program that we can bring our youth closer together through a common interest in sportsmanship, fair play and fellowship.


What's happening?...What's Hot?...What's New?...What's Coming Up?
Check below here...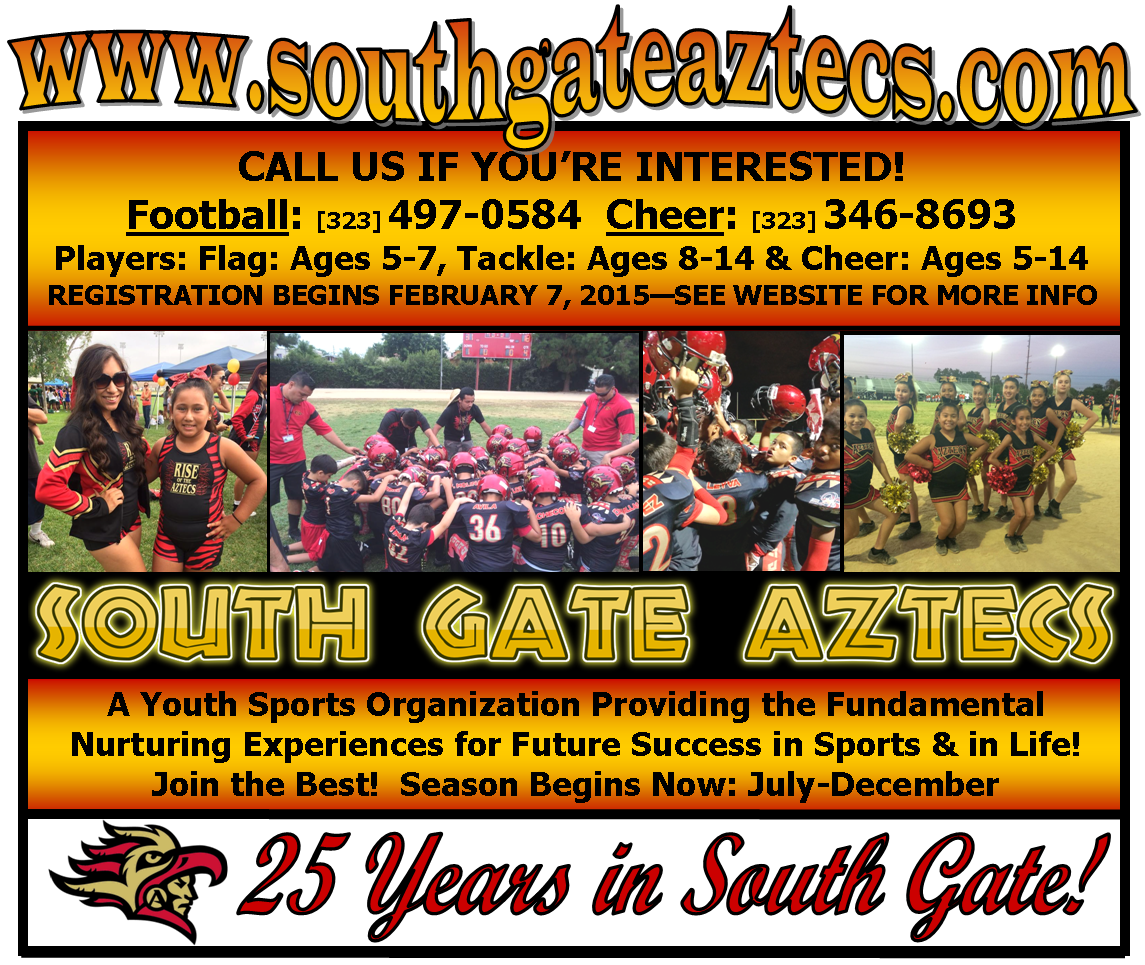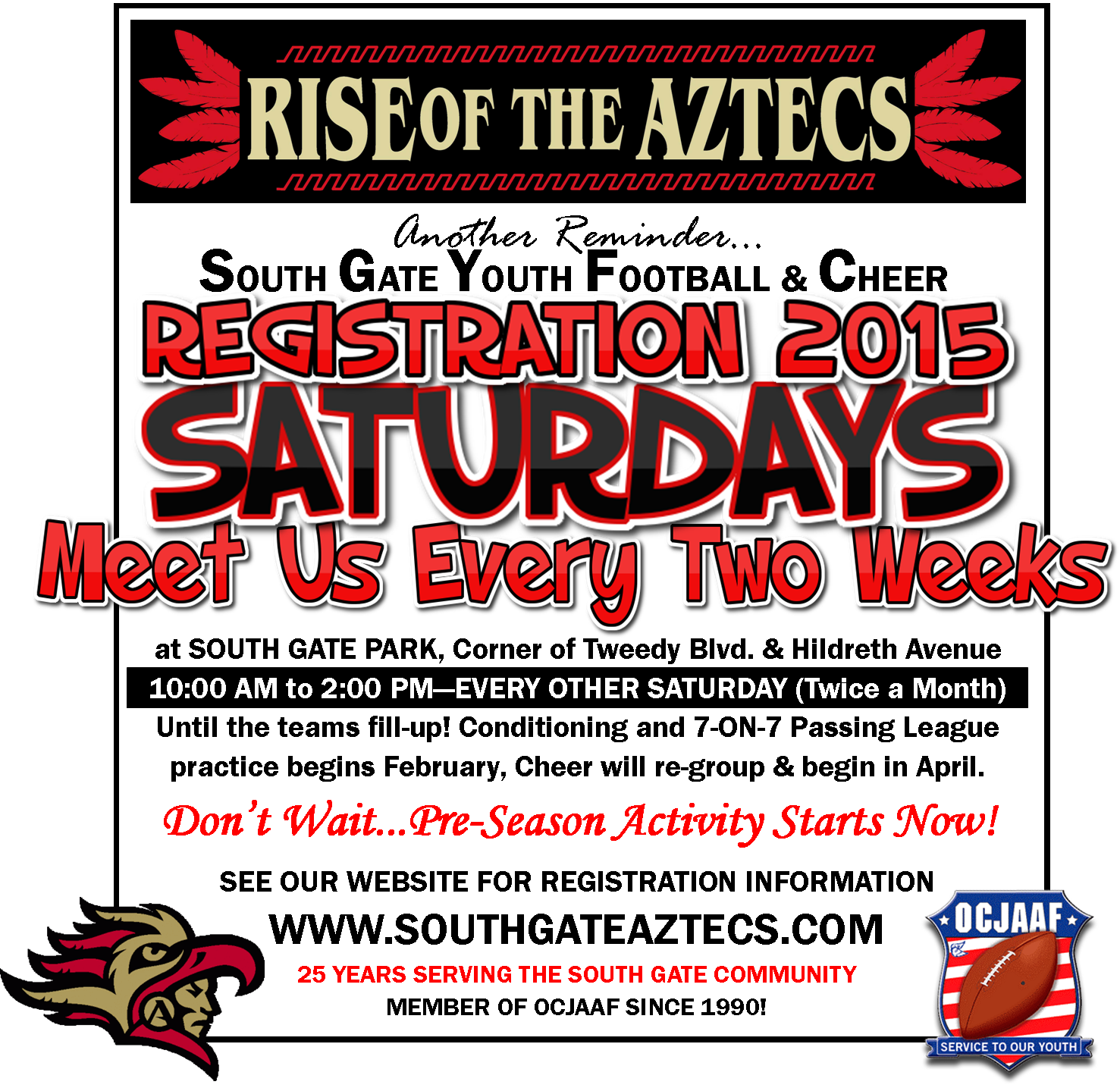 OPEN REGISTRATION DATES
CLICK HERE FOR REGISTRATION INFORMATION & HANDOUTS
Come down and meet us at any of the following Open Registration Dates at South Gate Park, corner of Tweedy & Hildreth, 10am-2pm.
FEB: 07-21
MAR: 07-21
APR: 04-18
MAY: 02-16-30
JUN: 13 (10am-1pm)
JUL: 18
Last Day of Registration is: Sunday - July 19, 2015, or until the teams fill-up.
CHEERLEADER REGISTRATION WILL CLOSE FRIDAY - JULY 3, 2015.

Sharing some of our events and activities of last year (2014), it was the year in which we called---THE RISE OF THE AZTECS! It was an amazing year of youth football & cheer! ENJOY!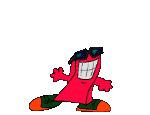 SOUTH GATE AZTECS GO TO UCLA FOOTBALL SPRING SHOWCASE...IT WAS AN AWESOME TIME FOR PLAYERS, COACHES & A FEW CHEERLEADERS!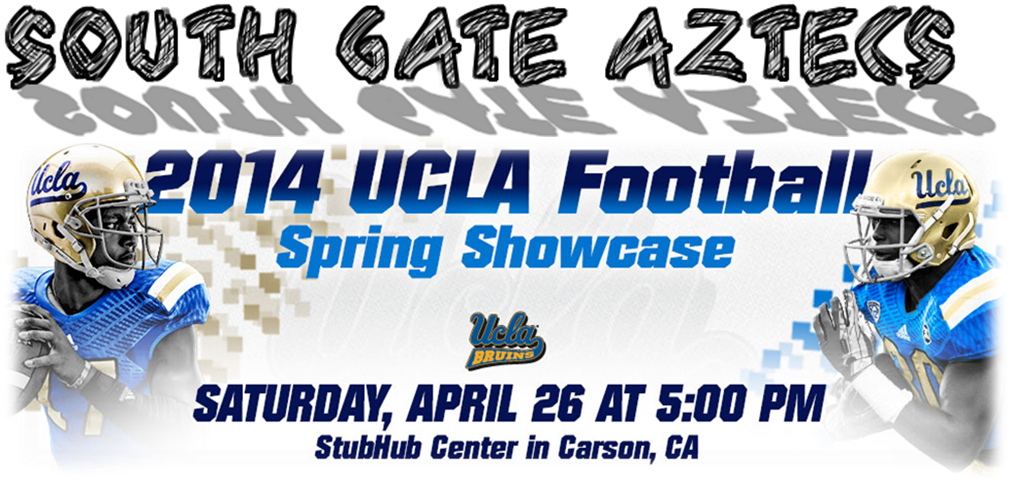 Our Junior Clinic team joined the OCJAAF Passing League Program: 7-ON-7 in which we did extremely well making it into the end-of-season Championship Playoff Game at Long Beach City College. Sharing a few pics of their season...
JUNIOR CLINIC at OCJAAF 7-ON-7, APRIL 27, 2014...
Wednesday, May 14
AZTEC CHEERLEADERS INTERVIEW WITH TELEMUNDO
On Wed-May-14-2014 at South Gate High School (Girls Gym), the Aztec Cheerleaders were invited to be interviewed by Telemundo (Spanish Television, Channel 52) as part of their Acceso Total (Week Day Entertainment show 10A-10:30A) Cheer/Dance week filming. This will air during Cheer Week (June 2-6) in connection with their cheer competition we are participating in on June 8th. We've been invited every year by Telemundo and we look forward to it! Thanks to our Vice President of Cheer, CARMEN GONZALEZ, who coordinated this opportunity…and even though we are still in the process of registering more cheerleaders, we were excited to showcase our program and the lovely Aztec Cheerleaders too!
THE AZTECS AT THE TWEEDY MILE STREET FAIR!
Fri-Sat-Sun, June 06-07-08, 2014
This past weekend, the South Gate Youth Football & Cheerleading organization participated in the annual STREET FAIR, hosted by the Tweedy Mile Association. Since 1995 we have been participating and bringing our message of family and a healthy activity to the children of our community. Our football & cheerleading coaches brought our message to hundreds of potential players and cheerleaders and we had an exciting time at the Street Fair! We also want to thank some of our cheerleaders for coming out representing us at the BIG stage for an impromptu performance Saturday afternoon, you did an awesome job our Aztec Ladies and so very proud to have you with us! The South Gate Youth Football & Cheerleading organization will celebrate 25 years of service in our community and we were so pleased to be able to see many of our former players and cheerleaders with families of their own wanting to join our program! Our times together and through it all we have made some of the best memories our families will remember for a lifetime to come! Thank you for your continued support of South Gate Youth Football & Cheerleading and we look forward to a highly celebrated 25th season in 2014!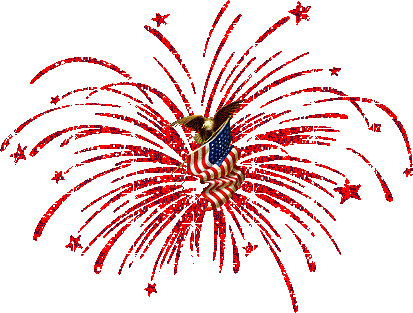 at OUR
FIREWORKS STAND
June 28th through July 4th
The Aztec familia came together to work our fireworks stand at the new Azalea Regional Shopping Center. Sharing some of our pictures, in no particular order. We had a great time working together and to support the organization to help meet our goals with uniforms and equipment. The Azteca familia at its best!
South Gate Aztecs @ the Beach!
Saturday - July 12, 2014
Board Members, Team Staff, Players, Cheerleaders and Family came together to celebrate the beginning of a new season of Aztec Youth Football & Cheer. In the end, we are family, and sharing this time together brings us closer to having a successful new season, win or lose, we will continue to improve, be competitive, and be the best we can be in all that we do! WE KNOW THIS AND WE BELIEVE IN AZTEC PRIDE!
LET'S GO AZTECS!...
Sharing some of the pics of the day, in no particular order...
Saturday, February 14
HOMECOMING 2014
Since 2009 our Homecoming is traditionally held on the last regular game of the season before playoffs begin and usually on or about the last Saturday in October. Our theme every year is DIA DE LOS MUERTOS, a Latin celebration of the Day of the Dead. Because this also falls during Halloween we provide all players and cheerleaders a bag of candy at the end of their game, our teams host varied food booths, we crown an Aztec King & Queen for each team during their halftime break, and with each New Year our Dia De Los Muertos celebration is becoming bigger and well known. Here we're sharing just a few pics of our celebration...


The PRINCIPLES of the South Gate AZTEC Youth Football & Cheerleading Program...
---
PRIDE
Group ethic, loyalty, not self-centered but self-assured. A sense if identity, a reason to fight and protect. A caring for your team, and community. A sense of dignity with exuberance.
POISE
Self-discipline, must master yourself before you can master others. It is a choice you make in how you want to be perceived [self-imposed or externally].
PERSISTENCE
Competitive spirit. Desire to meet any challenge. Be at your best when pressure is on. Never, never give up! Determination---something good will happen. Physical discipline and courage.
PERSPECTIVE
Sense of humor. Be aware of life around you and define important things. You can be tough without being nasty. Team-oriented. Selflessness, willingness to sacrifice.
PREPARATION
"P" principle. Time is the one factor equal to all. Confidence is gained through preparation. Get the tough part done first.
PURPOSE
Identify goals and make a commitment. Find a success level. Pay whatever price is necessary. Strive for greatness--don't just be you, be something special. Don't apologize for excellence. Human nature is at its best when you make a total commitment to something.
PRAISE
Recognize contributions of others. Positively and overtly reinforce team efforts. Sustained enthusiasm. Process of role identification and acknowledging each person's worth.
PERCEPTION
What makes the difference between a win or a loss? Priorities in order. Directed energy. Role definition. Focus on important issues. Control what you can.
POSITIVENESS
Psychometrrics---Power of positive thinking. Mental imagery and practice. When evaluating, reinforce the good. When you believe it, you'll see it.
PRINCIPLE
Be a person of character. Recognition of moral obligations. Set high goals, have equally high ideals. Have the strength of character to make choices of right and wrong. Sometimes we need a reason to choose the right things. The athlete with this inner strength will never fold. Be absolutely unyielding in matters of principle.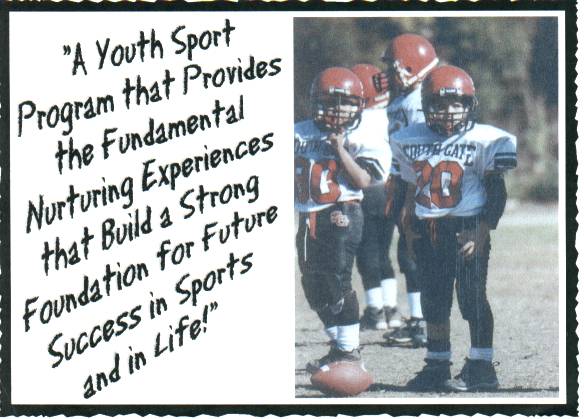 TAKE A LOOK AT OUR HISTORY PAGE...

We've updated with some picture slideshows from years' past...
CLICK HERE
EXCELLENCE shall be demonstrated in service to our youth, its community and competitive success within the OCJAAF competition. That we shall recognize our role in promoting community and school pride and uniting student-athletes, their families and members of this community through shared experiences. We shall strive to be recognized as a leader in diversity and inclusion, and will promoite an environment of teamwork, leadership, and personal accountability.
Fullfill the Mission Statement of South Gate Youth Football & Cheer, Inc.
Adhere to SGYFC / OCJAAF regulations.
Create a source of pride to all associated with SGYFC.
Provide equitable opportunities regardless of gender, race or creed.
Inspire cooperation, group loyalty, sportsmanship, and school / community spirit.
Develop strong character by supporting student-athlete welfare, physical and emotional well-being, social development, progress towards academic achievement, personal growth, and a commitment to community service.
Maximize the generation of revenue to fund SGYFC Programs.
Be fiscally responsibile.
Respect and appreciate constituents who have a stake in our mission.
Actively pursue championships.
Represent SGYFC with the utmost integrity, pride and professionalism.
And remember above all...WE ARE FAMILY...WE ARE SOUTH GATE...WE ARE AZTEC PRIDE!
AZTEC FOOTBALL IS LEARNING ABOUT SPORTSMANSHIP, FAIR PLAY & FELLOWSHIP...There are many important LIFE LESSONS to be learned from this great sport. Whether FOOTBALL will remain in your life as you move on to high school or college; the lessons you have learned here as a child will be with you in the classroom, as you become an adult, at the work place and in all that you do. There are many great coaches and players in this sport who have shared the lessons they have learned and we inturn would like to share with you...of course, please remember these lessons could only have been learned through the experiences they gained as a football player...ENJOY!

"To me it was never about what I accomplished on the football field...it was about the way I played the game."---Jerry Rice
"The principle is competing against yourself. It's about self-improvement, about being better than you were the day before." ---Steve Young
"For me, winning isn't something that happens suddenly on the field when the whistle blows and the crowds roar. Winning something that builds physically and mentally every day that you train and every night that you dream."---Emmet Smith
"Football is an honest game. It's true to life. It's a game about sharing. Football is a team game. So is life."---Joe Namath
"I played on one leg for seven weeks...Knowing I could have two legs next year; it's definitely something I'm looking forward to."---Junior Seau
"If you can believe it, the mind can achieve it!"---Ronnie Lott
VINCENT THOMAS LOMBARDI
(CLICK HERE to visit the Lombardi Web Site)
Vincent Thomas Lombardi is arguably the greatest football coach of all time, and is on the short list of history's greatest coaches, regardless of sport. His ability to teach, motivate and inspire players helped turn the Green Bay Packers into the most dominating NFL team in the 1960s.
TEAMWORK
"The achievements of an organization are the results of the combined effort of each individual." "People who work together will win, whether it be against complex football defenses, or the problems of modern society." "Individual commitment to a group effort – that is what makes a team work, a company work, a society work, a civilization work."

COMMITMENT
"Winning is not a sometime thing, it is an all the time thing. You don't do things right once in a while…you do them right all the time." "Unless a man believes in himself and makes a total commitment to his career and puts everything he has into it – his mind, his body, his heart – what's life worth to him?" "Once a man has made a commitment to a way of life, he puts the greatest strength in the world behind him. It's something we call heart power. Once a man has made this commitment, nothing will stop him short of success." "The quality of a person's life is in direct proportion to their commitment to excellence, regardless of their chosen field of endeavor." "It's not whether you get knocked down, it's whether you get up." "I would say that the quality of each man's life is the full measure of that man's commitment of excellence and victory – whether it be football, whether it be business, whether it be politics or government or what have you."

SUCCESS/SACRIFICE
"Football is a great deal like life in that it teaches that work, sacrifice, perseverance, competitive drive, selflessness and respect for authority is the price that each and every one of us must pay to achieve any goal that is worthwhile." "To achieve success, whatever the job we have, we must pay a price." "Success is like anything worthwhile. It has a price. You have to pay the price to win and you have to pay the price to get to the point where success is possible. Most important, you must pay the price to stay there." "Once you agree upon the price you and your family must pay for success, it enables you to ignore the minor hurts, the opponent's pressure, and the temporary failures." "A man can be as great as he wants to be. If you believe in yourself and have the courage, the determination, the dedication, the competitive drive, and if you are willing to sacrifice the little things in life and pay the price for the things that are worthwhile, it can be done."

DISCIPLINE
"I've never known a man worth his salt who, in the long run, deep down in his heart, didn't appreciate the grind, the discipline. " "There is something good in men that really yearn for discipline." "Mental toughness is many things and rather difficult to explain. Its qualities are sacrifice and self-denial. Also, most importantly, it is combined with a perfectly disciplined will that refuses to give in. It's a state of mind – you could call it character in action." "The good Lord gave you a body that can stand most anything. It's your mind you have to convince." "Once you learn to quit, it becomes a habit." "Perfection is not attainable. But if we chase perfection, we can catch excellence." "Once you have established the goals you want and the price you're willing to pay, you can ignore the minor hurts, the opponent's pressure and the temporary failures."

WILL TO WIN
"The spirit, the will to win and the will to excel – these are the things that endure and these are the qualities that are so much more important than any of the events that occasion them." "There's only one way to succeed in anything, and that is to give it everything. I do, and I demand that my players do." "The difference between a successful person and others is not a lack of strength, not a lack of knowledge, but rather in a lack of will." "You never win a game unless you beat the guy in front of you. The score on the board doesn't mean a thing. That's for the fans. You've got to win the war with the man in front of you. You've got to get your man." "If you'll not settle for anything less than your best, you will be amazed at what you can accomplish in your lives."

LEADERSHIP
"Leaders are made, they are not born. They are made by hard effort, which is the price which all of us must pay to achieve any goal that is worthwhile." "It is essential to understand that battles are primarily won in the hearts of men. Men respond to leadership in a most remarkable way and once you have won his heart, he will follow you anywhere." "Leadership is based on a spiritual quality --- the power to inspire, the power to inspire others to follow." "Having the capacity to lead is not enough. The leader must be willing to use it." "Leadership rests not only upon ability, not only upon capacity – having the capacity to lead is not enough. The leader must be willing to use it. His leadership is then based on truth and character. There must be truth in the purpose and will power in the character." "A leader must identify himself with the group, must back up the group, even at the risk of displeasing superiors. He must believe that the group wants from him a sense of approval. If this feeling prevails, production, discipline, morale will be high, and in return, you can demand the cooperation to promote the goals of the community."

EXCELLENCE
"….I firmly believe that any man's finest hours – his greatest fulfillment of all that he holds dear – is that moment when he has worked his heart out in good cause and lies exhausted on the field of battle – victorious." "The spirit, the will to win and the will to excel --- these are the things what will endure and these are the qualities that are so much more important than any of the events themselves." "They call it coaching but it is teaching. You do not just tell them…you show them the reasons." "After all the cheers have died down and the stadium is empty, after the headlines have been written, and after you are back in the quiet of your room and the championship ring has been placed on the dresser and after all the pomp and fanfare have faded, the enduring thing that is left is the dedication to doing with our lives the very best we can to make the world a better place in which to live."
---
E-MAIL THE AZTEC WEBMASTER
if you have any comments or recommendations. We appreciate your communication. Thank you!
SOUTH GATE YOUTH FOOTBALL WEB SITE:
ETEAMZ Spotlight Site Winner: APRIL 2007-MARCH 2009