Southern Indiana Spikes: Info For Thought
Just Some Information For You To Think About....
On this page you will find some news articles, stories and comments that should make you think a little bit about the true objectives of our youth playing sports.
There is also some postings just for fun too.............Enjoy!!!
Friday, November 3
Athletics…done right…is the other half of education.
The athletic field is where the kids learn the lessons of life and have fun. They learn that winning isn't as important as preparing to win… They learn never to give up… They learn to lose with dignity… They learn to win with honor…They learn that you can be whatever you want to be if you work hard enough at it… They may never be first-team or all-state or an all-American, but the important thing is that they try…They learn to be good citizens… It's better to be a good American than an all-American.
Prepare For Your Player's Last Game
Help keep them in the game just a bit longer!
WRITTEN BY COACH JOHN PETER
I attended a youth baseball clinic many years back when my son was about 9 and was struck by one statement by the instructor.
He said something like, 'Every player finishes his career sometime…
PREPARE YOURSELF FOR YOUR SON'S LAST GAME!'... You never know when it will be!

Two seasons ago when my son was a High School senior player, my mentor, a 50-year baseball man with three World Series rings (and a son of his own) said to me 'You're going to notice a big hole when Joseph goes off to play college ball!'

Well it happened. There's no more skipping work to catch a game at the local High School or short jaunts to the next county, no more going to the youth parks nearby and no more tournaments either!

Another phase of our family life has kicked in and at times the silence is deafening.
But at least he is still playing, right?
Well… it also told me (and my wife too) that this also will be over… and all too soon!

The Numbers Don't Lie!
70% of players will leave the game by age 13!
More players will leave in the following season or two.
Note that the #1 reason given by ex-players is…"It's no fun!"

The Dream Lives
Every youth player dreams of playing in the Big Leagues, me included. It's a great dream and should be nurtured. But note that I also wanted to be a cowboy too. There are probably more cowboys today than there are Major League players, so always have a back up plan!

A child's dreams need your guidance, which is also our job. Yes, it is different today. 155 channels, two video-game systems, cell phones, IM's, text messaging and nobody has only one TV in the house.

How To Help!


The bottom line is just to know and understand that baseball is just another great life-chapter. It's a time to savor, so take lots of pictures, create & collect memories and friends, minimize the arguments & pressures and give the one thing that is most important to your own "favorite player" as well as your entire team…
Give your time & guidance!
A. The more seasons they play, the greater the chance that they will comprehend the value of teamwork, hard work, competition and how to fit in socially. These are life lessons that are worth all the time & effort they put in!
B. If baseball isn't fun… kids will find something else to do.
Players need entertaining and engaging ways to stay interested.
Combine your time along with fun & interesting baseball training aids and maybe you can postpone your favorite player's last game!

Some miscellaneous thoughts on the subject:
1. If a lack of fun is the biggest reason for players leaving the sport…..interested, creative adults should be able to "salvage" some players beforehand!
2. Injuries of early overuse or poor mechanics halt many High School age players!
3. The player doing well tends to have the most fun. Parents & coaches can help players obtain superior results!
4. Good grades are key as banking on a baseball scholarship isn't a great plan. Division I college baseball offers a maximum of 11.7 scholarships spread over 30+ players. Most players get partial rides!
5. Learn about the college recruiting processwhen your players are in 10th grade.
6. Be there when they fail. The mental & failure part of this game drives many players away. 7. Never get in a player's face, especially in public. Kids are no match for the angry adult. Words can never be taken back. Angry reactions can break hearts, spirits and even careers. 8. Read the book "Why Johnny Hates Sports."
Why Bother?
A study conducted by Michigan State University in 1993 found that the top 10 reasons why boys participated in non-school sports programs were:

1. To have fun
2. To do something they were good at
3. To improve their skills
4. The excitement of competition
5. To stay in shape.
6. The challenge of competition
7. To get exercise
8. To learn new skills
9. To play as part of a team
10. To go to a higher level of competition
Finally
Have you seen the NCAA TV ad that says most all NCAA athletes will go pro in something other than sports…. It's true! It's also true that most High School ballplayers will NOT be playing College ball…for many reasons.
ENJOY THE PRESENT… WITH AN EYE ON THE FUTURE!

Have fun, and keep 'em close…It all goes away… quick!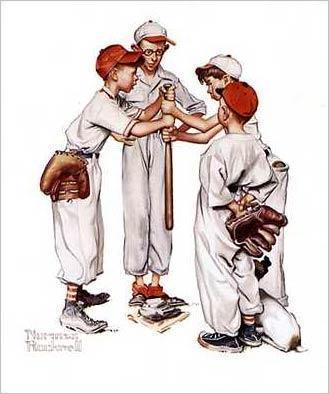 Let's Have Fun!!!
THROUGH AN UMPIRE'S EYES...
Donald Jensen was struck in the head by a thrown bat while umpiring a little league game in Terre Haute, Indiana. He continued to work the game, but later that evening was placed in the hospital by a doctor. While being kept overnight for observation, Jensen wrote the following letter:
"Dear Parent of a Little Leaguer:
I'm an umpire. I don't do it for a living, but only on Saturdays and Sundays for fun. I've played the game, coached it and watched it. But somehow, nothing takes the place of umpiring. Maybe it's because I feel that deep down I'm providing a fair chance for all the kids to play the game without disagreements and arguments.
With all the fun I've had, there is still something that bothers me about my job. Some of you folks don't understand why I'm here. Some of you feel I'm there to exert authority over your son. For that reason, you often yell at me when I make a mistake, or encourage your son to say things that hurt my feelings. How many of you really understand that I try to be perfect? I try not to make a mistake. I don't want your son to feel he got a bad deal from an umpire. Yet no matter how hard I try, I can't be perfect. I counted the number of calls I made in a six-inning game today. The total number of decisions, whether on balls and strikes or safe and outs, was 146. I tried my best to get them all right, but I'm sure I missed some. When I figured out my percentage on paper, I could have missed eight calls today and still gotten about 95 percent of the calls right. In most occupations that percentage would be considered excellent. If I were in school, that grade would receive an A for sure.
But your demands are higher than that. Let me tell you more about my game today. There was one real close call that ended the game. A runner for the home team was trying to steal the plate on a passed ball. The catcher chased the ball down and threw to the pitcher covering the plate. The pitcher made the tag and I called the runner out. As I was getting my equipment to leave, I overheard one of the parents comment, "It's too bad the kids have to lose games because of rotten umpires. That was one of the lousiest calls I've ever seen." Later, at the concession stand, a couple of kids were telling their friends, "Boy, the umpires were lousy today. They lost the game for us." I felt just terrible when I got home. Here was a group of kids who had made a lot of mistakes, which had cost them a number of runs.
The purpose of Little League is to teach baseball skills to young men. Obviously, a team which does not play well in a given game, yet is given the opportunity to blame that loss on an umpire for one call or two, is being given the chance to take all responsibility for the loss from their shoulders. A parent or adult leader who permits the younger player to blame his failures on an umpire, regardless of the quality of that umpire, is doing the worst kind of injustice to that youngster. Rather than learning responsibility, such an attitude is fostering an improper outlook toward the ideals of the game itself. This irresponsibility is bound to carry over to future years.
As I sit here writing this letter, I am no longer as upset as I was this afternoon, I wanted to quit umpiring, but fortunately, my wife reminded me of another situation that occurred last week. I was umpiring behind the plate for a pitcher who pantomimed his displeasure at any call on a borderline pitch that was not in his team's favor. One could sense that he wanted the crowd to realize that he was a fine, talented player who was doing his best to get along, but that I was a black-hearted villain who was working against him. The kid continued acting like this for two innings, while at the same time yelling at his own players, who dared to make a mistake. For two innings the manager watched this. When the kid returned to the dugout to bat in the top of the third, the manager called him aside. In a voice loud enough that I was able to overhear, the lecture went like this: "Listen son, it is time you make a decision. You can be an umpire, an actor, or a pitcher. But you can only be one at a time when you are playing for me. Right now it is your job to pitch. And, you are basically doing a lousy job. Leave the acting to actors, the umpiring to the umpires, or you won't do any pitching here. Now what is it going to be?"
Needless to say, the kid chose the pitching route and went on to win the game. When the game was over the kid followed me to my car. Fighting his hardest to keep back the tears he apologized for his actions and thanked me for umpiring his game. He said he had learned a lesson that he would never forget.
I can't help but wonder how many more fine young men are missing their chance to develop into outstanding ball players because their parents allow them to spend more time making excuses than encouraging them to recognize and correct their mistakes."
The following morning, Donald Jensen died of a brain concussion.
The next time you want to give an umpire a piece of your mind, maybe instead offer him a sincere "Good game, Ump" and recognize that it's only a youth baseball game.
The 10 Commandments of Baseball
1. Nobody ever became a ball player walking after a ball.
2. You will never become a .300 hitter unless you take the bat off your shoulder.
3. An outfielder that throws the ball behind the runner locks the barn door after the horse is stolen.
4. Keep your head up and you may not have to hold it down.
5. When you start to slide, Slide!!! He who changes his mind may change a good leg for a broken one.
6. Don't quit. The game is never over until the last man is out.
7. Always run them out. You never know.
8. Don't make excuses on the bad hops. Anyone can field the good ones.
9. A pitcher who hasn't control hasn't anything.
10. Don't find too many faults in the umpires. You can't expect them to be as perfect as you.

MY......................................................................................ATTITUDE
"The longer I live,
the more I realize the impact of attitude on life.
Attitude, to me, is more important than facts.
It is more important than the past, than education, than money,
than circumstances, than failures, than successes, than what other people
think or say or do.  It is more important than appearance, giftedness, or skill.
It will make or break a company...a church... a home.
The remarkable thing is we have a choice every day
regarding the attitude we will embrace for that day.  We cannot change
our past...we cannot change the fact that people
will act in a certain way.  We cannot change the inevitable.
The only thing we can do is play on the one string we have,
and that is attitude...I am convinced that
life is 10% what happens to me and 90% how I react to it.
And so it is with you...
we are in charge of our Attitudes."
 -- Charles Swindoll
~Alabama~