South Beaches Little League: Welcome
REGISTRATION FOR 2015 FALL SEASON IS STILL OPEN
(Registration Ends September 6th, 2015)
CLICK HERE to register for the 2015 Fall baseball and softball season.
Registration Fees are as follows:
TeeBall $0
Coach Pitch $65
Minors $75
Majors $85
We had our early registration discount of $20 available to everyone that registered prior to August 21. We still offer a $10 multi-child discount for each child registering after the first child.
SBLL supplies players with uniform shirts and hats. Helmets and bats are also available for use.

EQUIPMENT NEEDED:

TeeBall - glove

Minors - glove

Majors - glove, pants and cleats

Juniors - glove, pants and cleats

Softball - glove, pants and cleats

---

---




Player Agents

TeeBall:

Tom Chiuchiolo

321-292-1723

Coach Pitch:

Ryan Miller

321-536-4587

Minors:

Steve Brubaker

321-432-7689

Majors:

Steve Brubaker

321-432-7689

Juniors / Seniors:

John Phillips

321-403-6610

Softball:

Bryon Neff

813-267-2213

Head Player Agent:

Steve Brubaker

321-432-7689

Sign Up below to receive league e-mails.

FYI: confirmations may go to your spam folder.

Become a fan on Facebook. SBLL Facebook Page




Be a Volunteer

If you would like to coach, umpire or just help out on the field, please complete the volunteer application and submit it with the registration form. A volunteer form must be completed every year for anyone who will be in contact with the children.

If you are interested in umpiring or joining the board, please send an e-mail to sbll@cfl.rr.com.

SBLL, P.O. Box 33491, Indialantic FL 32903
FALL 2015 Important Dates:
Registration Ends: Sunday, September 6, 2015
Majors Player Evals: Tuesday, September 8 & Saturday, September 12, 2015
Minors Player Evals: Wednesday September 9 & Saturday, September 12, 2015
Drafts: Sunday, September 13, 2015
Teams Posted: Sunday, September 13, 2015
Practices Begin: Monday, September 14, 2015
First Game: Monday, September 28, 2015
Last Game: Thursday, November 19, 2015
2015 Spring Practice Schedules
Tuesday, January 27
SBLL Dick's Sporting Goods Coupon
COACHES & PARENTS: We are proud to announce our continue partnership between Dick's Sporting Goods and South Beaches Little League! As a supporter of the organization, Dick's Sporting Goods will be hosting a special event exclusively for our family members, on January 31 - February 1, 2015 at the Melbourne Store Location.
Simply print the attached coupon and enjoy 20% off throughout the entire store!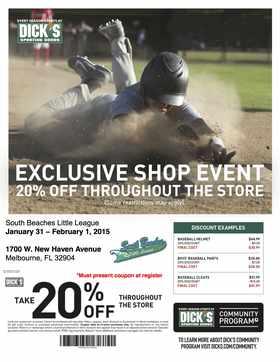 Dicks 2015 20% Off Coupon
Saturday, January 31
Rosters