South Beaches Little League: Welcome
WEATHER UPDATE!!!!
SBLL supplies players with uniform shirts and hats. Helmets and bats are also available for use.

EQUIPMENT NEEDED:

TeeBall - glove

Minors - glove

Majors - glove, pants and cleats

Juniors - glove, pants and cleats

Softball - glove, pants and cleats

---

---




Player Agents

TeeBall:

Tom Chiuchiolo

321-292-1723

Coach Pitch:

Bryon Neff

813-267-2213

Minors:

Alek Turko

321-693-9968

Majors:

Fergus Kelly

321-626-8578

Juniors / Seniors:

Joe Canestrari

321-432-7475

Softball:

Robin Johnson

321-794-3773

Head Player Agent:

Joe Canestrari

321-432-7475

Sign Up below to receive league e-mails.

FYI: confirmations may go to your spam folder.

Become a fan on Facebook. SBLL Facebook Page




Be a Volunteer

If you would like to coach, umpire or just help out on the field, please complete the volunteer application and submit it with the registration form. A volunteer form must be completed every year for anyone who will be in contact with the children.

If you are interested in umpiring or joining the board, please send an e-mail to sbll@cfl.rr.com.

SBLL, P.O. Box 33491, Indialantic FL 32903
Spring 2015 Important Dates
Games begin: Mon March 9
Picture Day: Saturday March 14
Spring Break (no games) Monday March 23 - Sat March 28
End of Season: Saturday May 9
County Tournament:(Majors and above) Estimating May 16 start
2015 Spring Practice Schedules
Tuesday, January 27
SBLL Dick's Sporting Goods Coupon
COACHES & PARENTS: We are proud to announce our continue partnership between Dick's Sporting Goods and South Beaches Little League! As a supporter of the organization, Dick's Sporting Goods will be hosting a special event exclusively for our family members, on January 31 - February 1, 2015 at the Melbourne Store Location.
Simply print the attached coupon and enjoy 20% off throughout the entire store!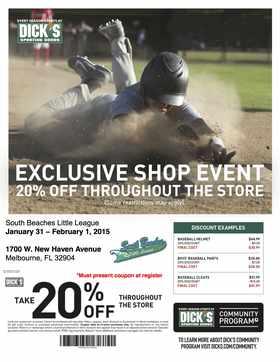 Dicks 2015 20% Off Coupon
Saturday, January 31
Rosters