Sonora Raiders: Welcome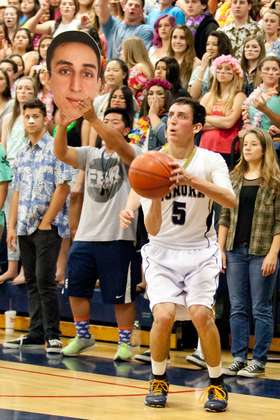 Ben Rico Shoots a 3 on his way to Breaking Sonora's Single Season Scoring Record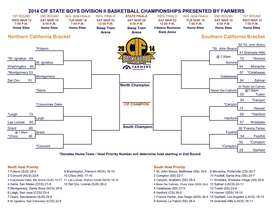 2014 CIF State Basketball Bracket Div 2 Mar 13 2014
2014 CIF STATE DIVISION II
REGIONALS- 2nd ROUND
SATURDAY, MARCH 15, 2014
7:30 PM @ St. John Bosco HS
CONGRATULATIONS to the varsity team for Wednesday's win against Manache from Porterville in the first round of CIF State Division 2 Regionals. Our 2013-2014 season record is now 29-4. Come join us for some more fun basketball. Select the link above for a map and directions to St John Bosco.
Come join our boys to CIF State Regionals second round.
2014 CIF State Division II Regionals Schedule;
Round 1: Wednesday, March 12, 2014 - 7PM @ Sonora HS
Round 2: Saturday, March 15, 2014 - 7:30PM @ St. John Bosco
Semi-Finals: Tuesday, March 18, 2014 - 7PM @ TBD
Regional Finals: Saturday, March 22, 2014 - 12 noon @ Citizens Business Bank Arena Ontario, CA
State Finals: Saturday, March 29, 2014 - 4PM @ Sleep Train Arena Sacramento, CA
Tickets will only be on sale at the game. Child/student $5, $9 adult. Cash only.
2014 FREEWAY LEAGUE CHAMPIONS!!!!!
CONGRATULATIONS to this year's varsity boys team for a perfect league record. This has not been achieved since the 2001 season. On Friday, February 07, 2014, the team secured, at minimum, co-league champions by beating Buena Park at a packed gym in front of the home crowd. The following game vs La Habra at the Highlander's home court, the varsity team secured sole league champions by beating our league rivals. On Thursday, February 08, 2014, the varsity team defeated Sunny Hills decidedly for a perfect league record and to add to the remarkable 13 game winning streak. The Raiders' last loss was on December 28, 2013.
Below is the 2013/2014 completed game schedule along with the final scores and CIF games;
Sonora 56, Santa Margarita 51
Sonora 66, Paramount 54
Sonora 53, Esperanza 51
Canyon 61, Sonora 59 (L)
Woodbridge 79, Sonora 66 (L)
Sonora 71, Servite 50
Sonora 65, Wilson/Hacienda Heights 51
Sonora 94, M.L. King/Riv. 83
Sonora 57, Orange Lutheran 52
Sonora 62, La Mirada 49
Sonora 58, Canyon 55
Sonora 69, Corona del Mar 64
Sonora 64, Army-Navy Academy 49
Parker 49, Sonora 48 (L)
Sonora 68, Murrieta Valley 56
Sonora 85, La Mirada 79
Sonora 57, Dana Hills 50
Sonora 63, Troy 54 (League)
Sonora 83, Fullerton 52 (League)
Sonora 56, Buena Park 52 (League)
Sonora 57, La Habra 35 (League)
Sonora 62, Sunny Hills 60 (League)
Sonora 59, Troy 51 (League)
Sonora 62, Fullerton 49 (League)
Sonora 77, Buena Park 64 (League)
Sonora 58, La Habra 41 (League)
Sonora 83, Sunny Hills 73 (League)
Sonora 73, Nogales 42 (CIF)
Sonora 67, Righetti 48 (CIF)
Sonora 49, Arlington 46 (CIF Qtr Finals)
Sonora 57, Oak Hills 46 (CIF Semi-Finals)
Calabasas 66, Sonora 47 (CIF Finals)
Sonora 72, Manache 54 (CIF State)

Shout Out to the boys' JV and Sophomore teams for perfect league records and league championships!!!!
MARCH
Basketball Banquet.Will be held Wednesday, March 19th at Westridge Country Club at 6pm. It's an evening you won't want to miss! We will honor and recognize our boys for their hard work and dedication to Sonora Basketball.
Uniforms:Lower level teams will turn in uniforms on February 14.Varsity will turn in after their season ends.
6th period practice/scrimmages
APRIL.
Spring leagues begin for all teams.Details coming. Players will wear their practice gear for this league.There will be a suggested donation amount to cover league fees for each player that participates (approx. $35).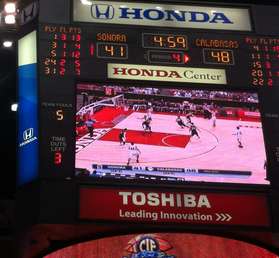 2014 CIF Finals vs Calabasas at the Honda Center
2013-2014 Varsity Team
Players (Left to Right): Back Row- Nathan Mendrin, Jake Rosander, Austin Dunn, Steven Riley, Steven Murphy, Roy Saucedo, Ben Rico, Charlie Yoshi take
Front Row- Chengcheng Fu, Josh Rodriguez, Kevin Marlow, Jason McClung, Adam Marlow, Christian Rhodes, Michael Gallardo
CIF Quarter Finals vs Arlington
CIF Round 2 vs Reghetti - Josh & Ben Teamwork
CIF Round 2 vs Reghetti
CIF Round 1 vs Nogales
10-0 League Champions
2013 NOCC Champions - REPEAT
2013 NOCC CHAMPIONS!!!
2013-14 ROWDY RAIDERS
2013-14 ROWDY RAIDERS
2013-14 Rowdy Raiders.