Soldotna Little League: Welcome
Registration has started. $75 per child for first two children, additional $25 per child.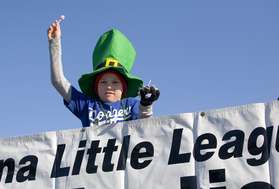 Jacob Belger Celebrating St Patrick's Day
Welcome to Soldotna Little League!
Registration Fees have been set for 2014. $75 each for the first 2 kids, $25 for each additional kid. If any child is unable to play due to financial hardship, please contact our Player Agent Vicki VinZant at 398-6363 or e-mail her at vickivinzant@yahoo.com.
Clinics will be starting soon. Be sure and like us on Facebook for updates and news!!
Organ