Pitch, Hit and Run Competition
2018 Pitch Hit & Run Competition
SOM Baseball will again host the local PITCH HIT & RUN, the official skills competition of Major League Baseball. The competition is open to players ages 7-14 (as of July 17, 2018). Local winners advance to sectional competitions which culminate in the National Competition held during MLB All Star Week. Details are available in the attached registration form. The local competition will be held:
Sunday, April 22
8:30 am - 12:00 noon
Meadowland Park, Fields 1-4
(Rain Date: April 29)
REGISTRATION: To register, you MUST complete the attached application and return it to the Baird:
1) Drop off or by US Mail to 5 Mead Street, South Orange
2) Email the completed form to recreation@southorange.org
3) Fax the form to (973) 378-7833
VOLUNTEERS are needed to assist with the local competition. If you are able/willing, please contact Rob Chibbaro at rob.chibbaro@comcast.net.
QUESTIONS about the competition can be sent to rob.chibbaro@comcast.net.
VIDEOS: Here are some great videos detailing the events.
Handout:
2018 PHR Registration Form
Baseball-Softball Parade and Opening Day
Baseball/Softball Parade and Opening Day - April 29!
The annual Baseball/Softball parade will be held on Saturday April 29. The parade will march from the New Waterlands Fields off of Third Street in South Orange to Cameron Field near the Baird Center in South Orange.
Players should wear their uniforms and "muster" at New Waterlands beginning at 8:30 a.m. - the parade will get underway at 9:00 SHARP. (Note: Babe Ruth players are NOT expected to participate in the parade).
The route will take the players from 3rd Street to Sloan Street, left on South Orange Avenue and right onto the bike/pedestrian path between the Village Service Center and SOMS. The Opening Day Ceremony will take place on Cameron Field.
Players should look for signs with their division (T-ball, Rookie, Minors, etc.) and then find their coaches and team. Coaches are encouraged to arrive by 8:20 am to help round up their players/team. Parents, you can march behind your child's team or line up along the parade route. Either way, be sure to bring your camera!
T-ball and Rookie Coaches: Let your team members know what you will be wearing (green hat, yellow shirt) so they can find you! (Consider a bright colored poster, sign or umbrella to assist with this.)
There will be NO PARKING at New Waterlands.
JITNEY SERVICE WILL BE AVAILABLE! A jitney service will be provided from the corner of Meadowbrook and Mead (near the Baird Center) to New Waterlands starting at 8:00 am. Jitney service will also be provided after the parade to take parents back to the Sloan Street and NJ Transit Parking lots.
Parents can also park nearby at the NJ Transit lot or at South Orange Middle School. You can drop off your child on Third Street at the entrance to Waterlands (adult supervision will be plentiful) but you CANNOT enter the Waterlands driveway.
WHAT IF IT RAINS?
There is NO RAIN DATE for the parade. We will not be put off by a little rain!
In the event of inclement weather, there are 2 ways to receive notification of any changes/cancellations:
- Follow 'SOrangeRec' on Twitter to receive notification directly to your mobile device.
- Call the department code-a-phone at 973-762-0748.

This is the same notification system we will use throughout the season so SAVE THIS INFO. If no message is posted or received for the current date, all activities will take place as scheduled.
2018 Schedules and Standings
2018 Schedules and Standings
We use a service called Demosphere to keep track of our baseball schedules and (for the older players) the standings. You will want to bookmark this link!!
To access the schedules (for all leagues) and standings (for Minors, M60, M70 and Babe Ruth only), use this link: SOM SCHEDULES
After a rain-out, the schedules should be updated within 48-72 hours with the date, time and location of your make-up game. You are responsible for checking the site.
If you have any difficulties, please let us know at sombaseball@aol.com.
How to find out if a game is rained out
CODE-A-PHONE AND TWITTER
If the weather or field conditions are in question, there are 2 ways you can be informed:

1) Call the code-a-phone at 973-762-0748. If there is no announcement for the current day, activities are on as scheduled.

2) Set up a Twitter account to receive notifications. To do so, go to www.twitter.com, create a free account, and follow "SOrangeRec". Again, if you receive NO notice, all activities are on as scheduled.
You can also get updates sent to your cell phone without a Twitter account. Just send a text message that says "Follow SOrangeRec" (without the quotes) to 40404 and you will start receiving tweets from us on your device.

As a rule we ONLY POST CHANGES in the schedule on the code-a-phone or via Twitter. We will NOT post affirmative messages (i.e. "Games WILL be played). Therefore, if the message you hear on the code-a-phone is from a prior date, the current day's activities will proceed as scheduled.

The Recreation Department will try to post weather-related cancellations/changes as early as possible for weeknight games. However, it is not always possible or desirable to call games early in the day. The right kind of weather and some maintenance work can sometimes significantly alter the outlook. Fields that look unplayable at noon may be ready to play on by late in the day.

On weekends, we make every effort to post any changes in the schedule by 8:30 am or as necessary if conditions change throughout the day.

RESCHEDULING OF GAMES
The league will reschedule any games that are canceled due to bad weather or poor field conditions. The Demosphere schedule will be updated accordingly so please be sure to check regularly for updates and changes to the schedules.

What to do with the iron-on patch
IRON-ON PATCH INSTRUCTIONS
Each player will receive an iron-on Cal Ripken or Babe Ruth patch. It should be attached to the LEFT sleeve of his/her uniform. The patch is too thick for heat from an iron to go through the patch to melt the glue; so you must iron from the inside of the shirt.
Here are some simple instructions:
1. Set iron to highest (cotton) setting. Do not use water or steam.
2. Position the patch on the outside of the left sleeve. (Tip: use a safety pin to attach the patch in the correct position BEFORE turning the uniform inside out).
3. Turn the shirt inside out and place it on your ironing board so that you will be ironing the inside of the shirt sleeve, over the patch which now has the glue facing up.
4. Cover the shirt with a thin cloth such as a cloth diaper or dishtowel.
5. Press the iron firmly on the inside of the sleeve (which is now on the outside) for a FULL minute.
6. Let the shirt cool. Make sure all the edges have stuck to the shirt.
Picture Days - May 8 and 9
Picture Days: Individual and Team Photos on May 8th and 9th
The schedule for individual and team photos on May 8 and 9 is provided below.
Note: Babe Ruth teams do NOT take photos.
NOTE: ALL PHOTOS WILL BE AT THE SOMS GYM
Parents: The posted schedule can change. Please confirm the date & time with your coach if you have any questions.
To prepay online, got to www.bassettiphoto.com/prepay and enter code "SOMB" for baseball or "MSOS" for softball to view your order form. If you prefer, you can complete an order envelope (download the Handout below) and return it to the photographer on picture day. Coaches will also be handing out order forms shortly.
ALL players will be in the team photo but only those placing an order will be photographed individually.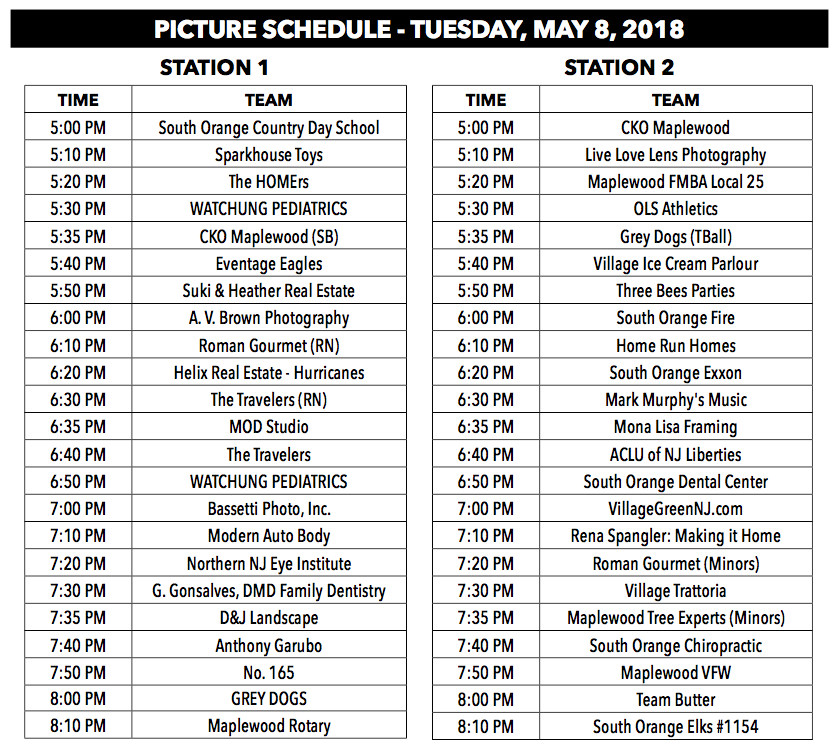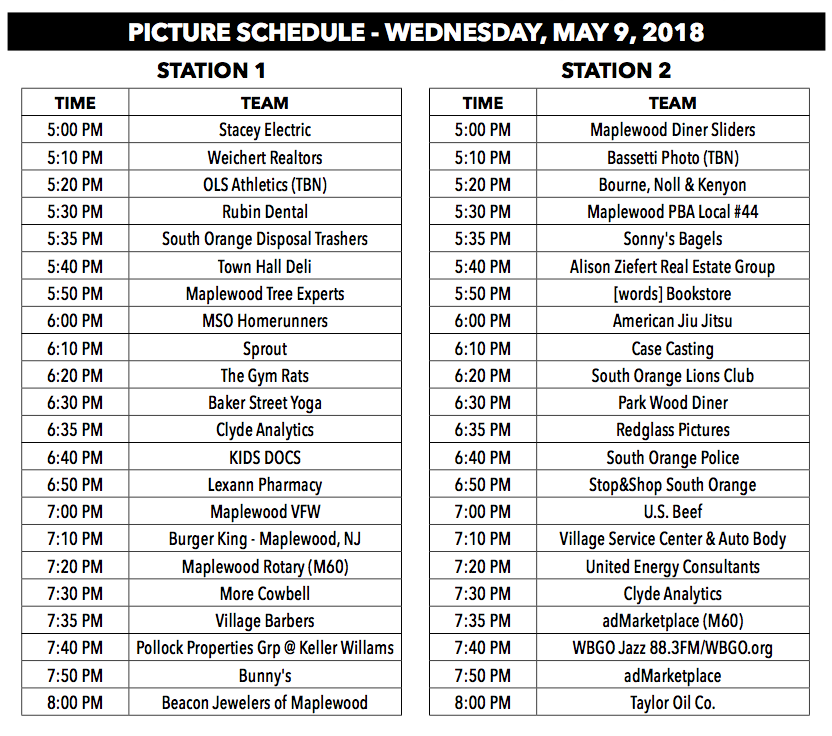 Handout:
2018 Picture Order Form
Summer Baseball Tryouts
COUGAR SUMMER BASEBALL TRYOUTS ANNOUNCED
All SOM Baseball players age 8-14 as of April 30, 2018 are eligible to try out for a Cougar summer baseball travel team. The Summer Travel Baseball tryout dates are set forth below. Please contact Matt Lefferts (mlefferts@fwrv.com) with any questions or concerns, or contact the coach for the applicable age group directly.
13/14: Chris Henry (chrishenrysportsinstruction@hotmail.com) and Lou Lombardi (louis.lombardi@gilmoregroup.com)
12: Chris Coreschi (coreschi@aol.com)
11: JD Robinson (me@jdrobinson.com)
10: Mark Calveric (mcalveric@gmail.com)
9: Mark Hall (mhall@foxrothschild.com)
8: Chris Caracciolo (chris.caracciolo@gmail.com)
PRE-REGISTRATION REQUIRED FOR TRYOUTS
Pre-registration for Summer Baseball began in February and many players have already pre-registered. If your child plans to tryout and has NOT pre-registered, please do so today.There is no cost for pre-registration. It is for planning purposes only.
To pre-register, send an email to recreation@southorange.org. Please put "summer baseball" in the subject line and include just your player's name and age as of April 30, 2018 in the email. That's all that is required for pre-registration.
Summer Baseball Tryouts Schedule
| | | | |
| --- | --- | --- | --- |
| Age group | Date | Time | Location |
| | | | |
| 13/14 | April 27 | 6:30 - 8:30 pm | Cameron Field |
| 13/14 | April 28 | 4:00 - 6:00 pm | Cameron Field |
| 13/14 | May 5 (rain date) | 4:00 - 6:00 pm | Cameron Field |
| | | | |
| 12 | April 22 | 1:00 - 3:00 pm | Meadowlands 3 |
| 12 | April 29 | 1:00 - 3:00 pm | Meadowlands 3 |
| 12 | April 28 (rain date) | 6:00 - 8:00 pm | Meadowlands 3 |
| | | | |
| 11 | April 22 | 1:00 - 3:00 pm | Meadowlands 1 |
| 11 | April 29 | 1:00 - 3:00 pm | Meadowlands 1 |
| 11 | April 28 (rain date) | 6:00 - 8:00 pm | Meadowlands 1 |
| | | | |
| 10 | April 20 | 6:00 pm | Meadowlands 1 |
| 10 | April 21 | 6:00 pm | Meadowlands 1 |
| 10 | April 22 (rain date) | 1:00 pm | Meadowlands 2 |
| | | | |
| 9 | April 28 | 6:00 - 8:00 pm | Meadowlands 2 |
| 9 | April 29 | 3:00 - 5:00 pm | Meadowlands 2 |
| 9 | May 5 (rain date) | 6:00 - 8:00 pm | Meadowlands 2 |
| | | | |
| 8 | May 5 | 6:00 pm | Meadowlands 4 |
| 8 | May 6 | 12:00 pm | Meadowlands 4 |
| 8 | May 12 (rain date) | 6:00 pm | Meadowlands 4 |
Coming this Summer - Cougar Baseball Camp
Coach Henry's Summer Baseball Camp
It's back!! Cougar Baseball Camp with Coach Chris Henry and his staff of former and current high school and collegiate players.
3 One-Week Camps
Week 1: June 25 - June 29
Week 2: July 2 - July 6 (4 days)
Week 3: July 9 - July 13
Ages 6-13 (must be 6 as of April 30, 2018)
Monday-Friday (except July 4)
9:00 a.m. to 3:00 pm
Meadowland Park, South Orange
This camp will focus on the basic fundamentals of baseball and instill the proper methods to improve and hone each player's skills, all while learning and enjoying this great game. Each camper will be exposed to the following:

• Proper mechanics/techniques of throwing a baseball
• Defensive techniques and strategy
• Fundamentals of the swing
• Mental Aspect of the "Game"
• Baserunning form/techniques
• Pitching, Catching, and Position Player Fundamentals
• Sportsmanship and Rules

Please see the handout for more details. Registration can be done by mail or in person at the Baird using the attached registration form OR online here: Online Registration for Cougar Summer Baseball Camp.
Handout:
2018 Summer Baseball Camps
Coaching and Volunteer Opportunities
Coaching and Volunteer Opportunities
The success of the South Orange Maplewood Baseball Program rests with the many volunteers who help out in a variety of ways. Adult volunteers are needed for all teams to serve as coaches, assistant coaches and team managers (descriptions can be found in the handout). If you are willing and able, please sign up when you register your child!
The necessary volunteer form (for coaches and ANY volunteer) can be downloaded from the link below.
Coaches need to ALSO fill out the Consent to Background Check, also available at the link below.

PARENT OF A NEW PLAYER? Don't let inexperience keep you off the field. MANY VOLUNTEERS are needed in coaching and supporting roles for our T-Ball and Rookie Leagues (the more the merrier)! SOM Baseball will offer coaches' training and instruction to support all our new and returning coaches.
If you have any questions, please come to one of the registration sessions - coaches will be on hand to describe the program in detail.
HEAD COACH – The Head Coach has the primary responsibility of dealing with players and parents. He/she has final decision in all baseball matters.

ASSISTANT COACH – An Assistant Coach has the responsibility of helping the Head Coach.
Coaching volunteers are required to attend the Rutgers S.A.F.E.T.Y. Clinic (one time only). The Rutgers' course will be offered at the Baird in South Orange in March 28th for all new coaches.
Questions? Contact Kate Schmidt at the South Orange Department of Recreation & Cultural Affairs, 973.378.7754, ext. 1
Handout:
2018 Coach and Volunteer Form
Baseball Committee Opportunities
Baseball Committee Opportunities
The South Orange Maplewood Baseball Organization is divided into several subcommittees which meet year-round, working with the Recreation Departments, constantly reviewing and improving the baseball program. New volunteers are always needed. Please pick an area (or areas) where you would like to participate and contact the committee chair to find out when/where they will be meeting. ACT NOW!! Your kids thank you for your help!

BASEBALL SUBCOMMITTEES:


REGISTRATION AND PUBLICITY: Responsible for organizing registration, keeping track of registration names and forms, placing articles in News Record, Gaslight, web site, getting flyers to schools. Contact Mark Calveric.
UMPIRES: Responsible for recruitment, training and scheduling of umpires. Contact Matt Greenblatt.


COACHES: Team assignment, qualifications and training. Contact Doug Sasfai.
T-Ball and Rookie League Commissioner: Contact Mark Hall.


COACHES' TRAINING: Responsible for planning and scheduling of training and instructional clinics/seminars for development of players and coaches. Contact Chris Nomura and Chris Henry.


PLAYER EVALUATIONS/DRAFT: Responsible for designing the tryouts and subsequent drafts for the Minors, Majors and Babe Ruth divisions and the team formation for the younger divisions. Contact Lou Lombardi and Dave Maitlin.


GAME AND FACILITY SCHEDULES: Responsible for preparing the master schedule for the fields and facilities and scheduling make up games. Contact Patti Coleman.


RULES: Responsible for reviewing and publicizing league rules and working to resolve any conflicts that arise. Contact Ed Matthews.


SPORTSMANSHIP: Responsible for addressing Code of Conduct issues, sportmanship issues and team/player and coach conflicts. Contact Bob Hugel.


FACILITIES: Responsible for working with public works and the recreation department to improve the facilities. Also organize Parent work weekends. Contact Mike Pierre.


FUNDRAISING: Contact Jerry Donaty.


SPECIAL EVENTS: Contact Rob Chibbaro.


SUMMER PROGRAM COMMITTEE: Responsible for Summer League calendar, teams, coaches, etc. Contact Matt Lefferts.


Send Us an Email
Please click here to send an email to South Orange Maplewood Baseball.
2018 Bat Standards
2018 Bat Rule Changes
Cal Ripken Baseball Division - All non-wood bats must have USABat Marking. Barrel Maximum 2 5/8". No BBCOR Bats are permitted in the Cal Ripken Division. For T-Ball, bats must be marked with USABat T-Ball Stamp.

Babe Ruth 13-15 Division - All non-wood bats must have the USABat Marking or marked BBCOR .50. Bat Barrel - 2 5/8".
Note: Solid one piece wood bats are permitted for use in all divisions and must conform to Rule 1.10. No laminated or experimental bats shall be used in a game.
Tampering or altering bats may violate certain federal and state laws and voids the USA Baseball certification, as well as all manufacturer warranties. Rolling is considered tampering and would void the bat's certification and make it illegal for play.
Please visit https://baberuthleague.org/bat-rules.aspx for the updated league bat rules.


Please visit https://usabat.com/ for a list of approved bats.