Admin

South Orange Maplewood Baseball

South Orange, New Jersey

07079
Come to a 19th Century Baseball Game at Cameron Field!
Calling all baseball-lovers and history-buffs: South Orange Recreation and the Historic Preservation Commission are presenting a 19th century baseball game on Saturday, September 20, starting at 12:00 noon at Cameron Field in South Orange. This is the 100th anniversary of the field where Lou Gehrig and Babe Ruth once played. The event is free and open to all.
Part game, part show, part history lesson and ALL fun, the Flemington Neshanock Team will play against local volunteers in bare-handed baseball, wearing period uniforms and using rules from 1864 or 1873. The event will also include a short lesson on the history of the game and a recitation of "Casey at the Bat" as well as a few interesting surprise appearances.
As New Jersey celebrates its 350th anniversary, this event also commemorates the state's role in baseball history: Hoboken's Elysian Fields was the location of the first officially recorded game of organized baseball, on June 19, 1846, when the New York Nine beat the New York Knickerbockers, 23-1.
2014 Fall Ball
Register for Fall Baseball begins on August 1.
Space is limited and EARLY REGISTRATION IS ENCOURAGED.
REGISTER ONLINE AT WWW.THEBAIRD.ORG OR AT THE BAIRD WITH THE ATTACHED HANDOUT.
Fall Baseball is under the direction of Chris Henry. Chris is a High School Baseball Coach and Certified Personal Trainer. Assistant instructors will include former and current High School players. Questions? Contact Coach Henry at chrishenrysportsinstruction@hotmail.com.
GRADES 1-2
Players will meet once-a-week on Mondays for six weeks, beginning September 8. Each session will consist of warm ups, throwing drills, an offensive and defensive "drill of the day" and a game that will make practice fun. Two sessions will be offered:
Session I: Meadowland #3, 4:00-5:15 pm, Mondays, September 8, 15, 22, 29, October 6, 13*
Session II: Meadowland #3, 5:30-6:45 pm, Mondays, September 8, 15, 22, 29, October 6, 13*
*Potential Rain Dates: October 20 and 27
GRADES 3-6
Beginning the week of September 8, players will meet twice-a-week, on Tuesday OR Wednesday (OR Thursday for grades 5-6) AND Saturday*. Players will register for a group session that will consist of no more than 12-15 players. These groups will practice as a "team" during the weekday session and then play together in a game on Saturdays. All practices and games will be played in Meadowland Park, field #3. Saturday games will be played in Meadowland Park at 9:00 am or 11:00 am. Download the handout for specific dates and times.
ABOUT THE PROGRAM
The fall baseball program includes a significant instructional component. Focus will be on the basic fundamentals of baseball and aim to improve and hone a player's skills. Players will be exposed to:
proper throwing mechanics

defensive techniques, fundamentals of the swing

mental aspect of the game

base running

pitching, catching and/or position play

sportsmanship and rules
This fall baseball program will run for six weeks, beginning the week of September 8. PLEASE NOTE: Weekday sessions will NOT be rained out—practices will be held in the batting cages. Saturday games WILL be rescheduled in the event of inclement weather.
Registration begins August 1. REGISTER EARLY TO GET YOUR FIRST CHOICE OF SESSIONS! All sessions will be limited to no more than 12-15 players.
*SCHEDULING NOTES: There will be no session held Saturday, October 4 (Yom Kippur).

The REGISTRATION FORM and Scheduling Information can be downloaded in the attached handout.
Handout:
2014 Fall Ball
Photos from All Star Games
Enjoy these photos from the M60 and M70 All Star Games held on June 4, 2014.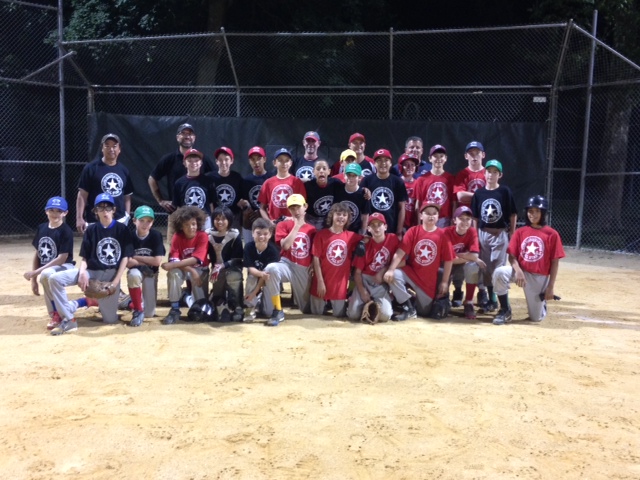 M70 All Star Participants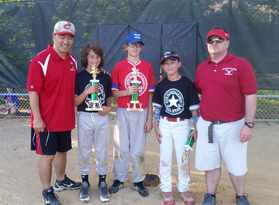 M60 All Stars Skills Competition Winners
9U Cougars win Memorial Day Tournament
The South Orange Maplewood Cougars 9U team completed a sweep of the Mount Olive Memorial Day Tournament by winning 6 of 6 games, including a scintillating win in the semi-finals against the Peapack Pirates. Down 11-5 in the bottom of the 6th inning, they made a miraculous rally to tie the game and send it to extra innings. Nicolas Lorenzo cleared the bases with a long triple, and then came home on a throwing error by the Pirates. Again, down 2 runs in the bottom of the 8th inning, the Cougars refused to lose and scored 3 runs to win 14-13. That win sent them to the Championship game where they beat Kinnelon 11-4 to cap their undefeated weekend. Congratulations to the boys for their tireless effort, and to all of the coaches and parents who support them.
Front row: Official team mascot Liam Johnson
2nd Row L to R: Nicolas Lorenzo, Alejandro Lorenzo, Dominic Starzynski, Alex Chibbaro, Jack Kalsched, Jake Gewirtz
3rd Row: Nick Williams, Brandon Doubek, Matthew Motiwalla, Dylan Sullivan, Zach Johnson, Nico Reyes
4th Row: JC Lorenzo, Joe Doubek, Head Coach Eddie Starzynski, Rob Chibbaro
| | |
| --- | --- |
| Please click here to send an email to South Orange Maplewood Baseball. | |
Coaching and Volunteer Opportunities
The success of the South Orange Maplewood Baseball Program rests with the many volunteers who help out in a variety of ways. Adult volunteers are needed for all teams to serve as coaches, assistant coaches and team managers as well as scorekeepers and summer baseball coaches (descriptions can be found in the handout). If you are willing and able, please sign up when you register your child! The necessary volunteer form (for coaches and ANY volunteer) can be downloaded from the link below. Coaches need to ALSO fill out the Consent to Background Check, also available at the link below.

PARENT OF A NEW PLAYER? Don't let inexperience keep you off the field. MANY VOLUNTEERS are needed in coaching and supporting roles for our T-Ball and Rookie Leagues (the more the merrier)! SOM Baseball will offer coaches' training and instruction to support all our new and returning coaches.
If you have any questions, please come to one of the registration sessions - coaches will be on hand to describe the program in detail.
HEAD COACH – The Head Coach has the primary responsibility of dealing with players and parents. He/she has final decision in all baseball matters. Coaching volunteers are required to attend the Rutgers S.A.F.E.T.Y. Clinic (one time only) or complete the comparable coaches' certification course offered online by the Babe Ruth organization. The Rutgers' course will be offered at the Baird in South Orange on Wednesday, March 19 from 7-10 pm for all new coaches.

ASSISTANT COACH – An Assistant Coach has the responsibility of helping the Head Coach. Coaching volunteers are required to attend the Rutgers S.A.F.E.T.Y. Clinic (one time only) or complete the comparable coaches' certification course offered online by the Babe Ruth organization. The Rutgers' course will be offered in South Orange in March (date TBD) for all new coaches.
Handout:
2014 Coaching and Volunteer Form
Baseball Committee Opportunities
The South Orange Maplewood Baseball Organization is divided into several subcommittees which meet year-round, working with the Recreation Departments, constantly reviewing and improving the baseball program. New volunteers are always needed. Please pick an area (or areas) where you would like to participate and contact the committee chair by email or telephone to find out when/where they will be meeting. ACT NOW!! Your kids thank you for your help!

BASEBALL SUBCOMMITTEES:


REGISTRATION AND PUBLICITY: Responsible for organizing registration, keeping track of registration names and forms, placing articles in News Record, Gaslight, web site, getting flyers to schools. Contact Les LeAndre at (973) 763-2948.


UMPIRES: Responsible for recruitment, training and scheduling of umpires. Contact Chip Nolet at pesimach@aol.com.


COACHES: Team assignment, qualifications and training:
T-Ball and Rookie Leagues: Matt Lefferts at mcl@fwrv.com or (973) 275-1333.
Minor, Major and Babe Ruth Leagues: Doug Sasfai at dsasfai@verizon.net or (973) 275-0914.


PLAYER & COACHES' TRAINING: Responsible for planning and scheduling of training and instructional clinics/seminars for development of players and coaches. Contact Chris Nomura at chris.nomura@gmail.com.


TRYOUTS AND TEAM SELECTION: Responsible for designing the tryouts and subsequent drafts for the Minors, Majors and Babe Ruth divisions and the team formation for the younger divisions. Contact Chris Coreschi.


GAME AND FACILITY SCHEDULES: Responsible for preparing the master schedule for the fields and facilities and scheduling make up games. Contact Patti Coleman at (973) 378-7754 x 2237 or pcoleman@southorange.org.
RULES: Responsible for reviewing and publicizing league rules and working to resolve any conflicts that arise. Contact Ed Matthews at 973-714-9399 or Ed Matthews.
SPORTSMANSHIP: Responsible for addressing Code of Conduct issues, sportmanship issues and team/player and coach conflicts. Contact Bob Hugel.
FACILITY MAINTENANCE: Responsible for working with public works and the recreation department to improve the facilities. Also organize Parent work weekends. Contact Bill Fitzsimmons at (973) 378-2517 or billfitz44@gmail.com or Mike Pierre at mpierre218@gmail.com.
FUNDRAISING: Co-Chairs: Dan Fleetwood (917-292-8028) and Chris Henry.
PARADE: Contact Scott Lewis.
SUMMER PROGRAM COMMITTEE: Responsible for Summer League calendar, teams, coaches, etc. Contact Bill Krais.