Snake River Juniors Volleyball: Welcome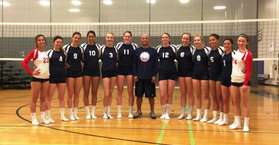 DALLAS, TEXAS...HERE WE COME!!
(Pictured left to right) Jaclyn Schumacher, Ireland Mayfield, Emilee Schlader, Santana Jose, Savannah Ruark, Diana Logan, Coach Keo Millan, Brett Hastings, Halle White, Lake White, Erin Kwiatkowski, Makayla Wilson, and Kayla Snyder.
Congratulations to the 16-1 team for winning a bid to Nationals at ERVA Regionals and for finishing their regular season as the top-ranked 16s team in the region. They will be representing Snake River Juniors and the Evergreen Region at the 2013 USA Volleyball Girls' Junior National Championships in Dallas, TX this summer...ATTA GIRLS!!