South Lyon Unified Varsity Hockey: Alumni
South Lyon Varsity Hockey Annual Alumni Game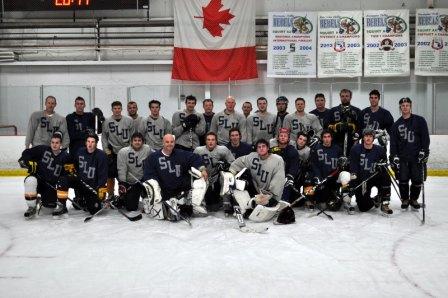 South Lyon Varsity Hockey Alumni Game
The South Lyon Varsity Hockey Boosters are looking for former South Lyon hockey players and coaches for the annual Alumni game. Game for 2012 is December 29 @ 4:30 PM.
Game format is Alumni vs Alumni. To make the game possible, it is important that we have at least 30 skaters and 2 goalies to register for the event. This is a fun evening of hockey and the opportunity to catch up with former teammates, other South Lyon Hockey Alumni and a chance to meet current players and coaches.
$20 fee to skate -Payable at registration
Pizza and pop for players at the Top Shelf following the game.
If interested contact Julie Robertson at hotchip5@aol.com
**If you know of former teammates please share and encourage them to participate.*
* Be sure to check the website for updates .
WHERE ARE THEY NOW????
The Class of 2012 has several of the team members continuing their hockey careers.
Take a look and see where they are at.
Keep scrolling down for an update on former graduates, their status and acheivements.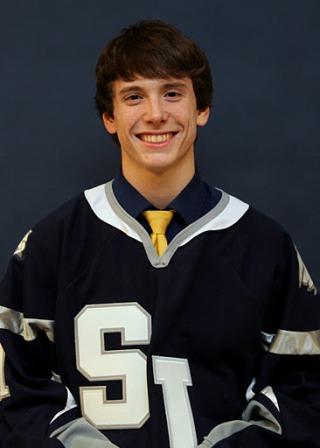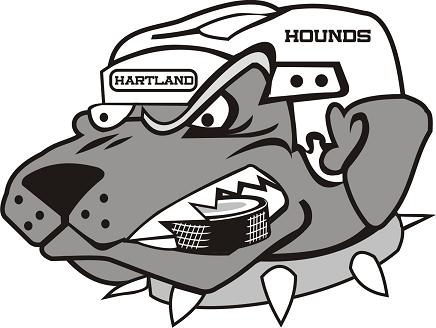 Brad Savard – a three year varsity member. Brad has chosen to continue his hockey career and to play for the Hartland Hounds Junior team in the Midwest Junior Hockey League while attending Eastern Michigan University.
Jake Taiariol – A two year varsity member. Jake is playing for the Western Michigan University Stallion's club team while attending WMU.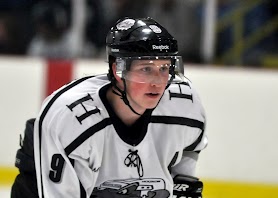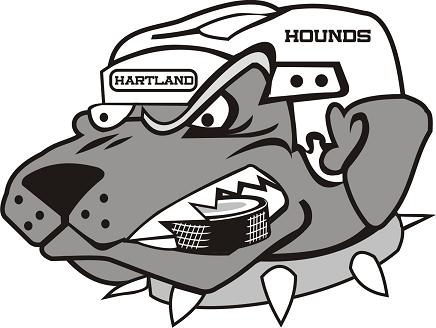 Jared Vincek – A four year Varsity Member. Jared is playing for the Hartland Hounds Junior team in the Midwest Junior Hockey League. MWJHL and was recently selected Alternate Captain by his teammates.
Jared is currently taking online courses.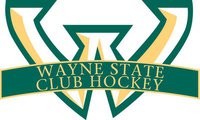 Zach Zitnik – three year Varsity Member who is playing for the Wayne State Warriors Club team while attending Wayne State University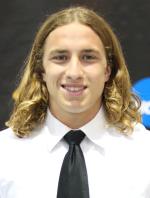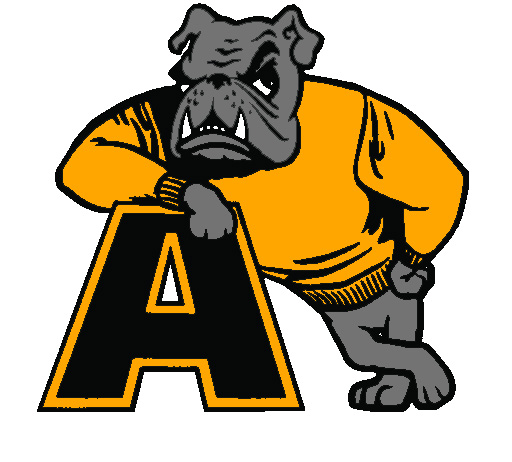 Ryan Betz, a three year Varsity member is playing Football and Club hockey at Adrian College. Ryan has recently been selected as Alternate Captain for the Bulldogs!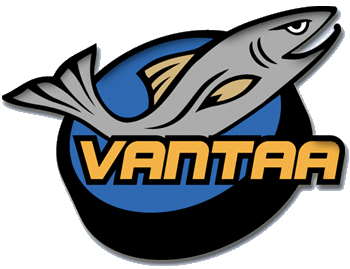 2012 guest student -J.P Mäki-Lohiluoma – is playing for the Kiekko-Vantaa U20 team in the National First Division
---
Updated information on a couple former graduates and where they are now. Congrats to Mike, Jake and Luke, keep working your dream.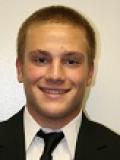 2011 graduate Luke Dmytro has joined the Duluth Clydales in Duluth, MIN in the Superior International Hockey League (SIJHL). This Program is part of the Canadian Jr Hockey League. We look forward to hearing big news from you! Good Luck!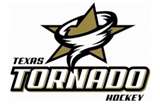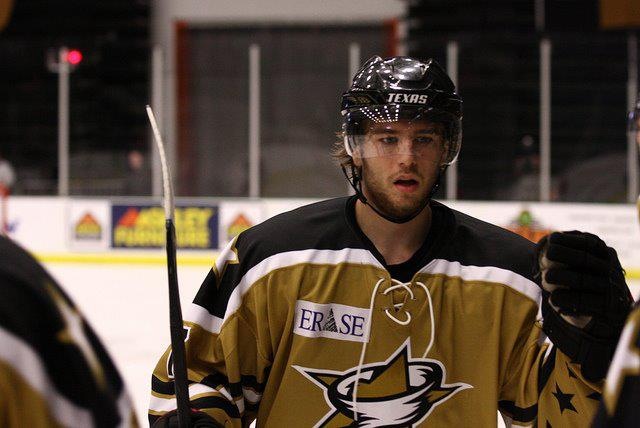 2010 graduate and former Varsity Captain, Mike Hoy returns to skate with the NAHL JR A Texas Tornado. Mike was selected as an Alternate Captain for the Tornados' 2012-2013 season. Keep up the good work Michael!


2009 SL Graduate Jake Green A senior this year at Hope college. Jake was awarded ACHA Academic All-American Honorswas following the 2011-2012 season. Jake also continues as an Alternate Captain with the Varsity Team at Hope College fo the 2012-2013season. Congratulations #23!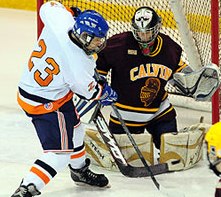 More Alumni who continued on the ice......
Class of 2010
John Slavik Boston Jr. Blackhawks
Class of 2009
Nick Dirado WSHL Jr A. Tulsa Rampage
Mark Mroz Northern Michigan University Club
James Stratton Northern Michigan University Club
Class of 2008
Rob Kalinski Lake Superior State University Club
Brad Gicopolous Northern Michigan University Club
Nathaniel Johnson Eastern Michigan University Club
Class of 2007
Ryan Tubbs Ferris State University Club
__________________________________________________________________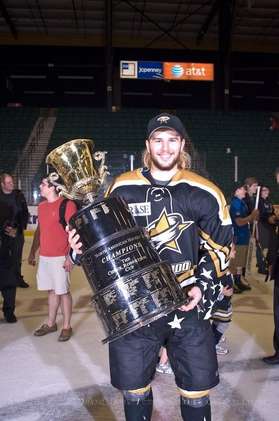 Former SL Captain - Texas Tornado defenseman Mike Hoy # 7
Thursday, June 14
2010 Alumni Mike Hoy and Texas Tornadoes National Champs
Congratulations to Mike Hoy - a former South Lyon team Captain and Junior Blackhawk Captain!!.
Mike along with his Tornado teammates captured their 4th Gold Cup National Championship and 5th Robertson Cup as NAHL League Champions.'The transition from the IJ to the NAHL wasn't so hard because of all I learned in Boston"
Mike Hoy former Blackhawk Captain along with his Tornado teammates captured the Gold Cup and Robertson Cup Championships in Frisco,Texas Tuesday May 8th. Hoy, who was an IJHL All Star with Boston in 2010-2011 season played a huge part in the Championship game. With 4:07 left he stickhandled from his point position and fed a perfect one time pass to Jordon Lovick who blasted a slapshot tally to tie the game at 3.
Texas was involved in 4 overtime games in the tourney. They actually almost played their Division partners in the final. Amarillo, which is owned by the same principal group as Texas lost to St Louis in the semifinal game.
The IJHL which has saw many of their former players transition to the NAHL over the years look to get all of their teams with working relationships with the league.
The championship game saw St Louis hold a 3-2 lead until Lovicks score tied the game. Texas oushot the Bandits 38-22 and St Louis did have a shot on goal the last 15 minutes of the contest.
The Boston Junior Blackhawks have been the Tornado afiliate for 14 years since the teams inception in 1998. Many Blackhawk players have been instrumental in the teams success as well being callups when injuries left the team short over the years.Robbie Lalonde from Buffalo was developed in Boston and was the NAHL's # 1 Draft Pick, who later was directed to Merrimack and played many pro seasons as well as time in the AHL.
Hoy, who was directed to Boston by ex NHL player Bill McCreary who was Hoys high school coach at South Lyon in Michigan. Texas who has also coached Mark Messiers son Lyon as well as Craig Ludwigs two sons Trevor and Tyler has been a hotbed of hockey talent and has 16 players attain NHL contracts. Among them Al Montoya, Ben Bishop, and Stephane Da Costa.
Coach Tony Curtale lauded Hoy. 'Mike played great and really took care of business out there" Curtale whose team finished third in the Soutwest division really motivated his team with three late comebacks. A great time out late in game two of the round robin challenged his team , they would respond with the game tying goal late to help them advance.
Hoy, is an excellent student and still has a year or eligibility left as a 1992 birthyear. He is undecided about his plans for next season but has caught the eye of many college coaches. He has been a high plus player the entire season. He makes great breakout passes and his turnovers are among the teams lowest.Hoy, typically a defensive defenseman does have great offensive skills as his pass on the game tying goal showed.
Mike Hoy commented " The Boston Junior Blackhawks organization really helped me progress into a stronger player. Getting the chance to learn from Kevin Kotyluk (IJHL Coach of the Year) was great. During practice we would work on developing our skills and becoming better hockey players,as well as systems and reading different situations. The transition from the IJ to the NAHL wasn't so hard because of all I learned in Boston. Behind the scenes, you have done an incredible job at promoting your players and getting them chances to move on and further our hockey careers. Thank You for everything you have done for me, I really appreciate it all"
Curtale with over 600 junior wins and regarded as one of the best junior coaches in the business was focused throughout the entire 6 day tourney. He added with a hoarse throat " I told them you can lose a few battles along the way, just don't lose the war " The Tornadoes did just that as they would not be denied in the end.
From: International Junior Hockey League website
CONGRATULATIONS SENIORS AND GOOD LUCK! WE WISH YOU THE BEST!
2012 Senior Class 2011 Senior Class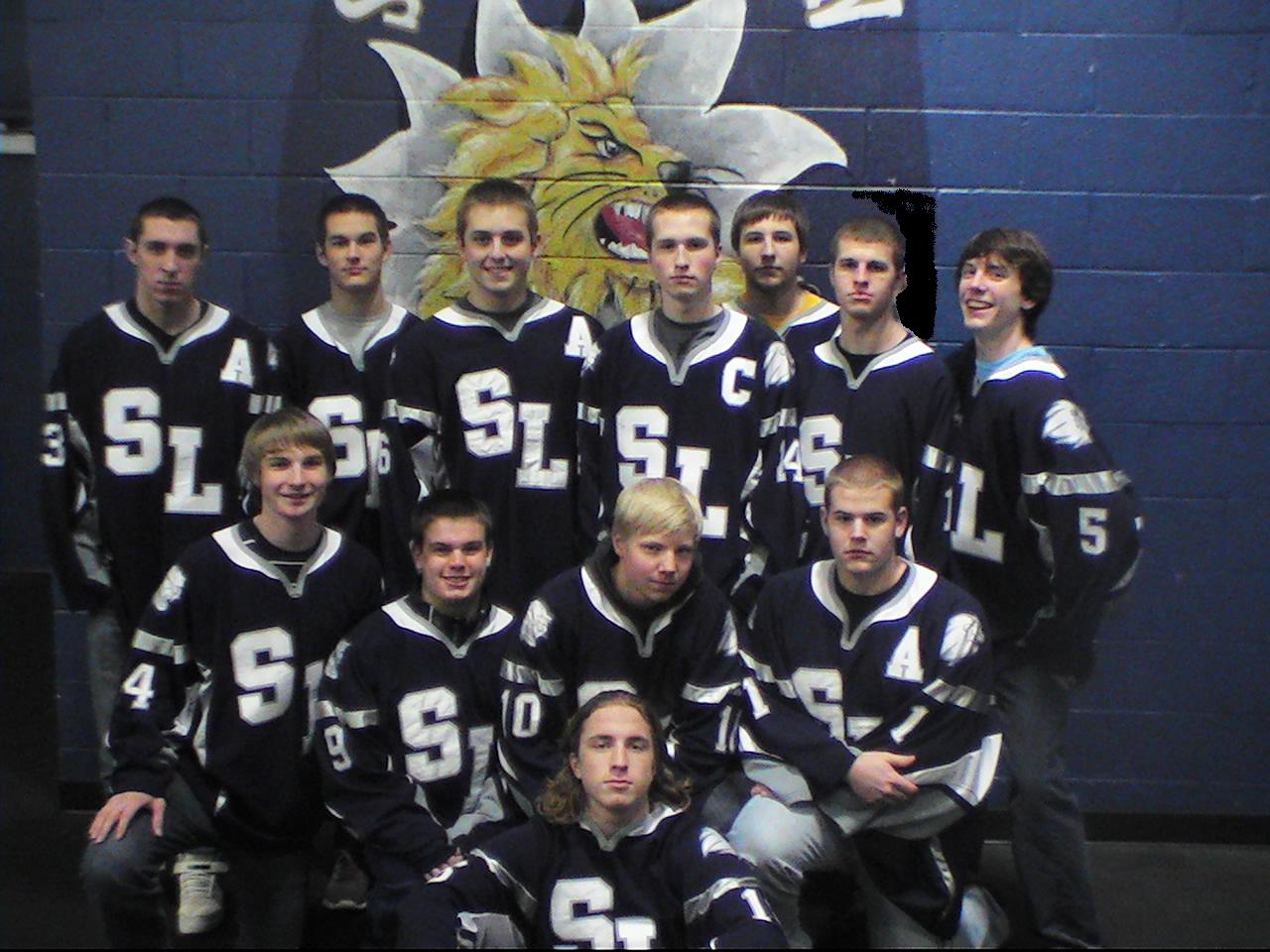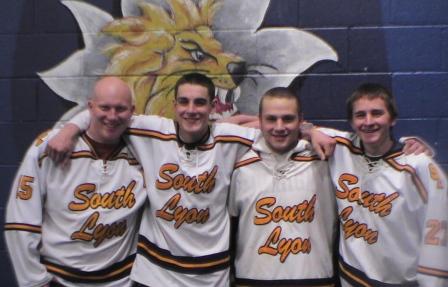 2010 Senior Class 2009 Senior Class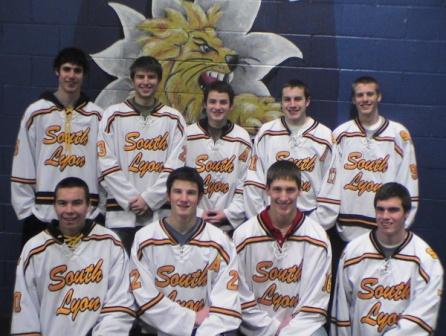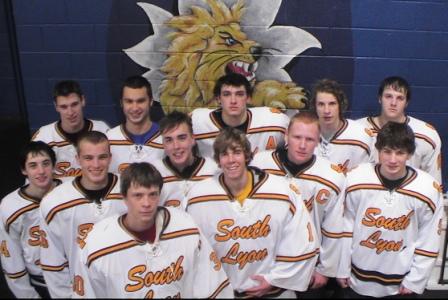 CAPTAINS
2011-2012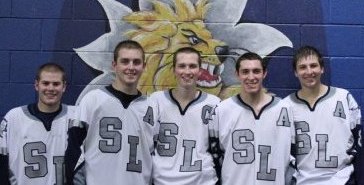 Carnevale, Tittle, Vincek, Burton, Zitnik
2010-2011 2009-2010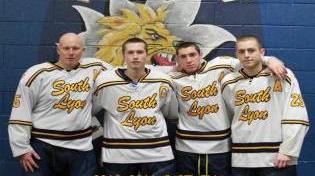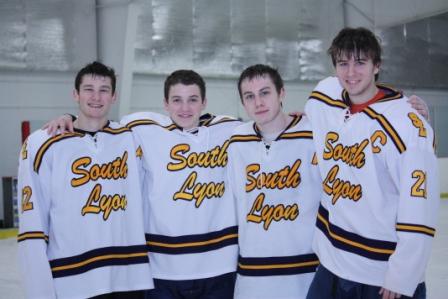 Kasper, Vincek, Burton, Tittle Eckler, Skvarce, Diroff, Hoy
2008-2009 2007-2008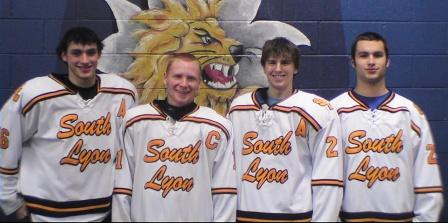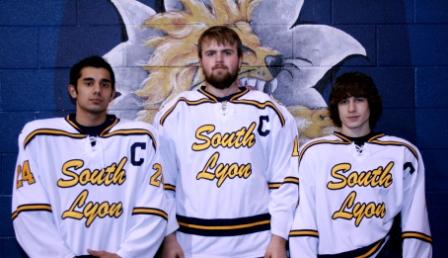 Goss, Eckler, Hoy, Dirado Johnson, Korpi, Kalinski
LOOKING FOR SOUTH LYON VARSITY ALUMNI PLAYERS
Dear South Lyon Hockey Alumni,
We know that a hockey player's time with the team is a tremendous experience and that lifelong friendships result.
We feel that it is important to maintain the lines of communication between Alums, Coaches and current team members. The Boosters are hoping that this section of our website will assist in that effort.
At South Lyon, "It's all about the Pride", and as alumni, you will help to carry on the proud South Lyon tradition for many years to come.
Please help us locate Hockey Alumni and keep contact information current by filling out the form below.
Remember When….
South Lyon Hockey is rich with many traditions. On December 26th of 2010, one of those traditions lived on.

32 former Varsity graduates returned to lace up those old skates, share some old game memories and once again put on the South Lyon Hockey jersey.

Even though the equipment may be a little tighter, and the body not as conditioned, they all enjoyed in the fun.

Returning players included graduates from 1982-2010.

They came as far away as Tulsa and Boston just to reunite with their "Family".

Some are currently on the ice playing at the next level, whereas others just come back once a year to take part in the fun and camaraderie only they can understand.

Even though they return for fun, they still play to win.

The Gold team had a 2 goal lead with less than two minutes to go, when the blue team called a time out to strategize (or maybe just to catch their breaths.) The time out was put to good use as the blue team fought back and scored 3 unanswered goals with the game winner scored at the buzzer.

Yes, Tradition is strong in South Lyon hockey and this Alumni game is one that will continue for years to come.