Lake Forest Little League: Welcome
Angels Day 2016
ANGELS DAY IS COMING!
Tickets go on sale March 7th!
Join Lake Forest Little League and District 55 during our annual Little League Day at Angel Stadium.
"Angels Day" is an exciting, memorable event where THOUSANDS of Little Leaguers from all over Orange County come out to the ballpark in their uniform to march around the warning track of Angel Stadium in a very special Pre-game Parade. The fun doesn't stop there.... when it's time, grab your favorite game snacks, find your seat and get ready to cheer on your team to a victory!
Game Details:
Los Angeles Angels vs. Baltimore Orioles
Date:

Sunday, May 22, 2016

Game Time:

12:35 pm
Ticket Prices:

$35 Terrace All-Star (Wheelchair & Companion seating available)
$30 Field Box
$25 Lower View MVP
$23 Club Loge
$21 Left Field Pavilion (Wheelchair & Companion seating available)

* parking fees not included
Teams, families, friends etc... are invited to attend. Pre-game Parade is intended for uniformed Little League Players, Coaching Staff & Team Parents only.
Tickets go on sale Monday, March 7, 2016. Contact your team parent to purchase your tickets. Tickets sell out, so don't delay!
BACK BY POPULAR DEMAND for Angels Day 2016 - Purchase raffle tickets to give players between the ages of 9 and 16 a chance to represent LFLL as an on-field participant. This unique experience will give TWO lucky winners an opportunity to sit in the Angels dugout prior to the game or possibly interact with the players for autographs etc… See your team parent for additional details and to purchase raffle tickets. Raffle tickets are $1 each.
See you at the ballpark!
Lake Forest Little League 2016 Spring Registration
Spring 2016 Registration is open!!!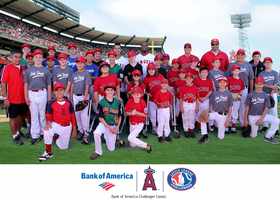 2015 BofA Challenger Classic
Monday, November 2
2015 Challenger Classic
Click
HERE
for the OC Register article about this year's Bank of America Challenger Classic.
Lake Forest Little League
25422 Trabuco Rd
Suite 105 #472
Lake Forest, CA 92630
email:
info@lfll.org
---
Lake Forest Little League is proudly sponsored by: