NascarTire.com: Display Ideas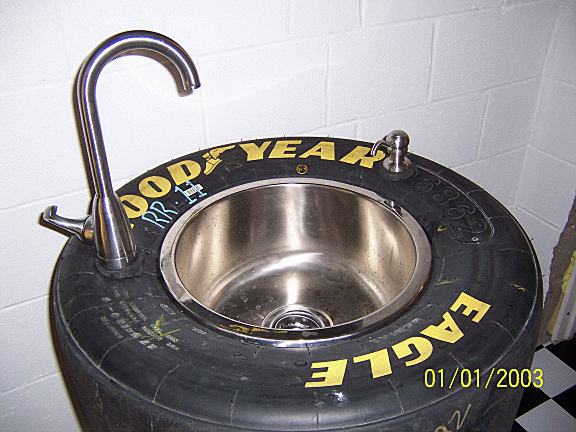 Tire Sink & Mirror

Wall Displays
Example: #25 Bobby Hamilton Jr. Marines Ford Taurus

Mount Your Tire On The Wall
And Include A NEON Number
Of Your Favorite Driver To The Center Of The Tire.

You Can Add A Picture Of Your Favorite Driver,
To The Center Of The Tire (like the picture below).

Maybe Even Use Some Imagination,
And Insert A Finished Piece Of Wood,
As A Shelf, And Display Your Dicast Cars Inside.

I Have Many Ideas On Wall Mounting,
E-Mail Me For More Information At:
TirePitStop@yahoo.com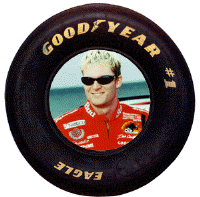 Driver Photos Not Yet Availiable
Tire Tables
Click On Image For Pricing

Want To Be The Talk Of The Neighborhood?
How About A Table That Is Simple To Assemble,
Yet Will Be A Unique Addition To Your Game Room,
Basement, Or Bar!

Plus, This Table Can Be Used As A Game, Sports,
Coffee, Or End Table.

Use Different Design Variations To Make Your Table "One Of A Kind".
Just Add A Round Piece Of Tempered Glass To The Top Of The Tire.

You Can Buy Your Tire Table Base HERE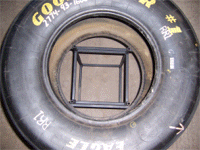 Click On Image For Pricing
Tire Table Bases
Click On Image For Pricing

Professionally Welded Steel Tire Table Bases,
Comes Painted Black And Will Fit Any
Nascar 15" Tire And Our Nascar Innerliners.
Click HERE For Pricing On Our Tire Table Stands.
Dart Boards
Dart Boards Not Yet Availiable

Add A Dart Board To Your Winston Cup Tire
And Make A Unique Display Of Your Tire.