Wednesday, January 3


SITE LAUNCHED


At 3:21 - we had lift off !!! WOW



Aims & Objectives:




The idea of these materials is to give the reader something to think about, and then to contact me and allow me to assist them.

My aim is to spread the word about the powerful influence of the mind, and developing the Teaching, Learning, Coaching and Performance of American FOOTball in the UK.

My longer term plan is to collate my experience, knowledge and resources to write a "book" based on the Teaching, Learning and Coaching of American FOOTball, with an emphasis on mental rather than physical, technical or tactical aspects. I am aiming it towards a more European market, rather than a USA market, as the culture we have over here (and particularly in the UK) is not the same towards FOOTball.

I have a outline as to what the "book" will contain, and am currently refining my ideas. As well as this, the various work I do with American FOOTball teams/coaches is continuously giving me new ideas.

If you know anyone else who might find this information useful, please tell them to contact me. And I'd be really interested to hear any comments/thoughts you have.



Mental Skills with the Woodham Warriors


I am the Mental Skils Coach and Team Advisor for the Woodham Warriors, a Flag FOOTball team who qualified for the NFL World Championships in New Orleans in August 2007, and consequently are the 7th best team in the WORLD !!! They are a superb bunch of players (boys and girls), who will take UK American FOOTball by storm over the coming years. It is great working with them, and Head Coach Jon Tait (BAFCA Coach of the Year - 2008).

See www.WoodhamWarriors.com for more details.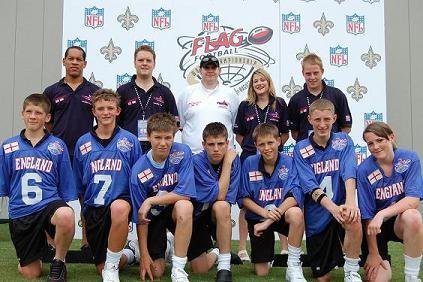 Woodham Warriors @ NFL World Championships, New Orleans,