: Welcome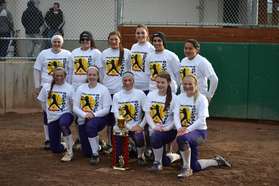 Sudden Impact - 2013
Sudden Impact is a 18A team headquartered in Federal Way, Washington.
For the 2014 season, we will be fielding a 18A team. If you would like to tryout for Sudden Impact, please send an e-mail to SuddenImpactFP@gmail.com to join us for a practice.
The 2014 team will be coached by Taylor Trautman who was a 4 year standout fastpitch softball player for Central Washington University. Since her graduation from CWU, Coach Trautman has served as an assistant coach on travel and HS teams and is eager to help our players get to the next level. Coach Trautman is a hard worker and expects the same out of her players.
Sudden Impact has committed athletes that want to become better fastpitch players, play at the highest level, and have a lot of fun while doing it.
Our Program features:
ASA Junior Olympic Affiliation

Long Standing Championship Tradition

Pitching instruction with former college/pro coach Teresa Wilson

Hitting with former PLU Assistant Coach Phil Scott

Practices at Secure Indoor & Outdoor Facility

Pitching / Hitting Tunnels

The Sudden Impact program is a select fastpitch team headquartered in Federal Way Washington. Our team motto is "building champions on and off the field." We ask our parents and players to understand and value the power of good sportsmanship, role modeling, and success in the classroom. As we navigate the playing field, we ask our players to give 110% and in doing so they will realize the rewards consistent with playing competitive fastpitch at the highest level.

We expect all players to make a strong commitment to fastpitch during the season as we try to guide our teams to the highest level of play. But most importantly, we believe that to be successful we must play hard, play smart and also have FUN!

We would like to give a special thanks to our Sponsors. Without them, we would not be able to achieve some of the goals that we have set out to accomplish. Please click on our Sponsor's link on the left.

"The single most important thing about winning is knowing that you can"
Bobo Brayton 1975 ~Washington State University