Simi Youth Baseball: Welcome
Spring teams are formed. For late registration, please contact your division player agent.
PONY Baseball has OPENED BOUNDARIES for our Region. Come Play at Simi Youth and be eligible for All-Stars with No Penalties.
---
Important Upcoming Dates:
Feb 28: Opening Day Events start at 8am

Manager's Game - 2:00-3:30pm
1st Games start at 3:30pm (3:00pm Shetland field)

March 1: Picture Day & Games All Day
March 21: Casino Night (Denim & Diamonds at Lost Canyons GC)
March 30-April 5: Spring Recess & Easter Sunday (no games)
March 30-April 3: SYB Baseball Camp (by Jay Lucas Baseball)
May 3: SYB Dodger Day (no league games - Puig Jersey Giveaway for Kids)
May 16: Closing Day and Championship Games at 9:00am (Pinto through Pony)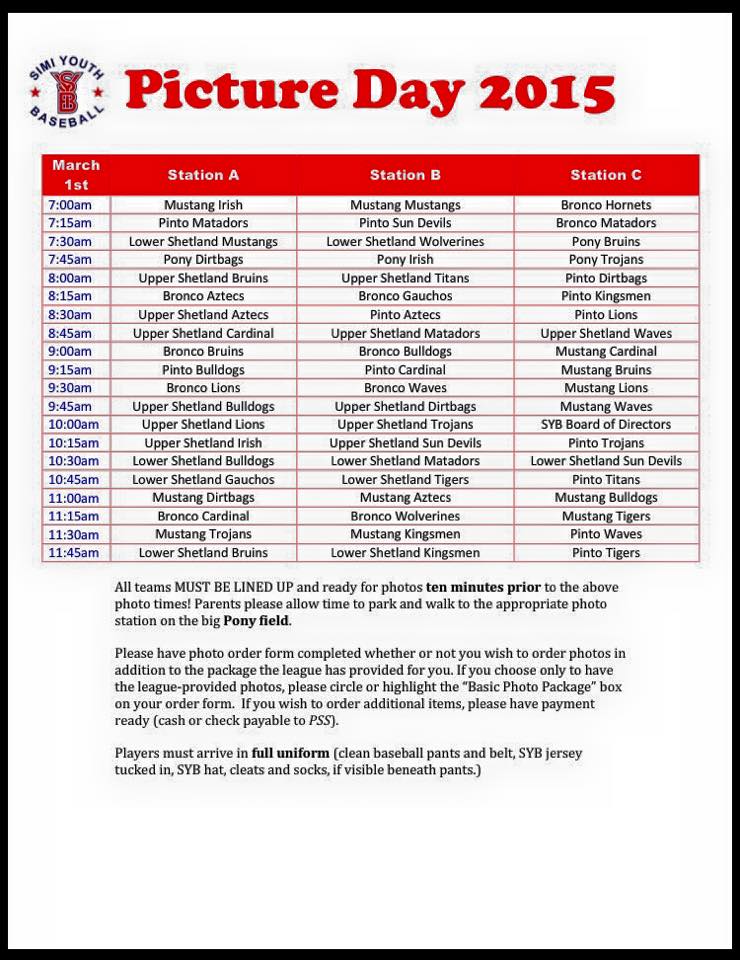 ---
Visit SYB's Facebook "Group" & "Page" to stay updated...
SYB Facebook Group - Communicate with families, share game highlights/photos, sell youth baseball related items, etc.
SYB Facebook Page - "Like" this new page to get important league updates on events, flyer's etc.
SYB Instagram Page - Follow SYB on Instagram and help spread the word! Don't forget to add #simiyouthbaseball to your photos!
---
---
ABOUT SIMI YOUTH BASEBALL: SYB is a non-profit organization, run by volunteers. For more than 50 years we have been providing a safe place for the youth of our community to play baseball, make new friends, and of course build self-confidence and self-esteem.
PONY (Protect Our Nation's Youth) Baseball has developed a tradition of service to young people...teaching them to play by the rules, so that they will learn to live by the rules.
Our baseball complex is one of the best and safest in the nation with new Professional Grade Turf Infields. We currently have 5 divisions. Pony 13-14, Bronco 11-12, Mustang 9-10, Pinto 7-8 and Shetland 6 and under.
SYB has established itself as one of the most competitive all-star powerhouses in the country. Since 2004, 23 SYB all-star teams have advanced all the way to the PONY World Series, winning 9 World Series Championships in that time -- the latest being our back-to-back 2013 Pinto-7 and 2014 Pinto-8 World Series Champions.
We are located in the Simi Youth Baseball complex at 789 Irvine Road Simi Valley, CA 93065 (just off Madera Rd), near the Sinaloa Golf course. The complex is 1 mile northeast of the Ronald Reagan Presidential Library and 3 miles south of the 118 freeway. To reach someone by phone, please visit our SYB Board of Directors page to contact the appropriate person.
---
Wednesday, April 2
Current field conditions...
Complex is open. Please stay off bullpens when wet.
Monday, December 8
SYB 1-Day Super Bowl Tournament - Sat. Jan 31st, 2015
SYB to host a ONE Day Super Bowl tournament on Saturday, January 31st, 2015. Two game guarantee. If interested, please contact our tournament director Ryan Dellamalva at rdellamalva22@yahoo.com.
Thursday, December 18
2015 Rules
For updated 2015 SYB League Rules, please view the handout.
Handout:
2015 SYB Spring Baseball Rules
Thursday, February 12
2015 Spring Schedules
Please note: It was a large task putting together these schedules with the number of teams we have this year and the use of regularly scheduled Monday games for the first time. It is recommended that you always review the online schedules to verify upcoming game dates & times. If you see any errors or problems with these schedules, please email info@simiyouth.com and we will try to make corrections. Thank you and have a great spring season!!!
Tuesday, February 24
Saturday, March 21 - Casino Night & Texas Hold'em Tournament
This year's theme, Denim & Diamonds, is going to be SO much fun, and will be an easy wardrobe decision - jeans and tank top, cocktail dress and cowgirl boots, whatever you want! Casino Games price is only $35 or $100 to play in the Poker Tournament (includes Casino Games). Poker tournament players who register this Saturday at Opening Day get a $15 Snack Bar Credit! We want everyone to be able to COME, hang out, and enjoy some adult time together with the Simi Youth Family. Click for Flyer.
Tuesday, February 24
Sunday, May 3 - SYB Dodger Day
Upcoming SYB Tournaments
MLK Winter State Championship - January 17-19
President's Day - February 14-16
For more information, visit
Xtreme Diamond Sports Tournaments Page
Wednesday, December 3
SYB Needs You!