Silicon Valley Starfire Fastpitch Softball: Welcome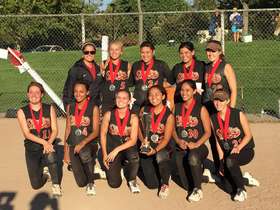 18U Gold 2015
Silicon Valley Starfire Softball
Recent news: Starfire now offers private hitting and pitching lessons. Go to:
http://www.eteamz.com/siliconvalleystarfire/news/index.cfm?subsite=5856891&cat=0#news5764359
About The Starfire Softball Program:
The Starfire softball program consists of an 18U Gold level team, a 16U A team, a 14U A team, and a 12U A team based in the Mountain View-Los Altos area. Currently, our program is made up of players from Mountain View, St. Francis, Los Altos, Homestead, The King's Academy, Cupertino, Amador Valley, and Palo Alto high schools as well as local elementary schools. We use the Mountain View high school softball facility for practice.
Our philosophy is to provide:
Outstanding coaching
A focus on highly productive practices and a "score takes care of itself" attitude
A moderate tournament schedule (5 -6 tournaments in summer, 4-5 in the fall)
A moderate amount of travel (80% of tournaments are within a 90 min drive)
An enjoyable experience (I.e. tourneys in Huntington Beach & Lake Tahoe)
Assistance in communicating with appropriate college programs via direct contact campaigns, if desired.
Encouragement toward prioritizing BOTH academics and softball
An affordable program (low cost)
About 18U Gold Head Coach Pepe Hinojosa: http://www.eteamz.com/siliconvalleystarfire/news/index.cfm?cat=798236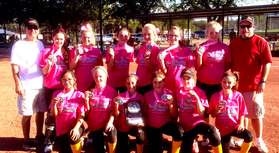 14U Champions 10-5-14
Sunday, November 20
Starfire Announces 2017 Spring-Summer Ball season
The Starfire Softball program is holding Tryouts/Practices for the 2017 Spring/Summer Ball season on:
Sundays, 9:00am - 11:00am at Mountain View high school
All "A" level players interested in trying out for the 18U, 16U, or 14U teams are invited to attend (players born in '98, '99, '00, '01, '02, or '03, ). "Spring" season is for 7th/8th grade players only. High school aged players would be trying out for the 2017 summer season. Players may "play up" if their skill level qualifies them to do so. Interested players need only attend one tryout session to make one of our teams, however all players are welcome to participate in more than one tryout session.
If your are interested in trying out and joining the Starfire Softball family, please send an email to: pepe.hinojosa@sbcglobal.net
and provide:
1) name of player
2) date of birth
3) desired position(s)
4) desired age division
5) teams played for in 2016 (travel club and school)
6) school attending and grade level in Fall, 2016
Sunday, November 20
High school players invited to get ready for the 2017 season
Starfire Softball will be holding a 10-day softball camp for high school players looking to get ready for the upcoming 2017 school season.
Dates/times (each session is from 3pm - 5pm):
Mon-December 19, Tue-December 20, Wed-December 21, Fri-December 23, Mon-Dec 26, Tues-Dec 27, Wed-Dec 28, Fri-Dec 30, Mon-Jan 2, Tues-Jan 3.
Where:
Mountain View high school softball facility ( 3535 Truman Ave, Mountain View...field is behind tennis courts)

What:
Each 2 hour session will be split up into 1 hour of hitting and 1 hour of defense...the defensive session will be broken down into 4 groups -- pitchers, catchers, infielders, and outfielders. Each group will be taken through appropriate drills for their respective positions.
Who:
This camp is for high school players. It will be coached by the Starfire Softball coaching staff including multiple coaches with Division 1 college softball playing experience.
Cost:
Fee for this camp will $10/hour/player. Hitting will take place from 3pm - 4pm. Defense will take place from 4pm - 5pm. Players are welcome to participate in both hours or a single hour. Walk ins are welcome, but advanced sign up is recommended (so that we can be sure to have appropriate coaching on hand).
Registration:
Send an email to: pepe.hinojosa@sbcglobal.net and tell us:
Your name, grade, school, position, and desired dates and sessions you'd like to attend (I.e. 12/19, 12/20, 12/21 for hitting only...or 12/26, 12/27, 12/28 for both hitting and defense (I'm a pitcher), etc).
Send questions to pepe.hinojosa@sbcglobal.net
Tuesday, August 1
Jackie Hinojosa Offering One-On-One Lessons
Jackie Hinojosa, a recent graduate from UC Santa Barbara, is now offering one-on-one lessons. Please see the tab "About Coach Jackie Hinojosa" to learn more about her.
Contact Info:
Email: jackiehinojosa95@yahoo.com
Cell (call or text): (650) 793-7028