49er United Sierra Blitz: Welcome
Welcome to the 49er United Sierra Blitz u14g Soccer Team!
Our team is guided by experienced coaches and trained by some of the best trainers around. We strive to keep costs affordable so no gifted player is denied the opportunity to play soccer at a higher level of play.
Our Team Goals Are:
1. Develop Soccer Players (and young ladies)
2. Have Fun!
3. Develop as a Team
Norcal State Cup (Semi-Finalist Red 1 Premier)
ARFC Independence Cup 1st Place
49er United 1st Place
Boca Champions Cup 2nd Place (Premier Division)
Fort Bragg 2nd Place (u14g)
Placer United Cup Finalist (Gold Division)
CCSL Gold Division 3rd Place
Association Cup u12 2011 Champions ('Select' State Champions)
District Cup u12g 2011 Champions ("Cup" division)
District Cup u11g 2010 Champions ("Cup" division)
"It's the quality of your effort that counts most and offers the greatest and most long-lasting satisfaction." -- John Wooden
"The game is a gifted journey to be enjoyed with you and your friends..."
"The smile on my face does not mean as much to me as the smile on my teammates faces. It makes it more special when you are not playing for yourself" -- Sergio Romo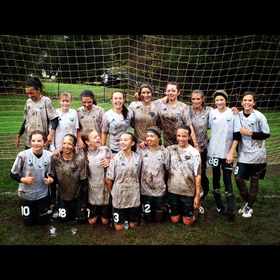 The Joy of the Game ...and mud... :)