South Highline National Little League: Welcome
---
SOUTH HIGHLINE NATIONAL LITTLE LEAGUE P.O. BOX 98426 DES MOINES, WA 98198 shnll_lio@hotmail.com
---
| | |
| --- | --- |
| | |
---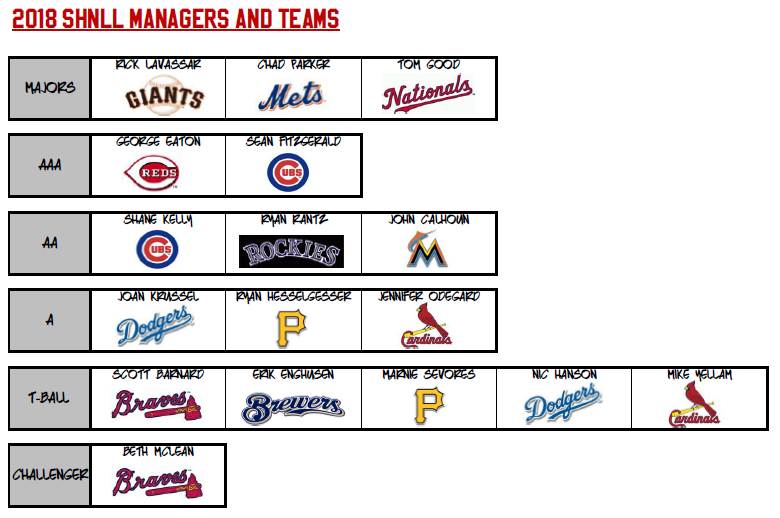 ---
2018 REGISTRATION IS OPEN
MAJORS REGISTRATION IS CLOSED
PLEASE COMPLETE THE FORMS PER THE DIRECTIONS BELOW AND BRING THEM
WITH YOU TO ONE OF THE WALK-IN REGISTRATIONS DATES SHOWN ABOVE.
PLEASE COMPLETE THE LITTLE LEAGUE PLAYER REGISTRATION FORM (PLEASE CIRCLE THE LEVEL YOU WOULD LIKE YOUR CHILD TO PLAY NEAR THE TOP OF THE FORM)
PLEASE COMPLETE THE MEDICAL RELEASE, THE CONCUSSION, AND THE SUDDEN CARDIAC ARREST FORM.
IF YOU LIVE OUTSIDE OF THE SHNLL BOUNDARY, BUT YOUR CHILD ATTENDS A SCHOOL THAT IS WITHIN THE BOUNDARY, PLEASE FILL OUT THE SCHOOL ENROLLMENT FORM. IF YOU ARE NOT FAMILAR WITH THE BOUNDARIES, CLICK ON THE LINK BENEATH "WHAT LEAGUE SHOULD I REGISTER IN?" IN THE BOX BELOW. TYPE IN THE ADDRESS YOU WOULD LIKE TO VERIFY.
PLEASE PROVIDE THREE PROOFS OF RESIDENCY. IT IS VERY IMPORTANT TO READ THROUGH THE "RESIDENCY AND SCHOOL ATTENDANCE ELIGIBILITY REQUIREMENTS" IN THE DOWNLOADED PACKET.
EVERY ADULT SHOULD COMPLETE A VOLUNTEER APPLICATION FORM FOUND IN THE PACKET. IF YOU HAVE FILLED ONE OUT BEFORE, PLEASE USE THE RETURNING VOLUNTEER FORM.
IF YOU PLAN TO ATTEND THE LITTLE LEAGUE MARINERS GAME ON THE SUNDAY MAY 6th, PLEASE COMPLETE THE FORM WITH YOUR NAME AND THE AMOUNT OF TICKETS. YOU WILL NEED TO PAY AT THE TIME OF REGISTRATION. THIS IS YOUR ONLY CHANCE TO SIGN UP FOR TICKETS.
LASTLY, IT IS IMPORTANT TO READ THE BASEBALL BAT INFORMATION INSERT. THESE BAT RULES WILL BE IN EFFECT FOR THE 2018 SEASON.
BRING ALL THE COMPLETED FORMS WITH YOU TO ANY ONE OF THE WALK-IN DATES SHOWN ABOVE.
IF YOU ARE UNCLEAR ABOUT INFORMATION ON THE FORMS THERE WILL BE PEOPLE AVAILABLE TO HELP ANSWER YOUR QUESTIONS AT THE WALK-IN DATES.
---



VERY IMPORTANT

LITTLE LEAGUE'S NEW BAT RULES




DO NOT PURCHASE A NEW BAT UNTIL YOU

READ THE THE INFORMATION IN THE LINK BELOW
---
OUR NEXT BOARD MEETING:
TUESDAY MAY 1ST AT NORMANDY PARK COMMUNITY CENTER 7:30 pm
---
OUR LEAGUE'S MAIN FIELDS ARE LOCATED AT NORMANDY PARK CITY HALL. IF YOU HAVE ANY CONCERNS OR QUESTIONS REGARDING THE FIELDS PLEASE CALL AMANDA LEÓN WITH THE CITY OF NORMANDY PARK AT 206-248-8293. SHE DOES NOT ANSWER LITTLE LEAGUE QUESTIONS! PLEASE DIRECT THOSE TO shnll_lio@hotmail.com
THANK YOU!
---
---
DES MOINES WEATHER CONDITIONS
Click here
NORMANDY PARK WEATHER CONDITIONS
Click here
Friday, April 6
CHALLENGER SCHEDULE - PENDING