Shenendehowa Swimming and Diving: Welcome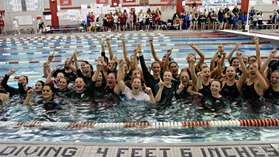 Kate Bunster/The Daily Gazette
Shenendehowa Girls' Team - 2015 Section II Division I Champions!!!
Shenendehowa Girls' Varsity Swim Team 2014 Team Highlights
Undefeated Dual Meet Season (10-0).

Team finished 2nd in New York State. Team has finished 1st or 2nd during the past five seasons.

Team finished 18th in the country. Third straight year that the girls finished in the top 20 in the country.

Runner-up finish at Section 2 Championships.

Owego Invitational - 1st Place.

Scholar Athletes: 97.23 team average. Highest of all Shenendehowa Fall Athletic Teams for
the 4th year in a row.

Julia Samson: All American 200 IM and 100 Backstroke.

Shelly Zhang: Scholar Athlete Award Winner.

98% Team Attendance.

Shenendehowa Boys' Varsity Swim Team 2014-2015 Team Highlights
Dual Meet Season Record 10-1

Team finished 3rd in New York State.