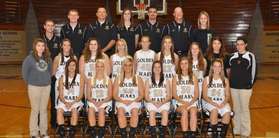 Varsity Lady Bears 2013-2014
LADY GOLDEN BEARS 2013-2014 VARISTY ROSTER

HEAD COACH: SCOTT LARRABEE

ASST. COACH: DAVE HUNTON

NO. NAME POSITION HEIGHT GRADE

10 Madalyn Toll Guard 5'2" 10

12 Bree Elrod Guard/Forward 5'6" 12

14 Morgan Parker Guard 5'7" 10

20 Allyson Conner Guard 5'6" 12

22 Taylor Perry Guard 5'7" 10

24 Riley Achenbach Guard 5'8" 12

30 Cassady Skipton Forward 5'11" 10

32 Taylor Pierce Forward 5'10" 12

34 Abby Smith Guard 5'3" 10

40 Alexis Tackett Guard 5'8" 9

42 Cora Reinhart Guard 5'6" 9

52 Ashley Decatur Forward 5'5" 10



ioi.mid

Friday, January 31


Girls-Basketball-Tournament-Pairings-Sunday.


Sectional matchups in the 39th Annual IHSAA Girls Basketball State Tournament will be announced Sunday, Feb. 2 (Super Bowl Sunday), on Fox Sports Indiana beginning at 4 pm ET / 3 pm CT.



Saturday, February 1


A Senior Night to remember



Shelbyville senior Riley Achenbach drives to the basket during the 2013 Shelby Shootout at William L. Garrett Gymnasium. On Thursday, Achenbach was one of four seniors to play their final home game for the Golden Bears. (File photo)
Golden Bears close out home schedule with 53-36 win over Delta
By Jeff Brown
Sports editor
Riley Achenbach's final game at William L. Garrett Gymnasium included a game-high 15-point performance, a much-desired conference win over Delta, balloons, a laundry basket full of presents, plenty of tears and a prom date.
Now that's a pretty good haul.
The Shelbyville senior led the Golden Bears to a 53-36 win over Delta Thursday. She scored 14 of her points in the first half, including swishing a three-pointer from the top of the key just before the first-half horn sounded.
That gave Shelbyville a 37-18 lead and it never looked back. The Golden Bears (7-11, 2-4 Hoosier Heritage Conference) have won five of their last eight, with all five wins coming at home.
"It was an awesome Senior Night," said Shelbyville coach Scott Larrabee. "I couldn't be happier for this group of seniors. I am so proud of our improvement as a team and that's led by those seniors."





The seven wins ties a program high over the last seven seasons.





Finding an eighth win will be difficult. Shelbyville closes out its regular season schedule Monday at Class 2A, No. 9 Triton Central (11-5) and Tuesday at Franklin (10-9). By then, the program also will know its road through the very competitive Bloomington South Sectional.





The end is near for Achenbachand fellow seniors Allyson Conner, Bree Elrod and Taylor Pierce. Success has been fleeting for the program during their time in uniform but that doesn't make reaching the end any easier.





"We're having fun and that's all that really matters," said Achenbach, adorned in a pink feather boa and matching tiara.





Late in the fourth quarter, Achenbach was the only senior left on the court. Freshman Cora Reinhart crouched down at the scorer's table waiting for Shelbyville's leading scorer to make her second free-throw attempt.

She missed and extended her time on Frank Barnes Court a few seconds longer until she committed a foul.That's when the tears really started flowing.





Achenbach and Reinhart shared a long embrace near midcourt — a senior leaving and a freshman stepping in.





"I thought I was ready for the emotions to hit me," said Achenbach, who admitted she was even crying before the game.





The win, though, made it easier to smile and wipe away the tears during the traditional postgame reading of senior speeches by Shelbyville junior Betsy Suarez.





Achenbach opened the game with a 3-pointer to stake Shelbyville to an early lead. Delta (5-9, 1-4 HHC) recovered to lead on three separate occasions in the first quarter but a 7-0 run by the Golden Bears closed out the scoring and secured a 15-10 lead.





While Delta won the first-half rebounding battle, Shelbyville's defense still limited the Eagles to just 23 percent shooting.





"(Defense) was the No. 1 thing we talked about at halftime, and in timeouts and in between quarters," stressed Larrabee.





The second quarter was one of Shelbyville's best all season. The Golden Bears shot 70 percent from the field, made 6-of-9 free throws and committed just two turnovers.





Pierce and Conner drilled 3s early in the third quarter just to make sure the Eagles had no designs on a comeback.





Elrod was the only senior not to score. The softball standout was 0-for-2 from the field in the fourth quarter and had a steal.





Achenbach finished with 15 points, six rebounds and two assists. Pierce had 11 points, eight rebounds and two assists. And Conner added nine points, three rebounds and two assists.





At the conclusion of the game, five seniors, including manager Hannah Collier, were introduced to the crowd.





Achenbach was last. She hugged her fellow seniors as the emotion of the moment poured out of her. And once Suarez finished reading Riley's senior speech, she told her to turn around. When she did, she saw Blake Miller standing near midcourt with a big sign that had "Prom?" written on it.





Miller got a hug too.



Saturday, February 8


Sectional Preview: Golden Bears try to avoid Bull Dogs' bite


Scott Larrabee led the Golden Bears to a 7-13 record in his first season. Shelbyville takes on Class 4A, No. 3 Columbus North at 7:30 p.m. Tuesday in the Bloomington South Sectional. (File photo) Shelbyville opens Sectional 14 against third-ranked Columbus North By Jeff Brown Sports editor Published: Saturday, February 8, 2014 8:05 AM US/eastern A coaching change typically brings a new energy to a program. It is true in every sport. Shelbyville was in dire need of a change at the end of the 2013 season following a 50-13 sectional loss to Bloomington South that punctuated a 3-18 season. In came Scott Larrabee, who was working at Rushville as a boys' varsity assistant coach and out went Amanda Norris, who was 16-68 in four seasons, ironically, to Rushville where she became a varsity assistant with the state-ranked girls program. With Larrabee, the Golden Bears were moderately more successful, finishing 7-13 after a 48-32 loss Thursday at Franklin, with much of the same roster that took the floor in the 2013 sectional. The most notable change in the program came in attitude where smiles were more prevalent — after wins and losses. * Where Larrabee takes the program in the offseason will be key. Shelbyville graduates four seniors, including three who start and are three of the top four scorers. Senior shooting guard Riley Achenbach, a 2013 All-Hoosier Heritage Conference performer, is the only double-digit scorer at 10.7 ppg. She has committed to play basketball at nearby Franklin College next season. "That is really exciting for Riley and our program," said Larrabee. "It is certainly well deserved." Senior forward Taylor Pierce is the Golden Bears' most consistent low-post threat, averaging seven points and nearly six rebounds per game. Senior guard Allyson Conner has elevated her perimeter game this season, knocking down 33 percent of her three-point attempts to lead the team. She is averaging 6.1 points and her 1.9 assists per game average matches Achenbach's. The trio won just 10 games in the two seasons prior to Larrabee's arrival. All he asked of them was leadership. And that he got. "We talked about forward thinking," said Larrabee. "You can't change what happened in the past." The fourth senior — Bree Elrod — brings athleticism to the court, especially on defense. There was no easy sectional draw for the Golden Bears, competing again in Sectional 14 at Bloomington South. They faced three of their potential sectional opponents during the season and lost all three by a total of 89 points. On Tuesday, Shelbyville gets a second chance at Class 4A, No. 3 Columbus North (19-2), who defeated the Golden Bears 57-27 on Nov. 26. "That's the nature of the beast in terms of the blind draw," said Larrabee. "The last several years they have been one of the best programs in the entire state. I'm curious to see how we battle against such a good program." Ali Patberg, a Notre Dame recruit, leads the Bull Dogs in scoring (18 ppg), rebounding (7.2 rpg) and assists (5.7). Florida Gulf Coast Academy recruit Tayler Goodall averages 15.1 ppg and 6.1 rpg. Kelsey Cunningham, committed to Wisconsin-Milwaukee, follows at 9.2 ppg and 3.7 rpg. "We have to go out there and battle and compete and continue to play how we've played all season," said Larrabee. "We need to eliminate their second-chance points, their points in transition and make them earn their shots from the perimeter." Once the season ends, the real work begins for Larrabee. His current roster also has no juniors. That puts added pressure on current sophomores Morgan Parker (3.4 ppg), Taylor Perry (1.2) and Cassady Skipton (1.9) and freshmen Alexis Tackett (6.8) and Cora Reinhart (2.1) to develop quickly. "We will continue to build the program, improve and get better," said Larrabee. "We'll be young, but there are a lot of young teams out there. We will continue to try and improve our weaknesses. We will focus on improving on the things we can control."

Thursday, February 13


Bull Dogs end Golden Bears season



No. 3 Columbus North eliminates Shelbyville from Sectional 14
By Kris Mills
For The Shelbyville News
BLOOMINGTON — First year Shelbyville head coach Scott Larrabee could not be more proud of his Lady Golden Bears.
Despite a 78-33 loss to Clas 4A, No. 3 Columbus North Tuesday night in the first round of Sectional 14, Larrabee showed no signs of anger when the final buzzer sounded.
"I thought we played with some forward thinking, and we didn't play the scoreboard," he said. "Our effort was great from start to finish, and we went out there and battled with a top three team in the state."
The Golden Bears doubled their win total this season finishing 7-14 and performed much better than last year in sectional play versus a top-tier program.
"Obviously, Columbus North, that team has had a lot of success lately," Larrabee said. "They've been to the state finals the last few years."
Ali Patberg, a Notre Dame recruit, sat out the game with an ankle injury but the No. 3-ranked Bulldogs (20-2) still had two Division I players on the court in Tayler Goodall and Kelsey Cunningham.
That duo got the Bulldogs off to a 7-0 start, but a pair of Shelbyville seniors would quickly answer. Allyson Conner hit back-to-back three-pointers on assists from Riley Achenbach to fuel the Golden Bears within one.
Columbus North would then turn up the heat with their quickness, pressing Shelbyville to 10 turnovers in the first quarter, finishing on a 12-0 rally.
Goodall, a Florida Gulf Coast recruit, would take over and finish with four 3-pointers and 16 points in the half, giving the Bulldogs a 34-12 advantage.
Shelbyville would open the second half with its best quarter yet, scoring 12 points, but eventually ran out gas against a much-deeper squad that saw 11 players see valuable minutes.
Conner led the Golden Bears with eight points on 3-of-8 shooting. Achenbach chipped in seven points and two assists while fellow senior Taylor Pierce scored seven points and grabbed four rebounds.
Larrabee says enjoying the game of basketball will be the key to the Golden Bears' success next year.
"You have to enjoy what you do. If you don't enjoy it, you won't want to work to get better," he said. "We have to commit to wanting to get better. Next year's season starts now."
Shelbyville will have to do so without four seniors, including three starters. Seven players return next season that saw playing time Tuesday night. Larrabee even celebrated enthusiastically after one of his reserves hit a free throw late in the fourth quarter.
"I couldn't be more proud of the improvements we've made from when I got here, to now," he said. "I couldn't be more happy to coach our seniors."
Notes:
Goodall finished with a game high 22 points, while Cunningham, a Wisconsin-Milwaukee recruit, had eight points, four rebounds, and four assists. ... Shelbyville sophomore Morgan Parker added six points, three rebounds, and an assist. ... The Golden Bears finished 18-of-25 from the line.