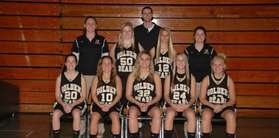 Lady Golden Bears 2012-2013
LADY GOLDEN BEARS ROSTER 2012-2013

NO. NAME POSITION HEIGHT GRADE

10 Megan Fix Guard 5'1" 12

12 Bree Elrod Guard 5'4" 11

20 Allyson Conner Guard 5'5" 11

24 Riley Achenbach Guard 5'7" 11

30 Jacqueline Lux Guard/Forward 5'8" 11

32 Taylor Pierce Forward 5'8" 11

50 Kiersten Macklin Forward/Center 5'7" 12

HEAD COACH AMANDA NORRIS

ASST. COACH ANDREW HAMPTON

JUNIOR VARSITY COACH ELLEN BURKLOW



ioi.mid

Wednesday, October 24


Basketball season kicks off with first official practices



Senior Megan Fix works on her free-throw shooting as teammate Allyson Conner (left) looks on during the Shelbyville Golden Bears' first official practice of the season. Over 20 girls attended the open practice Monday in an attempt to make the roster. (Jeff Brown photo)
Girls' swimming, basketball hold open tryouts for 2012-13 season
By Jeff Brown
Sports editor
If Shelbyville figures out a way to match the intensity of its high-energy girls' basketball coach, the Golden Bears will be very competitive.

Over 20 girls showed up Monday for the first IHSAA-sanctioned practice of the upcoming high school basketball season. Girls' basketball and girls' swimming programs around the state are the first to officially begin practice.

Wrestling teams begin next Monday, with boys' basketball and boys' swimming programs following on Nov. 5. First practice for gymnastics teams is set for Nov. 19.

With just two seniors on the projected roster, and neither with significant varsity experience, the Golden Bears face an uphill battle against a schedule that features three teams that reached the semistate level of the state tournament last season.
By mid-week, Norris expects to make cuts and set both the varsity and junior varsity rosters.

The scenario was similar in Fairland as Triton Central coach Bryan Graham put his players through the paces for the first time Monday.

Graduation took a pair of seniors but there is plenty of talent left on a roster that won 24 games last season and played in the Class 2A Bedford Semistate where it lost to eventual state champion Evansville Mater Dei.

"The practice went very well," said Graham. "The intensity level was very high. They know the expectations. We had two good seniors graduate, so it's next person up. We hope we don't have to rebuild... just reload."

Samantha Dewey, the reigning Shelby County Player of the Year, returns for her sophomore season following a record-breaking soccer season in which she scored 70 goals and helped the Tigers set a program record with 14 wins.

Graham also had over 20 girls show up for the first practice.
"We will cut a few I think," said Graham, who mentioned that over 40 girls recently participated in a fifth- and sixth-grade tryout. "It's a good problem to have that many people that want to be part of the program."

Bill Taylor also had a Final Four team last season at Southwestern. The Spartans lost to Northeast Dubois at the same Bedford Semistate as Triton Central.

The Spartans graduated four valuable seniors but return its top two scorers, Annie Thomas and Oda Shackelford.

The six-foot-one Shackelford arrived Monday nursing some nagging injuries from the long volleyball season and watched from the sidelines. Taylor hopes to have her back involved in practice today.

Thomas has already shown signs of stepping into a leadership role, according to Taylor.

"She looks wonderful," said Taylor, who coached Thomas this fall when she joined the school's soccer program. "Her conditioning is very good."

Taylor had 17 at practice Monday and expects to keep all of them for the upcoming season.

"I'm excited about the season. Well, I'm cautiously optimistic," said Taylor.

Fast Facts

SHELBYVILLE GOLDEN BEARS

Head coach: Amanda Norris.

Last year's record: 7-14.

How season ended: At Columbus North Sectional to Bloomington South, 56-23.

Season opener: Nov. 10 at East Central.

TRITON CENTRAL TIGERS

Head coach: Bryan Graham.

Last year's record: 24-2.

How season ended: At Bedford Semistate to Evansville Mater Dei, 51-37.

Season opener: Nov. 9 vs. Park Tudor.

MORRISTOWN YELLOW JACKETS

Head coach: Mike Smith.

Last year's record: 7-15.

How season ended: at Morristown Sectional to Southwestern, 53-22.

Season opener: Nov. 13 vs. Beech Grove.

SOUTHWESTERN SPARTANS

Head coach: Bill Taylor.

Last year's record: 16-9.

How season ended: At Bedford Semistate to Northeast Dubois, 54-51.

Season opener: Nov. 10 at Waldron.

WALDRON MOHAWKS

Head coach: Rod Suiter.

Last year's record: 1-19.

How season ended: At Morristown Sectional to Lutheran, 50-42.

Season opener: Nov. 10 vs. Southwestern.