Shelbyville Golden Bears Basketball: Welcome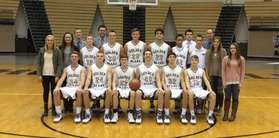 Shelbyville Golden Bears 2015-2016
2018-2019 Boys Golden Bears Varsity Roster
NO. NAME Height GRADE
1 JOSH WILLIAMS 6'0" 12
2 GARRETT DAVIS 6'2" 12
3 MITCH YEEND 5'10" 10
4 BROCK PITMAN 5'8" 10
5 HUNTER DEATON 5'10" 11
10 T J SHERWOOD 6'2" 10
15 ZACH KUHN 6'4" 12
20 D J KRAMER 6'1" 12
24 LUKE ASHER 6'4" 11
30 JACK BAKER 6'0" 10
44 ARTURO BRAMASCO 6'2" 10
HEAD COACH: RYAN MACK
ASST. COACH: JOHN HARTNETT JR.


The Star Spangled Banner by Sequenced By Gary Wachtel
Sunday, February 17
COLUMBUS NORTH SECTIONAL
COLUMBUS NORTH SECTIONAL TOURNAMENT
TUESDAY FEBUARY 26, 2019
GAME 1 6:00 PM.
BLOOMINGTON NORTH
COLUMBUS EAST
GAME 2 7:30 PM.
COLUMBUS NORTH
SHELBYVILLE
FRIDAY MARCH 1, 2019
GAME 3 6:00 PM.
BLOOMINGTON SOUTH
WINNER GAME 1
GAME 4 7:30 PM.
EAST CENTRAL
WINNER GAME 2
SATURDAY MARCH 2,2019
CHAMPIONSHIP GAME
7:30 PM.
WINNER GAME 3
WINNER GAME 4
Friday, March 1
Golden Bears Advance To Sectional Championship Game
The Golden Bears Move Thier Record To (14-10) After Defeating East Central 62-46 To Move To The Championship Game Of The Columbus North Sectional 14. Bloomington South Defeated Columus East 57-36 In The First Semi-Final Friday Night. Championship Game Saturday Night Tip Is At 7: PM. Bloominton South Defeated Golden Bears On Dec. 22nd At Bloominton South High School 72-66. Lets Pack The Gymnasium Saturday Night To Back The Shelbyville Golden Bears.
CHAMPIONSHIP GAME
SHELBYVILLE GOLDEN BEARS 14-10
VS
BLOOMINTON SOUTH PANTHERS 22-3
Saturday, March 2
Golden Bears Bows Out Of The Sectional Tournament
The Golden Bears Finish Thier Season At (14-11) After Losing To Now (23-3) Bloomington South 63-48 In The Sectional Championship Game Saturday Night.
SEYMOUR REGIONAL
MARCH 9, 2019
GAME 1 10:00 AM.
JASPER
VS
CENTER GROVE
GAME 2 12:00 PM.
BLOOMINGTON SOUTH
VS
JEFFERSONVILLE
CHAMPIONSHIP GAME
8:00 PM.
WINNER GAME 1
VS
WINNER GAME 2