Home of the Severn Lady Lightning: Welcome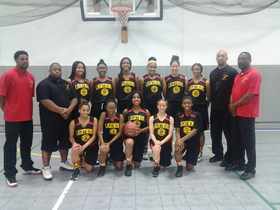 Severn Lady Lightning 2015
2015 TRAVEL SEASON IS FINALLY HERE!!!!
SEVERN LADY LIGHTNING IS AN AAU AND NTBA SANCTIONED ORGANIZATION THAT PROMOTES
EXCELLENCE FOR YOUNG GIRLS NOT ONLY ON THE BASKETBALL COURT,
BUT IN THE CLASSROOM FIRST!
Mission: Empower young ladies ages 17 and under, regardless of race, color,creed or national origin to become model citizens while using basketball as a shaping tool. We look to promote strong character building, high academic achievements, teamwork and sportsmanship. We will maintain the safety and welfare of each player first and foremost keeping them free from adult lust for glory. We will provide purpose, motivation and direction while teaching fundamentals, discipline and the overall love for the game.
Vision: To be recognized and respected as a premier youth basketball organization in the state of Maryland and surrounding areas through the teaching of fundamental basketball principles, sportsmanship, and personal values. All of these are encompassed by the 4 Pillars of Excellence, which this organization is built upon; Classroom, Character, Court, and Community.
Greetings Lightning Nation,
Our Lady Lightning Team went to the NTBA National Championships in Myrtle Beach, SC over the past 5 days and competed against a pool which had 18 teams within the 11th/12th grade division. At the end, Lady Lightning placed 2nd, losing in the Silver Division National Championship game 66-60 to the Lady Dynasty out of Georgia. We defeated Lady Dynasty in a pool game earlier during the tournament, but down the stretch, our Girls seemed to have ran out of gas and their inside game stepped it up against us, so congrats again to the Lady Dynasty for their victory. I was, and still am extremely proud of how our team came together and performed at a high level; with EFFORT and ENERGY. A big shout-out to all the parents who supported the trip from both near and far; and to our Lightning Players who conducted themselves with good sportsmanship and class throughout the competition. All of your actions left a positive imprint not only with the NTBA staff, but fellow players, coaches, and officials alike. Thanks again for an awesome time; so let's get ready to compete Wednesday nights in the MYBA Summer League at Arundel High School. We will continue to strive for excellence as our season is nearing the end soon. That's all I got for now, and remember, our ATTITUDE determines our ALTITUDE. STRIKE FAST....STRIKE HARD!!!
CHAD JACKSON
PRESIDENT/ HEAD COACH
All I Do Is Win by DJ Khaled
Friday, April 24
2015 Blessed Sacrament Yellow Jackets Invitational Tournament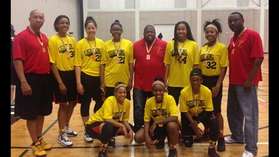 Blessed Sacrament Invitational Tournament Bronze Medal Winners
The young ladies of Severn Lady Lightning went to Hamilton, Ontario L8V 1W9, Canada to Strike Fast and Strike Hard, and that is exactly what they did! Congratulations on winning the Bronze Medal in the 17U division. Thank you to Blessed Sacrament for an awesome experience and a well run tournament.
Thursday, April 16
2015 Spring Classic Shoot Out Champions!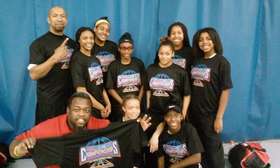 Spring Classic Shootout Champions
The young ladies of Severn Lady Lightning competed and won the title of Champions at the Spring Classic Shootout in Fairfield, NJ. Congratulations to the team for their hard work as they fought hard minus a few players. Way to Strike Fast and Strike Hard!