Home of the Severn Lady Lightning: Welcome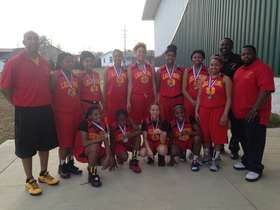 Quad State Classic Runner Up (5-6 April 2014)
2014 AAU SEASON IS FINALLY HERE!!!!
SEVERN LADY LIGHTNING IS A NEW AAU/NTBA SANCTIONED ORGANIZATION THAT PROMOTES
EXCELLENCE FOR YOUNG GIRLS NOT ONLY ON THE BASKETBALL COURT,
BUT IN THE CLASSROOM FIRST!
Mission: Empower young ladies ages 16 and under, regardless of race, color,creed or national origin to become model citizens while using basketball as a shaping tool. We look to promote strong character building, high academic achievements, teamwork and sportsmanship. We will maintain the safety and welfare of each player first and foremost keeping them free from adult lust for glory. We will provide purpose, motivation and direction while teaching fundamentals, discipline and the overall love for the game.
Vision: To be recognized and respected as a premier youth basketball organization in the state of Maryland and surrounding areas through the teaching of fundamental basketball principles, sportsmanship, and personal values. All of these are encompassed by the 4 Pillars of Excellence, which this organization is built upon; Classroom, Character, Court, and Community.
Greetings,
This past weekend our Young Lady Lightning team performed well going undefeated in a tournament sponsored by Suburban Coalition in Temple Hills, Md. 2 teams were from Maryland, 1 from D.C. and the other team was from Dayton, Ohio that the Lady Lightning defeated. The team accomplished those victories by sharing the ball, playing ball-hawking team defense, and displaying team discipline from start to finish. Great work! This weekend starting Friday, some of our Lady Lightning players; Brandi, Destiny, Jay, Kiara, and Shelby will be attending the University of Maryland Elite Camp. I'm proud to see at least 5 of our players going and I know they will represent to the fullest. Good luck to them all! On Sunday, we'll be attending the Team Camp at the Univ of Md; that will be good competition and alot of fun! We got a busy weekend so let's get it done! Thank you all for your support and remember, our ATTITUDE determines our ALTITUDE. STRIKE FAST....STRIKE HARD!
CHAD JACKSON
PRESIDENT/ HEAD COACH
All I Do Is Win by DJ Khaled
SUPPORT THE SEVERN LADY LIGHTNING!
SEVERN LADY LIGHTNING IS A 501 (c) (3) ORGANIZATION, SO YOUR DONATIONS CAN BE TAX-DEDUCTIBLE. THANK YOU FOR YOUR SUPPORT! YOUR DONATIONS ARE GREATLY APPRECIATED!