South End United Female 1989 Premier: My Site News
Sunday, September 24
WSEU Titans - City Finalists
For the fourth consecutive season, we will be meeting up with the Bonivital Flames in the City Championship game!
The game this year will be played Sunday October 1 at 1pm at the Winnipeg Soccer Complex. **note change in time!
Congratulations also to the SEU U16 girls teams (premier and regional) who have also qualified for the City Finals.
Thursday, July 13
2006 MSA Cup Championship Info - Congratulations Provincial Finalists!
In the MSA Cup, we were seeded 3rd of 6 teams.
1 - Flames D2
2 - NW D2
3 - SEU D2
4 - PT D2
5 - PT D3
6 - BV D2R
Our schedule is:
August 8 6pm at Selkirk vs. Bonivital D2R (SEU 2, BV 1)
winner plays August 10 6:00pm at Stonewall vs. NW D2 (SEU 2, NW 1)
winner plays in the final August 12, 2:00pm Red River College West (SEU vs. Flames)
In the other pool:
PT plays PT
winner plays Flames
winner plays us in the Final haha!
Location of fields:
Selkirk Recreation Complex
180 Easton Drive
(Hwy 9 North to Selkirk, W (left) on Manitoba Ave, N (rt) on Easton Drive
Stonewall
Veterans Memorial Complex
(Hwy 7 North, W (left) Hwy 67, S (left) Hwy 236, W (rt) Third Ave South, S (left) Third Street
Red River
(we've played there... 2055 Notre Dame at the College site)
Other information:
No animals or smoking at any of the fields
$2 admission will be charged at the Final only
Washroom facilities will be available (likely portapotties - so bring hand wash)
Only dressed players can be on the bench (max 18 dressed players), and up to 4 team staff (registered coaches, manager, bench mom)
5 substitution rule applies
If overtime required there will 2 periods of 15 minutes overtime - Golden Goal wins
If still tied - penalty kicks - first 5, then alternating kicks
Congratulations to all of the SEU Girls teams for being Provincial Finalists in 2006 (U14, U16 and U18)! Finals will be played August 12 at Red River college.
CONGRATULATIONS TITANS!
For the third straight year, SEU and Flames played in an exciting City Final Championship game.
SEU had the first goal, early into the game. Then Flames tied it up. SEU went ahead 2-1 before the half. Flames tied it up again.
Into the second half, SEU scored on a Penalty Kick to go ahead 3-2, Flames once again tied up the score.
Score was 3-3 at the end of regulation and injury time. (Unprecedented high score between these two teams). First half of overtime remained tied at 3, then late in the second OT period, a beautiful header GOLDEN goal to give SEU the sudden victory.
A great game, great conditions - breezy but mild.
Congratulations to both teams for a great finish to the season, and best wishes to the Flames at Nationals.
GOOD LUCK SOUTH END in the CITY CHAMPIONSHIP FINALS this weekend!
For the third straight year, the 1989 Girls Premier City Championship finalists are SEU Titans and Bonivital Flames. Each previous year has turned out to be a tremendous match - down to the wire. Lets hope for more of the same this year!
Hope to see alot of soccer fans out at the game Saturday, 1:00pm Winnipeg Soccer Complex.
Also - Good Luck to South End Division 4 Regional Girls, coached by Maurice Bohemier in their City Final Championship Game at Blumberg Sunday morning at 9:30.
And to SEU Division 5 Regional Girls - BOTH SEU teams are in the final (Blair Graf vs Bruce Richelle) at Blumberg Sunday morning at 11am.
And Good Luck also to SEU Div 5 Premier Girls (Richard Prins) playing in the City Final at 9:00am Saturday Morning.
Congratulations SEU City Champs!
Maurice Bohemier's Division 4 Regional team beat Bonivital 1-0 to become City Champions.
Our little sisters' team - Division 5 Regional (Rachelle and Jacqueline, coached by Bruce Richelle) also won their championship game in overtime over the other SEU team coached by Blair Graff.
Team photo attached.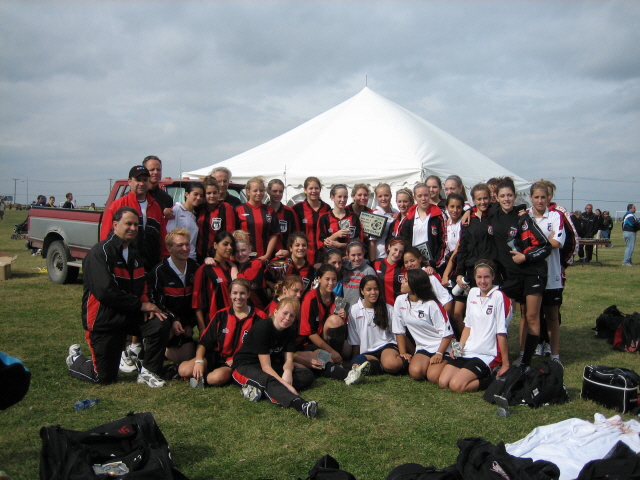 SEU vs SEU D5R City Finalists
MSA Cup Draw
Qtr Finals (Tues Aug 2 Selkirk 6:00pm):
Fld 1: Portage Trail vs. Flames
Fld 2: Phoenix vs. SEU Titans
Fld 3: Brandon vs. SEU D5 (Prins)
Fld 4: Flames D5 vs. Northwest
Semi Finals (Thurs Aug 4 Red River 4:00pm):
West: Winner Fld 1 vs Winner Fld 2
East: Winner Fld 3 vs Winner Fld 4
Final (Sun Aug 21 11:00am Red River):
West Winner vs. East Winner
WYSA HAS CANCELLED ALL GAMES FOR JUNE 29 SO THAT WE CAN BUILD AN ARK
WYSA HAS CANCELLED ALL GAMES JUNE 14 AND 15 DUE TO INCLEMENT WEATHER AND FIELD CONDITIONS
Our game from June 15 vs Phoenix has been rescheduled to August 29 7:45pm Anderson Park
WYSA HAS CANCELLED ALL GAMES SCHEDULED FOR JUNE 8 DUE TO WEATHER AND FIELD CONDITIONS
Our game scheduled for June 8 vs. SEU 2/3 has been rescheduled to July 4 at Grant Park 6:00pm
Friday, July 2
Go Titans Go
We are through the 2004 outdoor season. A good time to point out the successes of the season to date:
2004 OUTDOOR SEASON HILIGHTS:
City Champions
U15 Provincial Finalists
And recap previous highlights:
2003/04 Indoor:
- City Finalists
2003 Outdoor:
- 5th Nationals in Halifax
- Manitoba Provincial Champs
- City Finalists
- Grand Cities Tournament Champs (Grand Forks)
2002/03 Indoor:
- City Finalists
2002 Outdoor:
- Regina Soccer Summerfest Champs
- Grand Cities Tournament Champs
Congratulations Titans!
Thursday, May 27
High School Soccer
Three of our players have been playing on High School teams this year, Jess - SJR, Kelsi - Oak Park, and Taylor - St. Mary's.
Congratulations to the Oak Park and St. Mary's teams for advancing to the High School City Finals. Taylor and Kelsi will have the opportunity to play against each other on Friday May 28. Good luck girls, and make sure neither of you gets hurt....!
Follow up note - Kelsi's team, Oak Park, went on to become Provincial Champs!
Saturday, September 27
Congratulations City Finalists
Congratulations to the SEU Div 6 Strikers team coached by Maurice Bohemier - once again City Finalists! All three Division 7 SEU girls teams were finalists. The Premier team lost in a shoot out to Flames Div 7, and in the match between the two Regional teams the "underdog" SEU Team Richelle won a real nail-biter (2-1). Division 6 Boys team (also Provincial Champs) won their City Final. The Division 5 SEU Girls are City Champions, Division 4 Girls lost to Northwest. SEU had an extremely successful season!
Our team had an excellent season - and really looking forward to our Halifax experience. All of the Division 6 premier girls teams are to be congratulated - it was a very competitive season. We saw tremendous improvement in Portage Trail this season. Northwest were the team who beat the Flames! Phoenix gave us a real tough time every outing. And of course, we still haven't quite managed to beat the Flames - although we're getting closer! Hope to see all players back for the indoor season, and especially next years outdoor season.
Thanks to the SEU players, coaches, and parents for a great time this year. Nancy and I will be taking a break from managing the team for awhile, and really appreciate Gail and Nadine stepping in for us.
NOW its WOO-HOO We're Going to Halifax!!!!
WYSA Field Locations
The WYSA site has all of the field locations.
There are also field locations on our site (Locations tab) for the "away" fields we play at.
Congratulations Jess!
On making the provincial team! Good luck in Edmonton.
An update from Jess from the Rocky Mountain Cup in Edmonton.... Manitoba tied Edmonton 0-0 in the first game, lost 2-0 to Saskatchewan in the second game, and beat Southern Alberta in the third game.
Thanks to the Hamilton and Page Families
For your hospitality over the Golden Boy Weekend. It really gave the tournament an "out-of-town" flair!
Congratulations Louisa
Your teammates selected you "Golden Girl" (MVP for our team for the Golden Boy tournament)!
England/Scotland Tour 2004
Coaches are in the process of setting up a soccer tour of England and Scotland for next summer. The trip would be about 10 to 14 days, include several soccer games, some training, taking in some professional games, and of course, some sightseeing. Cost is expected to be in the $2200-2500 range per player, includes airfare, room & meals. Fundraising will likely be required. Think it over, we will soon be taking a headcount to determine if we have enough interest.
Thanks Kennedy's
And the celebrations continue - a great BBQ and Pool Party at Kennedy's last night!
SEU Goalkeeper Training
SEU is providing GK Training for all Keepers - following is the schedule:
Thursday Apr. 22 6-8PM Grant Park Field (near Arena)
Sunday Apr. 25 6-8PM Grant Park Field "
Friday Apr. 30 6-8PM Grant Park Field "
Sunday May 2 6-8PM Grant Park Field "
Friday May 7 6-8PM Grant Park Field "
Sunday May 9 6-8PM Grant Park Field "